it's been a stunning week of football with a lot of goals and some surprising performances. we're not far away from the fifa 19 team of the week 22 but for those who can't wait for the official announcement following the most recent round of fixtures, we have you covered with our fifa 19 totw 22 predictions. goldkk.com have chosen the players that we think are almost shoo-ins to be included in the squad this week, and you can prepare some investments to make more fifa 19 coins.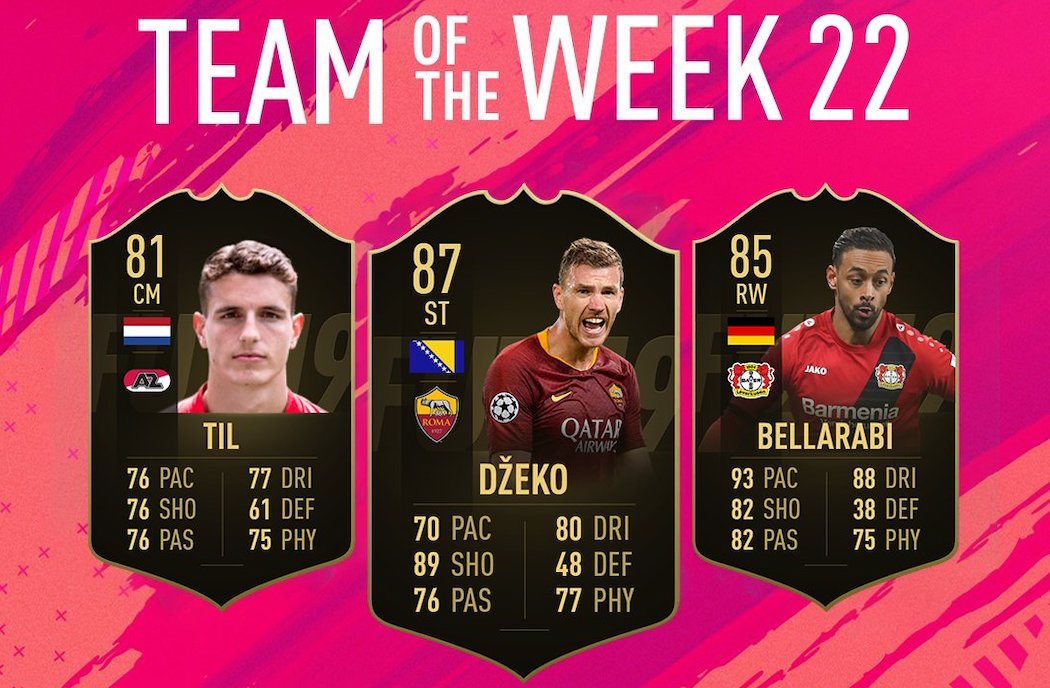 fifa 19 team of the week (totw) 22 predictions
with european football and domestic cup matches firmly on the menu at this period, picking up victories is vital. here are the players we think will be included in the fut 19 team of the week 22, based on their real-world performances from this past weekend. on wednesday, 13 february, the full totw 22 informs will be revealed and released into packs for the next seven days. they can also be bought individually on the fut transfer market with fifa coins.
fifa 19 team of the week lineup prediction (saturday)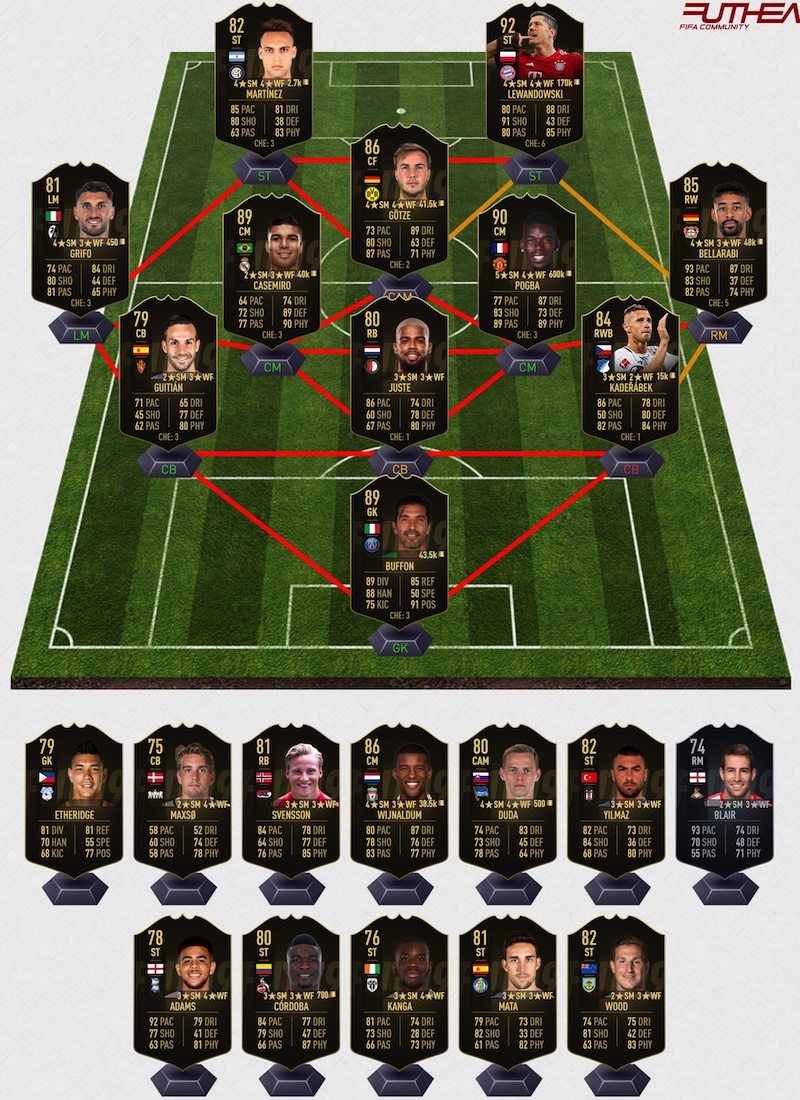 fifa 19 totw 22 suggestions
gk: vedran janjetović (wanderers) - 5 saves in 2-0 win - 66 > 75
gk: stefan ortega (bielefeld) - 6 saves in 3-0 win - 73 > 79
gk: neil etheridge (cardiff city) - 6 saves in 2-1 win - 72 > 79
gk: antonio mirante (roma) - 5 saves in 3-0 win - 80 > 83
gk: ben foster (watford) - 4 saves in 1-0 win - 77 > 81 > 84 > 86
gk: gianluigi buffon (paris saint-germain) - 3 saves in 1-0 win - 88 > 89
rb: cédric brunner (arminia bielefeld) - 1 goal, 1 assist and motm in 3-0 win - 64 > 74
rb: jonas svensson (az) - 1 assist in 3-0 win - 75 > 81
lb: raphaël guerreiro (borussia dortmund) - 1 goal in 3-3 draw - 78 > 82 > 84
lb: aleksandar kolarov (roma) - 1 goal in 3-0 win - 82 > 84 > 86
cb: andreas maxsø (fc zürich) - 1 goal in 3-1 win - 66 > 75
cb: guitián (real zaragoza) - 1goal in 2-1 win - 72 > 78
cb: jeremiah st. juste (feyenoord) - 1 goal in 4-0 win - 73 > 79
cb: souleymane bamba (cardiff city) - 1 goal and motm in 2-1 win - 75 > 81 > 84
cb: boubacar kamara (olympique de marseille) - 1 goal and motm in 1-0 win - 71 > 78
cb: aymeric laporte (manchester city) - 1 goal and motm in 2-0 win - 83 > 85 > 86
rwb: leonel di plácido (lanús) - 1 goal and motm in 2-0 win - 71 > 78
rwb: pavel kadeřábek (tsg 1899 hoffenheim) - 1 goal in 3-3 draw - 79 > 82 > 84
cm: callum paterson (cardiff city) - 1 assist in 2-1 win - 71 > 78
cm: jesús dátolo (banfield) - 2 goals in 4-4 draw - 77 > 82
cm: héctor herrera (fc porto) - 1 goal in 1-1 draw - 81 > 84
cm: mario götze (borussia dortmund) - 1 goal, 1 assist in 3-3 draw - 82 > 84 > 86
cm: paul pogba (manchester united) - 2 goals and motm in 3-0 win - 88 > 89 > 90
rm: nicolai müller (hannover 96) - 2 goals and motm in 2-0 win - 77 > 82
lm: lucas ocampos (olympique de marseille) - 1 goal and motm in 2-1 win - 77 > 82
cdm: casemiro (real madrid) - 1 goal and motm in 3-1 win - 88 > 89
cam: ondrej duda (hertha bsc) - 1 goal, 1 assist in 3-0 win - 73 > 79
cam: abdulfatah aseri (al-ahli) - 1 goal, 1 assist in 4-2 win - 69 > 77
cam: ronald vargas (newcastle jets) - 1 goal in 1-1 draw - 71 > 78
cam: guus til (az) - 2 goals and motm in 3-0 win - 75 > 81
cam: vincenzo grifo (sc freiburg) - 1 goal, 1 assist in 3-3 draw - 77 > 82
rw: karim bellarabi (bayer 04 leverkusen) - 1 goal, 1 assist and motm in 5-1 win - 80 > 83 > 85
lw: anthony martial (manchester united) - 1 goal, 1 assist in 3-0 win - 83 > 85 > 86
st: agustín fontana (banfield) - 2 goals in 4-4 draw - 61 > 71
st: tobias sana (aarhus gf) - 2 goals in 2-0 win - 67 > 76
st: wilfried kanga (angers sco) - 2 goals in 2-1 win - 68 > 76
st: federico gonzález (tigre) - 2 goals, 1 assist and motm in 4-4 draw - 69 > 77
st: ezequiel ávila (sd huesca) - 2 goals in 2-0 win - 70 > 78
st: che adams (birmingham city) - 3 goals in 4-3 win - 71 > 78
st: fabian klos (bielefeld) - 1 goal, 1 assist in 3-0 win - 71 > 78
st: alfredo morelos (rangers) - 2 goals in 4-2 win - 73 > 79
st: jhon córdoba (1. fc köln) - 3 goals and motm in 4-1 win - 74 > 80
st: mata (getafe cf) - 2 goals, 1 assist and motm in 3-1 win - 76 > 81
st: billy sharp (sheffield united) - 3 goals and motm in 3-3 draw - 70 > 78 > 82
st: mbwana ally samatta (krc genk) - 2 goals in 2-0 win - 73 > 79 > 82
st: ishak belfodil (tsg 1899 hoffenheim) - 2 goals in 3-3 draw - 76 > 81
st: davie selke (hertha bsc) - 1 goal, 1 assist and motm in 3-0 win - 77 > 82
st: chris wood (burnley) - 2 goals in 3-1 win - 78 > 82
st: burak yılmaz (beşiktaş) - 2 goals and motm in 2-0 win - 79 > 82
st: kevin volland (leverkusen) - 2 assists in 5-1 win - 81 > 84
st: bafétimbi gomis (al-hilal) - 1 goal, 1 assist and motm in 3-2 win - 81 > 84
st: lautaro martínez (inter milan) - 1 goal in 1-0 win - 79 > 82
st: edin džeko (roma) - 1 goal, 1 assist and motm in 3-0 win - 85 > 86 > 87
st: robert lewandowski (bayern münchen) - 1 goal, 1 assist in 3-1 win - 90 > 91 > 92