fifa 19 rating refresh are approaching - the winter upgrades in fut. here are fifa 19 winter upgrades predictions, which bundesliga players could get new cards.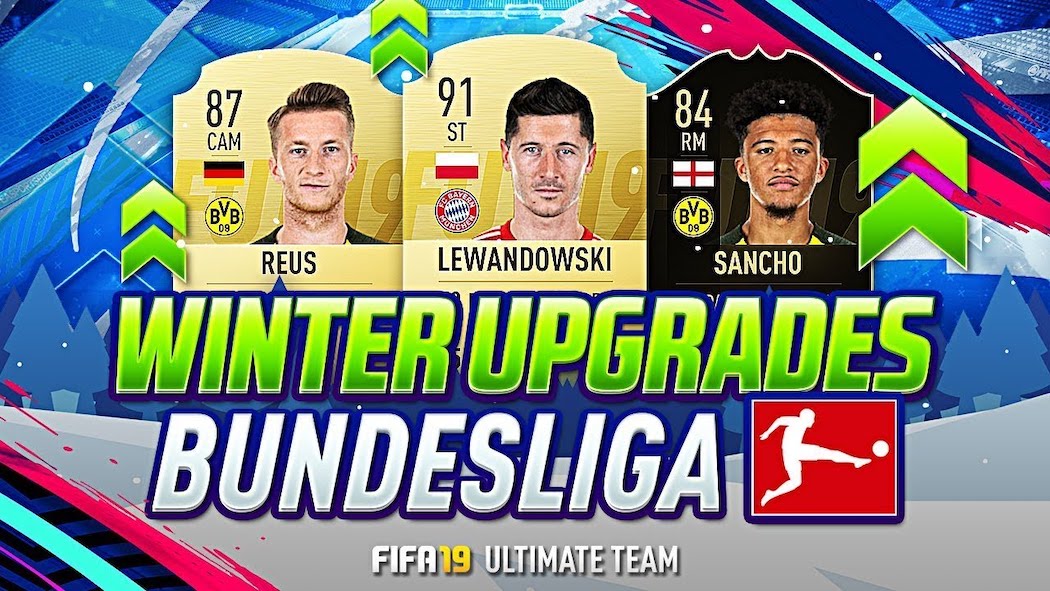 new standard cards for fut 19: almost 5 months have passed since the launch of fifa 19. in other words, the same standard player cards have been in ultimate team for nearly 5 months. and many of them are outdated in their ratings.
because in this time countless bundesliga games were contested, in which the pros showed different performances on the court. the winter upgrades are now to adapt the standard cards in fut to the actual performance of the players.
fifa 19 bundesliga rating refresh predictions
predictions on the fifa 19 bundesliga winter upgrades: which bundesliga players receive new standard cards, we will probably only official end of february. however, there are already predictions on the net that give a good overview of possible players who could be upgraded, and help you make a good pre fifa 19 winter upgrades investment.
cam: marco reus (borussia dortmund) +1 (85 -> 86)
rb: joshua kimmich (bayern münchen) +1 (85 -> 86)
st: timo werner (rb leipzig) +1 (83 -> 84)
rm: serge gnabry (bayern münchen) +2 (82 -> 84)
cm: axel witsel (borussia dortmund) +2 (82 -> 84)
lm: thorgan hazard (borussia m'gladbach) +1 (81 -> 82)
gk: roman bürki (borussia dortmund) +1 (81 -> 82)
st: alassane pléa (borussia m'gladbach) +2 (80 -> 82)
st: paco alcácer (borussia dortmund) +2 (79 -> 81)
st: ante rebić (eintracht frankfurt) +2 (79 -> 81)
cb: willi orban (rb leipzig) +1 (79 -> 80)
cm: thomas delaney (borussia dortmund) +1 (79 -> 80)
lb: marcel halstenberg (rb leipzig) +2 (78 -> 80)
cm: jonas hofmann (borussia m'gladbach) +2 (78 -> 80)
st: sébastien haller (eintracht frankfurt) +2 (78 -> 80)
cb: manuel akanji (borussia dortmund) +1 (78 -> 79)
st: yussuf poulsen (rb leipzig) +2 (77 -> 79)
rb: daniel brosinski (1. fsv mainz 05) +2 (76 -> 78)
st: luka jović (eintracht frankfurt) +6 (75 -> 81)
cb: ermin bičakčić (tsg 1899 hoffenheim) +2 (75 -> 77)
rb: achraf hakimi (borussia dortmund) +2 (75 -> 77)
cam: ondrej duda (hertha bsc) +4 (73 -> 77)
cm: florian neuhaus (borussia m'gladbach) +3 (73 -> 76)
rm: jadon sancho (borussia dortmund) +7 (72 -> 79)
st: dodi lukebakio (fortuna düsseldorf) +5 (70 -> 75)
cb: dan-axel zagadou (borussia dortmund) +6 (69 -> 75)
lm: jacob bruun larsen (borussia dortmund) +7 (65 -> 72)
rw: reiss nelson (tsg 1899 hoffenheim) +6 (65 -> 71)
st: joelinton (tsg 1899 hoffenheim) +6 (69 -> 75)
lm: javairô dilrosun (hertha bsc) +9 (61 -> 70)
rm: serge gnabry (bayern münchen) +2 (82 > 84)
cb: manuel akanji (borussia dortmund) +1 (78 > 79)
st: ante rebić (frankfurt) +2 (79 > 81)
cam: ihlas bebou (hannover) +2 (76 > 78)
cb: ermin bičakčić (hoffenheim) +2 (75 > 77)
st: timo werner (rb leipzig) +1 (83 > 84)
rb: daniel brosinski (mainz) + 2 (76 > 78)
rm: jadon sancho (borussia dortmund) +7 (72 > 79)
lm: javairô dilrosun (hertha berlin) +9 (61 > 72)
cm: axel witsel (borussia dortmund) +2 (82 > 84)
st: yussuf poulsen (borussia dortmund) +2 (77 > 79)
lw: alassane pléa (borussia mönchengladbach) + 2 (80 > 82)
cam: ondrej duda (hertha berlin) +4 (73 > 77)
cm: maximilian eggestein (werder bremen) +2 (77 > 79)
st: sébastien haller (frankfurt) +3 (78 > 81)
rb: theodor gebre selassie (werder bremen) +2 (76 > 78)
rb: achraf hakimi (borussia dortmund) +3 (75 > 78)
cm: jonas hofmann (borussia mönchengladbach) +3 (78 > 81)
cam: marco reus (borussia dortmund) +2 (85 > 87)
st: joelinton (hoffenheim) +6 (69 > 75)
st: luka jović (frankfurt) +5 (75 > 80)
lm: jacob bruun larsen (borussia dortmund) +8 (65 > 73)
lm: thorgan hazard (borussia mönchengladbach) +4 (81 > 83)
st: dodi lukebakio (düsseldorf) +4 (70 > 74)
cb: dan-axel zagadou (borussia dortmund) +8 (69 > 77)
st: paco alcacer (borussia dortmund) +3 (79 > 82)
rw: reiss nelson (hoffenheim) +8 (65 > 73)
cm: florian neuhaus (borussia mönchengladbach) +4 (73 > 77)
st: robert lewandowski (bayern münchen) +1 (90 > 91)