after the big event chinese lunar new year fifa 19, a special version is out called "end of an era" in the past with the fifa 19 premium sbc card to celebrate the retiring players' career, so a few premium sbcs are out for fans now. to celebrate tim howard's and petr cech's career, ea sports have released fifa 19 premium howard sbc and petr cech sbc. and goldkk.com here will be detailing you about how to complete premium howard sbc in cheapest solution.
fifa 19 premium sbc howard only requires 1 segment, and it's very cheap that only costs around 35k fifa 19 coins, but you won't receive any packs for completing this single challenge. also, you need to note that fifa 19 howard premium sbc will be available from february 12th to february 15th which will only be out there for 3 days.
fifa 19 howard premium sbc
build towards earning the premium tim howard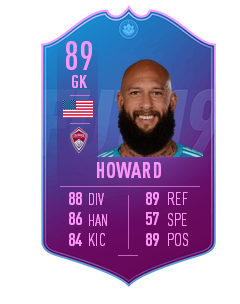 reward
1×89 rated tim howard premium card
requirements
complete below 1 squad building challenge
fifa 19 premium howard sbc - tim howard
rewards: howard (special) (untradeable)
requirements:
everton players: min 1
mls players: min 1
team of the week players: min 1
team overall rating: min 83
team chemistry: min 75
players in the squad: 11
tim howard sbc - cheapest howard premium sbc fifa 19
set up 4-2-3-1 fut formation/lineup
rating: 82
chemistry: 79
price: 32k-ps4, 32k-xbox one, 35k-pc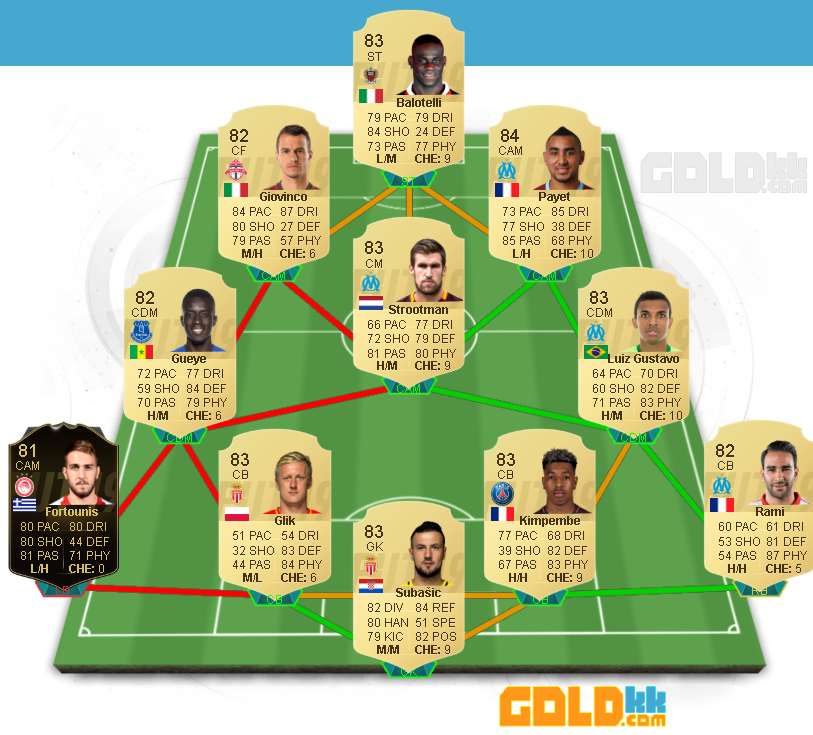 fifa 19 premium tim howard player review in ultimate team
tim howard is an american soccer player who captains the mls club colorado rapids as a goalkeeper. howard is the most capped goalkeeper of all-time for the united states men's national team, with 121 caps between 2002 and his international retirement in 2017. he's 6 foot 3 which is good, 3-star weak foot which is kind of irrelevant. his goalkeeping abilities are excellent, of which 88 diving and 89 reflexes are two highlights for him this winter. he's also got great kicking and positioning. the sad news is that he's super difficult to link in terms of chemistry if you don't have icons. you could really start building into a high-end mls at the moment if you had a few icons. he's coming very useful in the future.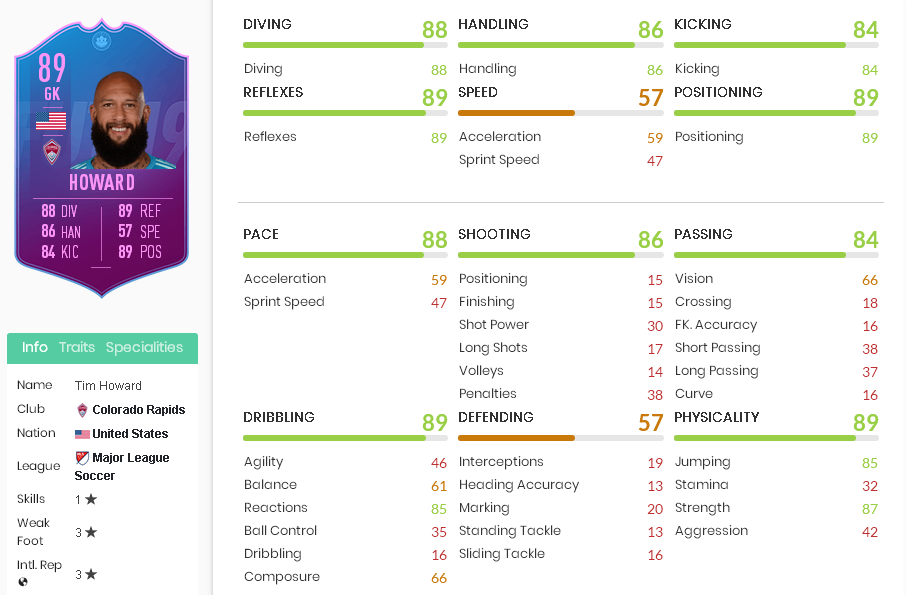 do you think this card is worth getting? is the premium howard sbc good value for money?