With so many superb individual performances over the past week, it begs the question who should be in the FIFA 19 Team of the Week 26? Read on for our FIFA 19 TOTW 26 predictions, here are the players we think will be included in the team, based on their real-world performances from this past weekend's fixtures. It would be a great week who are looking for a strong forward and defender, when there are too many top rated strikers such as 90 Raheem Sterling, 90 Piqué, 88 Roberto Firmino to pick.
FIFA 19 Team of The Week (TOTW) 26 Predictions
You can start searching for all FIFA 19 Team of The Week 26 IF players starting 6pm (UK time) on March 13th 2019, running up until 6pm on March 20th 2016. It's best to watch out for the special promo packs that EA will release throughout the week as you'll have a better increased change of finding one of these rare players in them. Also you can buy the all available black informs from transfer market with Fifa 19 coins.
We are likely to meet another great TOTW on this Wednesday! Several superstars such as Raheem Sterling, Piqué, across the continent put on stunning performances but only 23 can make it into the side. We try our best to list the most promising ones we do think will appear in Team Of The Week 26, below is the full set of our FIFA 19 TOTW 26 Predictions!
FIFA 19 TOTW 26 Predictions
Starting XI
GK: Benoît Costil (Girondins de Bordeaux) - 8 save in 1-1 draw - 78 > 82 > 82
RB: Joshua Kimmich (Bayern München) - 1 goal in 6-0 win - 85 > 86 > 87 > 88
CB: Piqué (Barcelona) - 1 goal in 3-1win - 87 > 88 > 89 > 90
CB: Nico Elvedi (Borussia M'gladbach) - 1 goal and MOTM in 1-1 win - 77 > 82
LM: Yannick Carrasco (Dalian Yifang) - 2 goals, 1 assist in 3-3 draw - 83 > 85
CAM: Jonathan Viera (Beijing Sinobo Guoan) - 1 goal, 2 assists and MOTM in 4-0 win - 82 > 84
LM: Franck Ribéry (Bayern München) - 3 assists in 6-0 win - 85 > 86 > 87
LW: Raheem Sterling (Manchester City) - 3 goals and MOTM in 3-1 win - 87 > 88 > 89 > 90
ST: Jamie Vardy (Leicester City) - 2 goals, 1 assist and MOTM in 3-1 win - 82 > 84
CF: Roberto Firmino (Liverpool) - 2 goals in 4-2 win - 86 > 87 > 88
ST: Rodrigo (Valencia CF) - 2 goals and MOTM in 2-1 win - 84 > 86
Substitutes & Reserves
LB: Erik Pieters (Amiens SC) - 1 goal and MOTM in 2-1 win - 74 > 80
LM: Christian Pulisic (Borussia Dortmund) - 1 goal, 1 assist in 3-1 win - 79 > 83
CAM: Ayoze Pérez (Newcastle United) - 2 goals, 1 assist and MOTM in 3-2 win - 76 > 81
RM: Milot Rashica (Werder Bremen) - 2 goals in 4-2 win - 76 > 81 > 84
ST: Moussa Dembélé (Olympique Lyonnais) - 2 goals in 2-2 draw - 75 > 81 > 84 (OTW)
ST: Mata (Getafe CF) - 2 goals and MOTM in 2-1 win - 76 > 81 > 84
ST: Simon Terodde (1. FC Köln) - 3 goals and MOTM in 5-1 win - 76 > 81 > 84
LB: Cristian Calderón (Necaxa) - 2 goals in 3-1 win - 60 > 70
RB: Yan Valery (Southampton) - 1 goal in 2-1 win - 61 > 71
ST: Roberto Gutiérrez (Palestino) - 3 goals in 4-1 win - 72 > 79
ST: Anderson Lopes (Hokkaido Consadole Sapporo) - 4 goals in 5-2 win - 69 > 78
ST: Alexander Isak (Willem II) - 2 goals and MOTM in 3-2 win - 69 > 77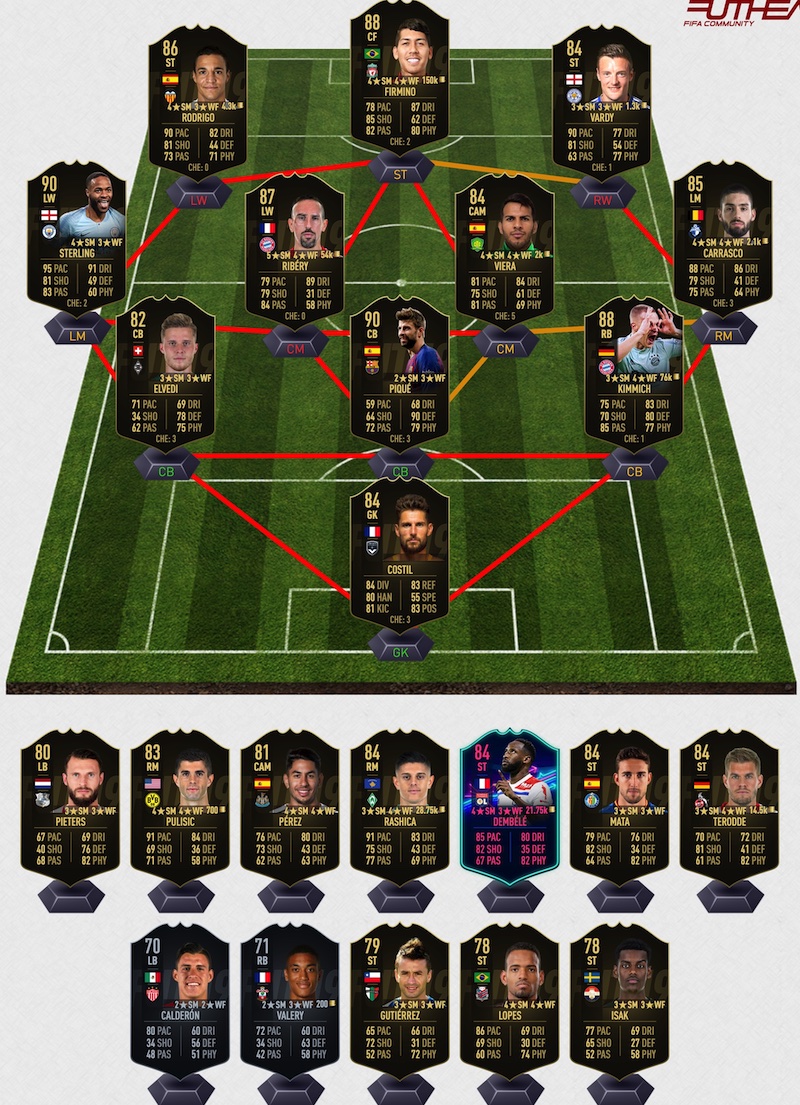 FIFA 19 TOTW 26 Other Suggestions
GK: Zack Steffen (Columbus Crew SC) - 3 saves and clean sheet in 2-0 win - 75 > 81 > 84
LB: Alex Telles (FC Porto) - 1 goal in 3-1 win - 84 > 86
RB: Deyovaisio Zeefuik (FC Groningen) - MOTM in 0-0 draw - 67 > 76
CB: Sebastián Coates (Sporting CP) - MOTM in 2-1 win - 82 > 84
CB: Ike Opara (Sporting KC) - MOTM in 3-0 win - 75 > 81
CB: Alexander Milošević (Nottingham Forest) - MOTM in 3-0 win - 71 > 78
LM: Ismaïla Sarr (Stade Rennais) - 1 goal in 3-1 win - 76 > 81
LM: Ryan Fraser (Bournemouth) - 1 goal, 1 assist and MOTM in 2-0 win - 77 > 81 > 84 > 86
CM: Emre Can (Juventus) - 1 goal in 4-1 win - 80 > 83
CDM: José Sosa (Trabzonspor) - 1 goal and MOTM in 2-1 win - 76 > 81
CDM: Lucas Biglia (AC Milan) - 1 goal and MOTM in 2-1 win - 82 > 84
CAM: Sarpreet Singh (Wellington Phoenix) - 2 goals in 8-2 win - 65 > 75
RW: Lionel Messi (Barcelona) - 1 goal, 1 assist and MOTM in 3-1 win - 94 > 96 > 97 > 98
RW: Steven Bergwijn (PSV) - MOTM in 2-0 win - 80 > 83
RW: Milot Rashica (Werder Bremen) - 2 goals in 4-2 win - 76 > 81 > 84
RM: James Ward-Prowse (Southampton) - 1 goal in 2-1 win - 77 > 82
ST: Gyasi Zardes (Columbus Crew SC) - 2 goals in 2-0 win - 73 > 79 > 82
ST: Moise Kean (Juventus) - 2 goals and MOTM in 4-1 win - 72 > 79
ST: Ludovic Ajorque (RC Strasbourg) - 2 goals and MOTM in 2-2 draw - 70 > 78 > 82
ST: Marc Cardona (SD Eibar) - 1 goal in 1-1 draw - 69 > 78
ST: Afimico Pululu (Neuchâtel Xamax) - 2 goals in 3-1 win - 59 > 69
ST: Joel Tagueu (Marítimo) - 2 goals and MOTM in 3-2 win - 73 > 79