title race in europe main leagues is flaming as the 2018/19 season coming to the end! it's the time again, who will feature in this week's fifa 19 ultimate team team of the week 31? fifa 19 totw 31 predictions include some surprising selections as well as familiar names coming this week. find out the shortlist for who have shown impressive gameplay in real life football.
anyone wanting a reminder to pop in their diary, this week's fifa 19 totw 31 cards will be available in fifa packs from 6pm, april 17th, until 5.45pm uk time on april 24th, of course still be available to buy/bid with fifa 19 coins for from the fifa 19 transfer market!
fifa 19 totw 31 predictions - fut 19 team of the week 31
who headlines this weeks' inform squad? let's review some impressive performances! antoine griezmann was unsurprisingly the star as atletico madrid battled to a 2-0 win over celta vigo in laliga. lucas moura's fine hat-trick boosted tottenham's hopes of securing a top-four spot in a comfortable 4-0 win at home to huddersfield on saturday. kingsley coman scored twice as bayern munich beat fortuna dusseldorf to go top of the bundesliga. spanish-born ghanaian attacker inaki williams scored for athletic bilbao, who posted a stunning 2-0 victory la liga title contenders atletico madrid.
googleadv
fifa 19 totw 31 predictions
starting xi:
gk: régis gurtner (amiens sc) - 5 saves and motm in 0-0 draw - 77 > 81 > 84
lb: pierrick capelle (angers sco) - 1 assist and motm in 1-0 win - 75 > 81
cb: matija nastasić (fc schalke 04) - 1 goal in 1-1 draw - 81 > 84
rwb: ruben aguilar (montpellier hsc) - 2 assists in 2-1 win - 77 > 81
rm: jadon sancho (borussia dortmund) - 2 goals in 2-1 win - 78 > 79 > 82 > 84
lm: kingsley coman (bayern münchen) - 2 goals and motm in 4-1 win - 83 > 85 > 86
cam: dušan tadić (ajax) - 2 goals, 1 assist in 6-2 win - 80 > 84
cam: kevin de bruyne (manchester city) - 2 assists and motm in 3-1 win - 91 > 92
st: dwight gayle (west bromwich albion) - 3 goals and motm in 4-1 win - 75 > 81 > 84
st: williams (athletic club de bilbao) - 2 goals in 3-2 win - 81 > 84 > 86
st: antoine griezmann (atlético de madrid) - 1 goal, 1 assist and motm in 2-0 win - 89 > 91 > 92
substitutes:
lb: pedro rebocho (en avant guingamp) - 2 assists in 3-3 draw - 74 > 80
lm: ryan babel (fulham) - 1 goal, 1 assist and motm in 2-0 win - 79 > 82 (otw)
cam: ezequiel barco (atlanta united fc) - 2 goals and motm in 2-0 win - 74 > 80
cam: mason mount (derby county) - 3 goals and motm in 4-0 win - 74 > 80
st: lucas (tottenham hotspur) - 3 goals and motm in 4-0 win - 82 > 84
st: klaas-jan huntelaar (ajax) - 3 goals, 1 assist and motm in 6-2 win - 77 > 81
st: dwight gayle (west bromwich albion) - 3 goals and motm in 4-1 win - 75 > 81 > 84
reserves:
cb: kevin bonifazi (spal) - 1 goal and motm in 2-1 win - 71 > 78
lm: christopher antwi-adjej (sc paderborn 07) - 3 assists in 4-0 win - 68 > 76
rw: ismael tajouri-shradi (new york city fc) - 2 goals, 1 assist and motm in 3-3 draw - 71 > 78
st: germán cano (independiente medellín) - 3 goals, 1 assist in 4-0 win - 72 > 79
st: milan đurić (salernitana) - 3 goals in 4-2 win - 68 > 76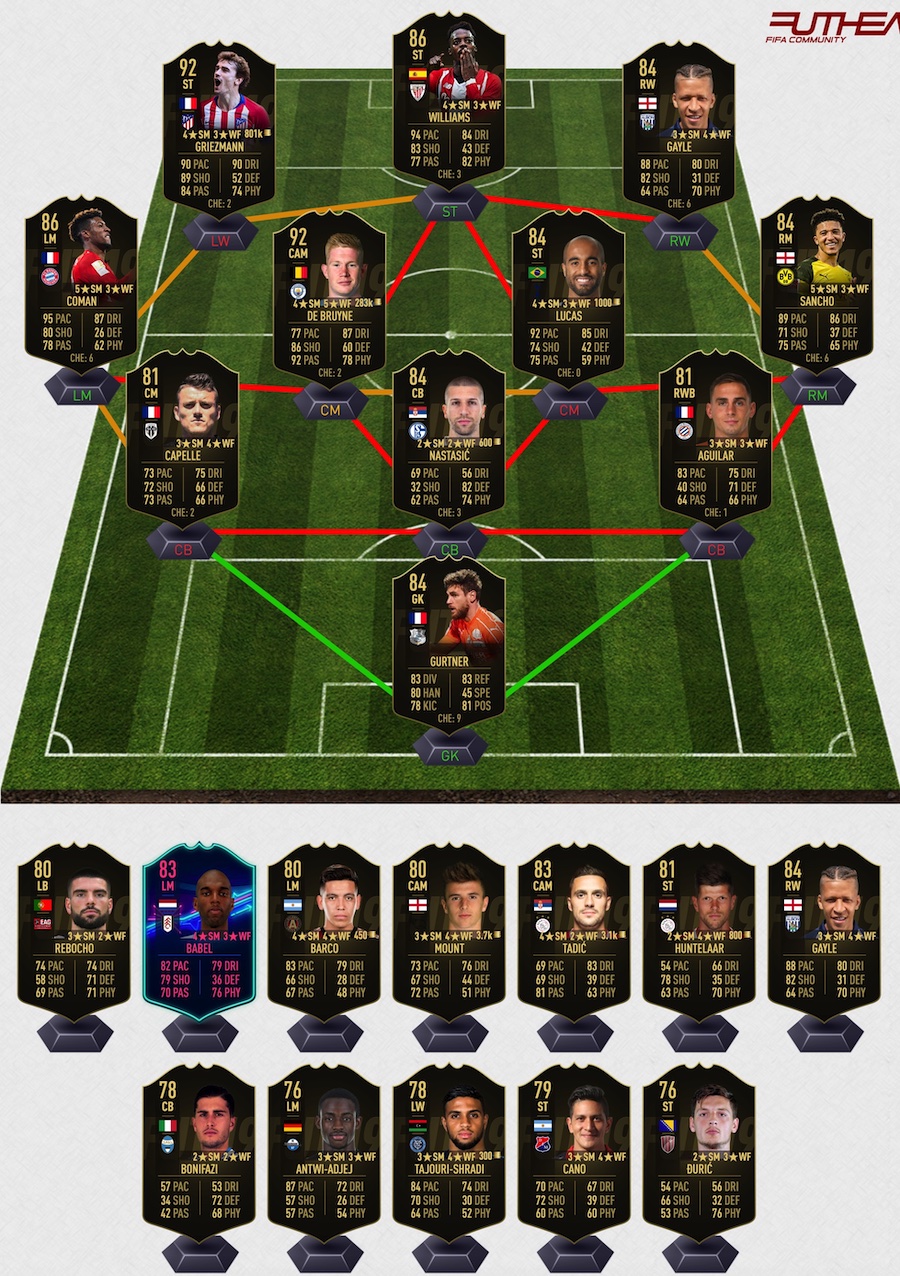 fifa 19 totw 31 other suggestions:
gk: pepe reina (ac milan) - 4 saves in 1-0 win - 83 > 85
gk: martin dúbravka (newcastle united) - 5 saves in 1-0 win - 77 > 81
gk: roman bürki (borussia dortmund) - 8 saves in 2-1win - 81 > 84
gk: pepe reina (ac milan) - 4 saves in 1-0 win - 83 > 85
gk: walter benítez (ogc nice) - 7 saves in 0-0 draw - 76 > 81 > 84 > 86
rb: theodor gebre selassie (werder bremen) - 1 goal in 2-1 win - 76 > 81
lb: jørgen skjelvik (los angeles galaxy) - 1 assist in 2-0 win - 67 > 76
cb: nordi mukiele (rb leipzig) - 1 assist in 2-0 win - 77 > 81
lm: ryan fraser (bournemouth) - 1 goal, 1 assist in 5-0 win - 77 > 81 > 84 > 86
lm: paulinho (bk häcken) - 2 goals in 3-0 win - 72 > 79
rm: bernard tekpetey (sc paderborn 07) - 1 goal in 4-0 win - 64 > 74 > 80
rm: serge gnabry (bayern münchen) - 1 goal, 1 assist in 4-1 win - 82 > 84 > 86
cm: héctor herrera (fc porto) - 1 goal and motm in 3-0 win - 81 > 84
cm: kevin kampl (rb leipzig) - 1 goal and motm in 2-0 win - 82 > 84
cm: paul pogba (manchester united) - 2 goals and motm in 2-1 win - 88 > 89 > 90 > 91 > 92
cdm: luiz gustavo (olympique de marseille) - 1 goal and motm in 2-1 win
cam: nathan redmond (southampton) - 2 goals and motm in 3-1 win - 75 > 81
lw: ryan babel (fulham) - 1 goal, 1 assist and motm in 2-0 win - 79 > 83
rw: steven berghuis (feyenoord) - 2 goals and motm in 2-1 win - 79 > 82 > 84
rw: raheem sterling (manchester city) - 2 goals in 3-1 win - 87 > 88 > 89 > 90 > 91
st: chris wood (burnley) - 2 goals and motm in 2-0 win - 78 > 82
st: tomer hemed (queens park rangers) - 2 goals and motm in 4-0 win
st: callum wilson (bournemouth) - 1 goal, 2 assist and motm in 5-0 win - 78 > 82
st: fabio quagliarella (sampdoria) - 1 goal, 1 assist and motm in 2-0 win - 82 > 85 > 87 > 88 > 89
st: moussa marega (fc porto) - 1 goal, 1 assist in 3-0 win - 81 > 84 > 86
fifasquad