fifa 19 tots is quickly approaching, as one of the most exciting fut event, market crash is starting to happen on transfer market, also it means a good time to make fifa coins if you get know well when to buy and sell. what is the best time to buy and sell, which players you should to invest during fifa 19 team of the season event? you will learn on our fifa 19 tots investment guide here.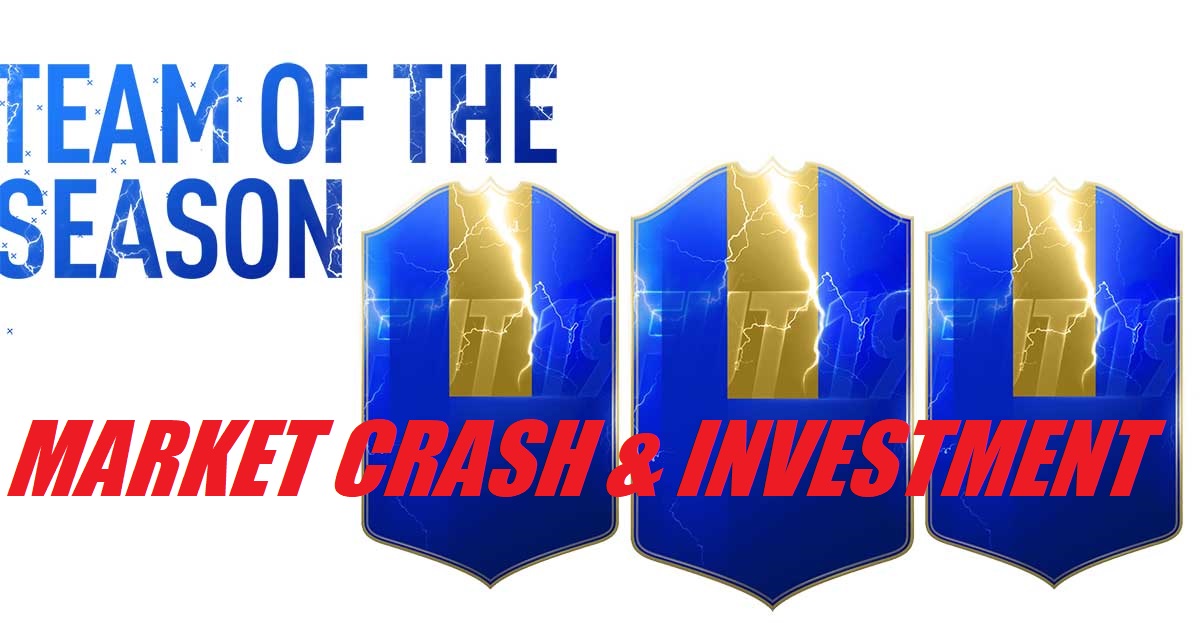 fut market crash
the transfer market in fut is anything but stable, big special events such as the team of the season or the fut-birthday affect the market quite nicely. we'll show you how to use this to earn a lot of money selling your team.
but beware: you can never predict exactly how the market will behave. with additional events and sbcs, ea's transfer market can be unexpectedly manipulated. therefore, our tips should be treated with care and at your own risk.
the following information is based on experience with previous fifa series.
fifa 19 tots market crash guide
what happens in a market crash? in a market crash, much of the player cards lose a lot of value over a short period of time. therefore, it is recommended that at this time as little assets in the form of cards and as much as possible in the form of fut coins.
this is how the crash comes about: the team of the season is packed with new, very strong cards. to get a chance on these cards, many in fut players invest in fifa points and open promo packs or save their packs for the tots event.
because of the very high number of opened sets, there is an oversupply of cards. similarly, the demand for normal gold cards is declining as many fut players want to have the beautiful new tots cards in their teams.
the combination of increased supply and falling demand ensures the extreme price decline of many fut cards to team of the season. therefore, selling can be worthwhile
why should i sell my cards for tots? before the event starts, the fut cards still have their normal value and can get good prices. so if you're interested in collecting lots of coins for the tots event, you can now get the most coins for your cards. because during and after the tots event, the cards will never be as high as they are now.
tip: you can also sell your strong cards and buy them back cheaply during the event. then you have your team back and in addition some more coins in the account.
fifasquad
fifa 19 tots (team of the season) investment tips
best time to buy & sell for fifa 19 tots
when is the best time to sell your team for fifa 19 tots? although the tots event is not expected until the next few weeks, it is wise to sell your cards as soon as possible. because especially through the youtube hype the market crash begins now creeping before the event.
what is the youtube hype? fifa streamers and youtubers are always reporting on the tots market crash and advising them to sell the cards. once these videos are online, prices go down. here, especially the british youtuber, with their long range, have a serious impact.
as a result of these videos, much of the fanbase sells their players and keeps buying back. therefore, the burglary does not come suddenly to the release of the tots event, but it is slowly starting.
players you should sell & buy for fifa 19 tots
not all players should be sold, you should keep these players:
- gold cards that are as valuable as their kick-off price, under 1000 fifa 19 ut coins, will hardly sink. therefore you can keep these.
- high-rated players who are barely played and have the chance to receive a tots card are unlikely to lose value.
these players should be yours:
- popular high-rated cards like reus and de bruyne.
- or popular card in the lower 80s range.
- 83 and 84 are hardest to predict. here usually sbcs determine the price.
this is how the market behaved in fut 18
example ronaldo: the normal gold card by cristiano ronaldo shows quite well how the prices in the tots market crash can fall. at the end of the tots event he was almost a bargain.
- one week before the tots event: 1,000,000 coins (ps4)
- at the start of the tots event: 950,000 coins (ps4)
- 2 weeks in the event: 730,000 coins (ps4)
- at the end of the event: 305,000 coins (ps4)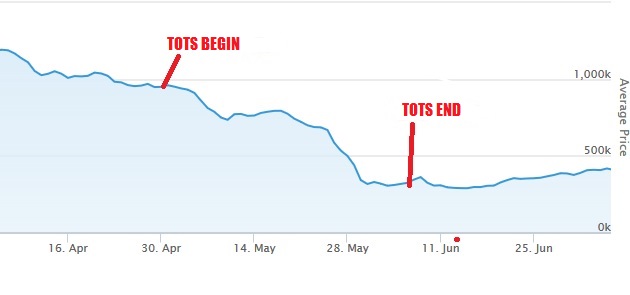 if your fut assets are important to you and you want to have enough fifa 19 coins for sbcs and tots cards, then sell soon and buy cheaper at a later date. but if you have no ambitions to have an expensive team and you are only playing for fun, then you can safely ignore the tots crash.