path of exile legion expansion is here, introducing unique progression, ascendancy changes, a new challenge league as well as new melee combat. here goldkk.com will bring the useful guide for 5 popular & best budget poe 3.7 legion starter builds along before the patch notes which are going to be the fastest and easiest currency farmers in poe 3.7, helping you get a good start in the latest season 3.7 legion for the ongoing free-to-play actions role-playing video game.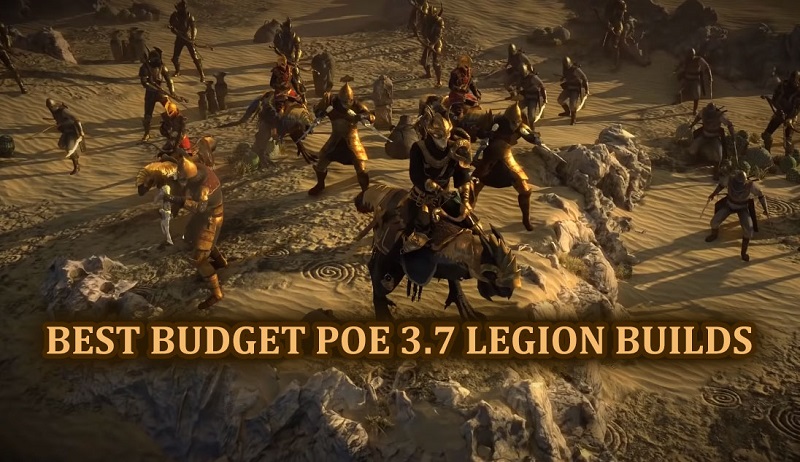 related read: path of exile 3.7 legion faq
best budget poe 3.7 starter builds & fast farming currency in poe 3.7 legion
poe double strike gladiator build - bloodseeker

pros
> hardcore viable
> can be started without any currency investment
> scales very well into late game
cons
< melee builds force you to get into dangerous situations than ranged ones
< can't do reflect and no leech maps
click hehe to find the complete guide for this build
the first poe 3.7 build is very budget-friendly. the main build-enabling item is bloodseeker, which you ideally want to dual wield. gladiator and bled explosions put in huge ton of work against most pack size content and that's basically why we choose the gladiator, so you can get a bunch more explosions, because we all know how good the single target on double strike is and there's not really any need to build around that, so you can by all means still play a champion, you can play many other ascendance ease and boost your single target, but it's probably better to boost your utility in the form of various defenses, so maybe a jug or actual clear speeds. so a gladiator in this case, because the single target is pretty absurd, the gear is fairly respectable, you are trying to squeeze out as much damage as you can, but it's all coming in of the value. for endgame you can also use a well rolled elder-based chest piece. using rare steel ring steel rings will bring a lot of damage with the additional flat physical damage to attacks they provide. the helm, boots and gloves should simply have as much life and resistances as possible. you do not need movement speed on the boots since you will mainly rely on whirling blades for movement. additional attack speed and flat physical damage can be acquired by using decently rolled gloves.
poe essence drain contagion build - requires no initial investment
pro
> hardcore viable
> cheap to start
> good balance between clear speed, single target, and defense
cons
< using two skills instead of one in order to clear can feel clunky to some people
click hehe to find the complete guide for this build
coming up the second poe 3.7 budget build, the essence drain contagion does not require any initial investment in order to start. when it comes to endgame, there are some expensive items you can save up currency for. shavronne's wrappings shavronne's wrappings will allow you to transition into low life. presence of chayula presence of chayula will help out a lot with the chaos resistance and the additional energy shield, but is not mandatory since you are immune to stun via the occultist ascendancy anyway. decently rolled energy shield gear can also be pricey.
for the farming strategy, there will be good rewards in maps, you will be able to earn currency doing low-level stuff, so i recommend you doing purposely go into low-level zones with your level 70, level 80 during contagion character, if you are going into the akin of quarry, farming on an essence rate contagion character even if your character is absolutely awful. if you're 20 or 30 levels over the zone and you're hitting guaranteed mobs which give you currency, divination cards, splinters, it doesn't matter, the loot is guaranteed, it has to be good.
poe legion stormfire divine ire build - green fire from cinderswallow flask
pros
> hardcore viable
> good endgame potential
> can off-screen immobile monsters
cons
< the channeling spell caster playstyle might not be for everyone
< you one-shot yourself to elemental reflect
< you have to be stationary while you deal damage
click hehe to find the complete guide for this build
coming up the third best poe 3.7 starter build storm divine ire build. the character has taken on two or three uber elders and it's a very smooth playstyle for the uber arrow to fight, once you can get enough damage and that damage is definitely there, all it takes 120 stack wind up of divine ire which depending on where you're positioned how close to enemies are could take a little while to wind up and that may be the most uncomfortable thing about the entire build, but if you get that 20 stack off, you will be pushing each phase just about every single time. so for most of the endgame guardian fights and endgame bosses, it's a pretty nice place tile and the ignite damage can definitely be there to just phase lots of these bosses, it's just up to getting your 20 stack ignite up against each enemy individually that you need to hit.
soul rend trickster build - quick mapper with strong defenses
pros
> viable in any league
> fast mapper
> chaos damage
> well rounded defenses
> amazing league starter
> great late-game potential
cons
< will not be able to delve past ~ 500
click hehe to find the complete guide for this build
coming up the forth budget poe 3.7 legion starter build - soul rend trickster build. which can release a projectile that moves towards and passes through enemies, dealing chaos damage to enemies it hits and leeching a portion of that damage as energy shield. this projectile also applies short-duration damage over time effect to enemies around its path. this is pretty good starter build, probably one of the cheapest, most effective characters out there at the moment because it will work all the way to end game off close to nothing specific at all of gear is very generic and easily attainable and all it is a bunch of passives on the tree and a few links with all of your care skills coming together to form a pretty perfect unison of damage.
poe 3.7 melee build - uber lab, guardians, budget
pros
> tanky, high regen
> dps can be scaled well
click here to find the complete guide for this build
coming up the final starter build for poe 3.7, melee build. in path of exile legion, melee can be very good when it comes to bossing and mapping. the melee character has made a lot of improvements and joined the new melee skill, poe 3.7 melee builds will be popular. use this build in lower levels recommended to get three jewels out of five and reduce some armour in the passive tree but keep in mind to cap the physical damage reduction.