It's 2021, a fresh start, a new year, new fun! It's the January Animal Crossing New Horizons and today we're taking a look at seven changes we're going to see around our island throughout the month of January on Animal Crossing New Horizons, seasonal items & materials, new events, new characters, bugs, fish and more.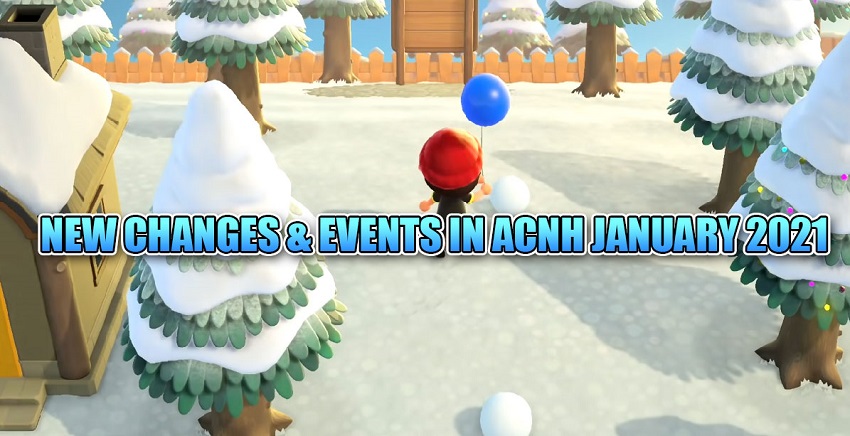 ACNH Update 2021 - New Items & Changes In Animal Crossing 2021 January
We have been in 2021 for a few days and starting a brand new year on the New Horizons island and just as you'd expect we'll see a fair amount of changes to our islands over the coming weeks. Some of these changes are seasonal adjustments, aesthetic changes, bugs off, fish tourney and even the new events (Valentine's Day) that we can expect to see over the next few weeks. Next we'll highlight everything you should know about ACNH update 2021 January.
Here are 8 ACNH January 2021 changes and new additions we can expect to see during the month of January.
January 2021 Seasonal Items
With it being the start of a brand new year, some new and exclusive limited-time items are now available to purchase from either the Nook Stop terminal found at the resident services center or the Nook Shopping App on the Nook Phone. If you've unlocked it in celebration of the new year, the latest seasonal items can now be purchased from January 1st through to January 15th. In total, there are 7 new items 2021 January ACNH available:
2021 Celebratory Arch (2021 ACNH Bells)
Olivia Salad (1000 Bells)
Zodiac Ox Figure (1600 Bells)
Kagamimochi (1800 Bells)
Kadomatsu (2580 ACNH Bells)
New Year's Shimekazari (2000 Bells)
Yut Nori (1300 Bells)
All of these ACNH January 2021 items can be found listed under the seasonal tab along with their price.
January Seasonal Materials (Ornaments & Snowflakes)
Over the last couple of months with three or four different seasonal crafting materials, different events and even new characters visiting the New Horizons island for the first time. It's no surprise that there's only a few days left to craft one of the latest materials added over the holidays from the 6th of January. Ornaments are going away the little ornies that drop from the tree, they are so cute and also potentially dangerous. If that glass does shatter, it's going to be in the weeds in the grass potentially underneath the snow and that would probably cause a lot of foot cuts. January 6 is the last day to grab, so you need to really hurry up get your ornaments if you want to craft anything that remains from Toy Day or anything from the past month.
We also have snowflakes which are still here until the 24th of February in the northern hemisphere will be showing up in summer for the southern hemisphere. But if you do want to catch snowflakes for any of those icy good recipes, make sure to grab them. You got another month to do it, but January will be a nice time to build up a reservoir especially considering it's a light month.
Island Aesthetics
We are still in the middle of winter in the northern hemisphere and in the middle of summer in the southern hemisphere, but there are still some environmental changes happening throughout January, from January the 1st in the northern hemisphere you'll see holly bush's lose their flowers and return to regular green bushes. However, red and pink camellia bushes will have already started blooming instead these bushes will continue to flower well into spring. Now players in the southern hemisphere will also see some changes to their plants as the pink and blue hydrangeas that began blooming in December will return to regular bushes from January the 20th. Furthermore, you may also notice some changes to building aesthetics such as nook's cranny for example that has slightly less festive decorations now and slightly more wintry things out on display which is cool.
Fishing Tourney January
No matter what region you're playing in, players in both the northern and southern hemispheres will see the first ever fishing tourney of the year. This is only the fourth fishing tourney since the launch of the game. Different hemispheres will feature slightly different fish during the event as players in the northern hemisphere will be taking part in the winter fishing tourney and players in the southern hemisphere will be taking part in the summer fishing tourney. The event will take place on January 9th which is the second Saturday of the month, get up early, catch as many fish as you can before the timer runs out, do with your friends! It makes it more fun and easier to accumulate points.
Flick's Bug-Off Event January
With it being the summer season in the southern hemisphere, you can't catch the snowflakes, you don't really have the snow. But flick is ready to bring that seasonal depression & bug-off event to your island on January 15th. This is a chance to get some great bug off items and participate in a pretty fun event if you haven't already to win some of the items you may have missed or pick up a different trophy from last time. The challenge is to catch as many bugs as you can before the timer runs out and earn a bunch of points which you can exchange for prizes.
January Critters
The most obvious change you may have already noticed in January is the bugs fish and deep sea creatures that spawn and can be encountered around the New Horizons island. The types of critters you can encounter changes every month although you tend to see more as the season changes rather than in the middle of a season. Anyway, there's no surprise with it being the middle of winter that there are no new critters wandering around the island in the northern hemisphere. However, there's a total of 21 new critters to catch for players in the southern hemisphere. There's too many creatures to go over right now but you can now see the likes of the cicada shell, the sweet fish and the moon jellyfish amongst others.
Valentine's Day
February expects to have more events like Valentine's Day. We'll update more details a few days later, stay tuned!
2021 Update 1.7
Thanks to the latest winter update trailer streamed a couple of months back now! Before Turkey Day and Toy Day just before the holidays, we had a sneak peek at the next update to New Horizons as you know Nintendo revealed the next update is scheduled for late January and teases the special character Pave. That's all we really know about the event but it's expected to drop sometime in the last few days of January with an all-new trailer up to a week beforehand. Pave traditionally hosts the festival event and as you can probably tell loves to dance and party and showing off his gorgeous feathers during the celebration. So it's pretty safe to say Festival which is said to be based on the real world Carnival-style celebrations will be the next event.
What do you think about these Animal Crossing New Horizons 2021 January changes? What other events alongside Pavé and the Festivale Event do you think we'll see in the first update of 2021 at the end of January? Keep following our news page, we'll update the latest ACNH news in a timely.