Animal Crossing New Horizons 1.11 update not only bring back seasonal events for us to celebrate but also added Halloween items to surprise us in the game. Are there any more potential features awaiting for us to discover? Thanks to the latest 1.11 data mine findings, there are new events, items, DIY recipes, Gyroid, Brewster and Cafe will be included in the Animal Crossing 1.11 summer update guide.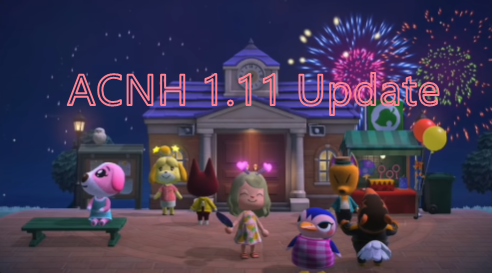 Animal Crossing New Horizons 1.11.0 Summer Update 2021
On July 19, a brand new version was finally distributed bringing Animal Crossing New Horizons up to Animal Crossing 1.11.0 update. This update was the first update in three months with the last one being all the way back in April. ACNH 1.11 update 2021 primarily focuses on bringing the Fireworks Shows, Bon Festival, Shichigosan, Moon Viewing Day, Lantern Festival, Chuseok and more. Furthermore, there are a bunch of unannounced seasonal items being uncovered for October and November. Next, we are going to see the seasonal events that we can expect from this September, October 1.11 update 2021!
ACNH Firework Show 2021
Firework Show event comes back from last year with a few new ACNH items like popsicles, boba and popcorn candy. The fireworks Shows now occur every Sunday in August with the second show of 2021 coming this weekend. Redd who runs the Firework Show Event has new dialogues options like "Oh, I am legally obligated to warn you that there are no funds if you trip and drop that. Watch Your Step!" "Lucky number 13! Don't let anyone tell you otherwise!" "Big Number 14 it is!" and more.
ACNH Obon 2021
In Japan, the Obon festival (also known as Bon festival) is an annual celebration that celebrates and remembers the ancestors who have passed away. This holiday starts from August 10 to August 16, along with cucumber horse and eggplant cow that can be bought with 125 ACNH bells at Nook Shopping.
ACNH Mid-Autumn Festival 2021
The Mid-Autumn Festival s a traditional festival celebrated by the Chinese. Korean festival called Chuseok, and Japanese festival called Tsukimi. It is a festival when families gather to sample autumn harvests, and eat moon cakes. It's held during 2021 from September 12th to 21st in Animal Crossing New Horizons, Moon Cakes, Dango, Moon Rug are available from Nook Shopping.
ACNH Shichigosan 2021
Shichi-Go-San is a traditional rite of passage and festival day in Japan for three- and seven-year-old girls and five-year-old (and less commonly three-year-old) boys. They got a kind of candy called "Millennium candy" and hoped they would live longer. Shichi go San products will be sold at special goods in nook shopping from November 11 to 20
ACNH Day Off The Dead 2021
The Day of the Dead is a Mexican holiday celebrated in Mexico and elsewhere associated with the Catholic celebrations of All Saints' Day and All Souls' Day. This event will be held in 2021 from October 25 to November 3, Marigold decorations can be purchased in Nook Shopping.
ACNH St. Martin's Day 2021
St. Martin's Day is a European Festival that correlates with the lanterns, also called the Funeral of Saint Martin, Martinstag, or Martinmas, as well as Old Halloween and Old Hallowmas Eve. This is the Lantern Festival in Animal Crossing New Horizons and we can participate from November 1 to November 11. 6 different variations of Lantern items are available from Nook Shopping.
Brewster & Cafe In ACNH 1.11 Update 2021
Thanks to the hard work of data miners the community gets the features that Nintendo is tinkering with or even developing by uncovering new and adjusted code. One of the most significant findings in the most recent data mines is new keywords and event flows within the game's code "IdrMuseumEnt03" "IdrMuseumCafe" that suggests a cafe is being worked on behind the scenes. However, it does seem to point towards Brewster and the Roost returning to the franchise in ACNH 1.11 version. Moving on to another keyword shared by data miners infers the potential cafe would bring to the Animal Crossing New Horizons 1.11 summer update. May just be the first clue that gyroids could be returning too in this new 1.11 update.
Gyroids In ACNH 1.11 Update 2021
In addition, this may be associated with the return of gyroids. Gyroids have been existed since the original and are essentially collectible furniture items that make a wide range of sounds and movements. There are hundreds of iconic gyroids to collect in the Animal Crossing universe. The truth is Brewster is a huge fan of collectible gyroids. For the most part, there is always have some connection between them.
For example, in let's go to the city, Brewster offered a storage facility that players could unlock by regularly buying coffee and using it to store the gyroids. Besides. in New Leaf by working part-time at the Roost, Brewster would even reward players with up to four Brewster-themed gyroids.
New Viewing Mechanic
The keyword "mCArray" was added back in the 1.10 update in April and was further modified in the latest 1.11 update. According to data miners, it could be Nintendo attempting to hide a cafe array whilst it's in development. Given similar data structures have more precise naming conventions. "mCArray" will be used in viewing items and models in a 3d space much like in catalogs and pro designs. Given this was added and modified alongside the other features that heavily suggest a cafe is in the works. It's easy to assume this is a feature that will allow us to view items linked to the cafe too.
However, they are all connected, if one of them is going to return through the summer 1.11 update of Animal Crossing, they are all coming back to New Horizons.
ACNH 1.11 Update Items 2021
Orange Spooky Tree 2500 bells
Yellow Spooky Tree 2500 bells
Green Spooky Tree 2500 bells
Monochrome Spooky Tree 2500 bells
Orange Spooky Trick Lamp 2900 bells
Yellow Spooky Trick Lamp 2900 bells
Green Spooky Trick Lamp 2900 bells
Monochrome Spooky Trick Lamp 2900 bells
Orange Spooky Treats Basket - 750 bells
Yellow Spooky Treats Basket - 750 bells
Green Spooky Treats Basket - 750 bells
Monochrome Spooky Treats Basket - 750 bells
Cucumber Horse - 125 bells
Dango - 275 bells
Eggplant Cow - 125 bells
Marigold Decoration - 400 bells
Moon Cakes - 275 bells
Songpyeon - 275 bells
Boba Coffee - 150 bells
Boba Green Tea - 150 bells
Boba Mango Tea - 150 bells
Boba Milk Tea - 150 bells
Boba Strawberry Tea -150 bells
Chitose Ame - 250 bells
Chocolate Frozen Treat - 150 bells
Orange Frozen Treat - 150 bells
Ramune Soda Frozen Treat - 150 bells
Stars Handheld Lantern - 275 bells
Moons Handheld Lantern - 275 bells
Stained Glass Handheld Lantern - 275 bells
Suns Handheld Lantern - 275 bells
Leaves Handheld Lantern - 275 bells
Melon Cotton Candy - 150 bells
Plain Cotton Candy - 150 bells
Ramune Soda Cotton Candy - 150 bells
Strawberry Cotton Candy - 150 bells
ACNH New DIY Recipe
Spooky Treats Basket
1 * Orange Pumpkin
2 * Candy
Spooky Tree
5 * Orange Pumpkin
10 * Hardwood
Spooky Trick Lamp
4 * Orange Pumpkin
4 * Iron Nugget