While the 3.4 Delve extension was a big success for Grinding Gear Games, the arrival of 3.5 deepens the endgame to offer even more challenge once you have completed the campaign. But maybe you're new or you want to resume the game without worrying too much about the mechanics (often complex) of the game. After spending thousands of hours and tested about fifteen builds, I start to have a good apprehension of game even if I still have a lot to learn (especially at the level of crafting but that's another story). For your convenience, I've chosen some builds that allows you to (re) start Path of Exile on December 7th, 2018 for the new expansion and its corresponding league "Betrayal league".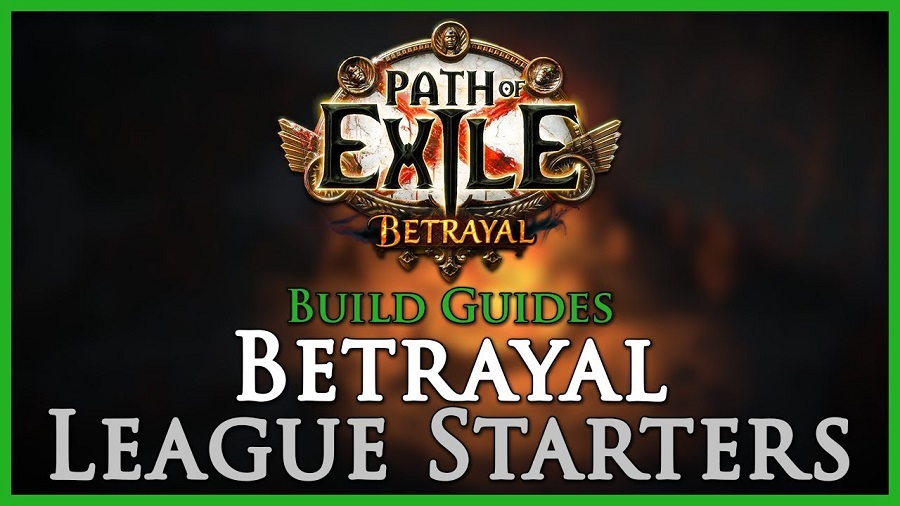 Path of Exile Builds For Starting Betrayal League
The Path of Exile Starter builds I chose have all the prerequisites to start a season without any gear or funds to pay for strong stuff. With these builds you will be able to start a whole new adventure and advance even if you have not enough POE currency on hand. To choose these POE starter builds, I took the following criteria:
- To be able to campaign without trading
- Build focused on one or two spells for easy and fast gameplay to understand
- Being able to endgame to push the game
- Does not contain PoE items at the unattainable price
- Or contains a "budget" version
Trickster Essence Drain: it's for me the best build to start a season if you do not know what you want to do. ED is a spell that has a very good AoE (Area of effect), damages and is easy to mount because we have it at the end of act 1 of the game. I am particularly fond of builds that play Chaos because there are very few monsters who are able to resist this element. Apart from a few bumps, it will not be a problem. Just think it's not the best single target spell so there are better builds to kill the bumps. But overall this build is very balanced and requires little investment before the end of the game.
Berserker Ancestral Warchief: Without doubt the safest build on this list, AW is a constant for the start of the season because this totem damages, allows you to play from a distance and can do big damage when you start to find the right gear. The totem gameplay is a little more passive but offers exceptional survival and DPS for the price it costs. AW is level 28 so act 2 and from there, the game goes without much worry. A perfect build for those who do not like the complicated and play without taking too much risk. If you want to play even more safe, choose the Chieftain ancestry instead of Berserker, it has an ability to make your totems decoy, bumps will never attack you again.
Berserker Sunder: Berserker is clearly THE best game class on the 3.0 and Sunder is taking advantage of this immense damage. A build very easy to play, very naughty that will please those who like to do BOOM BOOM everywhere and stuff the enemies in melee. If the finesse is certainly not the first quality of this build, its inexpensive gear compared to its efficiency early in the game you will surely be appreciated. Not much to say, it's tested and approved for many seasons now!
Raider Tornado Shot: When I tested the Raider build, I had the craziest game start I've seen so far thanks to split arrow. The most played class on PoE is Ranger and there is a reason: the builds are cheap, the clearspeed is indecent and the Ranger can get by in any situation. Tornado Shot is an ultra-classic spell for those who like to play keen characters and with a bow, nothing more to add you will go fast!
Necro Summon Raging Spirits: a classic there too, but not too played. SRS is available from the beginning of the game so easy to mount and its appearance "head-seeker" makes it impossible to miss enemies even when there are everywhere. The gear is not very expensive at the beginning of the game, the build is very easy to understand and for the witch players, it is a very interesting option at the beginning of the season before leaving on more elaborate builds.
Berserker Resolute Technique Cyclone: again it is a build that has existed for a long time but which, for the most naughty of you, will capture your sensitivity of big brute. The cyclone or whirlwind is a classic ARPG games and it is based on RT which is a liability that takes away the critical hits but you do not miss any hit. There is no need to think: we turn through the packs of enemies, bumps and so on. A build with dexterity where the reflection is close to the Paleolithic but hey, we sometimes do not want to think;)
Trickster Ethereal Knives: The Shadow class is one of the best in terms of DPS even if more fragile. EK is a 360-degree spell that's perfect for monster packs, and clearspeed will soon see Shadows mobility. Here too the rare gear is enough to get by the time to pick up cyber-cash and better items. I recommend it to those who like to browse quickly maps.
Personally, I will leave on a Scion ED for the next season but the choice of build is multiple. Some tips for moving forward without suffering too much and if you do not understand why you get screwed:
1. While looking at the yellow gears that you pick up before selling them, it's easy to miss a good stuff with the amount of items to pick up.
2. Download NeverSink's Semi-Strict filter to collect only valuable items. Check out the valuable POE items on our Path of Exile Wiki
3. Try hard to hide your resistance. Even if it's not easy, normally you must arrive with at least 50-60% for each resistance starting from the act 6. The 75% everywhere are compulsory from the maps of the Atlas.
4. If you block a boss, it is still possible to buy items from other players even at the beginning of the season. Use Goldkk.com to buy cheap POE Unique items and currency or the official website.
5. Do not be afraid to die, it does not matter. The characters in softcore are made to go the furthest and make the currency without taking any risk. There is no shame in dying at the chain to have a big gear or a pesky boss.