The new expansion Path of Exile 3.10 is coming! In the past months, you might be struggling to complete your personal league, now Path of Exile 3.9 Metamorph League is coming to an end, and the new expansion 3.10 is going to drop. Grinding Gear Games has just announced the upcoming Delirium Challenge League that launches on March 13th for PC, and a week later for console. In this article, I will detail what GGG are planning to do – 3.10 Delirium league timeline, new skills, new items, cluster jewels, general improvements for POE in 3.10 and more.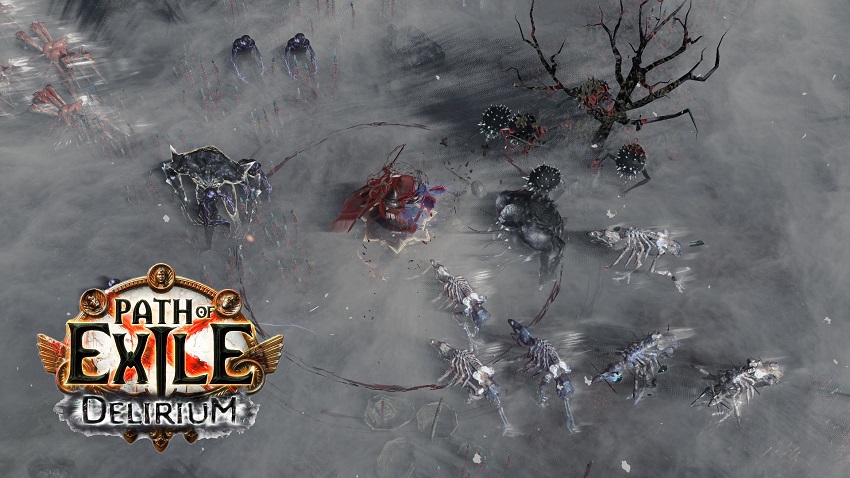 Path Of Exile 3.10 Delirium Guide/Reveal - Contents, Release Time, Inprovements In New League
With the official Path of Exile 3.10 announcement from GGG, the full details of the POE 3.10 Delirium mechanics is revealed. The way this legal function is you'll encounter a mirror in all zones similar to a breach portal. When you walk through the mirror, you'll active a time to lyrium encounter. What you'll need to do is defeat the nightmare, plunge into the horror, terror permeates wareclast. Below goldkk.com introduces the latest update of POE 3.10 expansion release date, new contents, skills, improvements & more details.
POE 3.10 Delirium New Skills
Delirium is introducing four new Skill Gems and three new Support Gems. Focusing on keeping the gems versatile by design so that they can complement many styles of gameplay.
Blade Blast: Detonate blades that are now left behind by Ethereal Knives, Blade Vortex and Bladefall for a potent combo.
Kinetic Bolt: Fire a projectile from your wand that bounces back and forth, forking with each bounce. Spell damage further empowers the wand attack.
Stormbind: Place storm runes on the ground that spread out as you channel. You can then channel mana into your runes, upgrading and detonating them.
POE 3.10 Delirium New Items
Alongside the new Currency Items, Cluster Jewels, Gems, and Endgame Simulacrum Maps, Path of Exile Delirium incorporates many new Divination Cards and Unique Items that offer new possibilities for character building. In all, there are 13 new unique items to look for, and four of them work together to create a full set of equipment. Here are the new items that have been teased in the latest POE 3.10 announcement:
Perfidy: It's a melee-focused body armour that enables you to hoist two banners around that charge up as you kill monsters
Algor Mortis: Caster-themed gloves that offer cold and lightning hybrid build opportunities
Sap: Alternative lightning ailment you can use without giving up Shockhat are now left behind by Ethereal Knives, Blade Vortex and Bladefall for a potent combo.
POE 3.10 Delirium Support Packs
In addition the Path of Exile Delirium, GGG has also launched two sets of Supporter Packs - the Darkseer and Fateweaver Packs. There are two price points available for each and they each contain points, Armour sets and other cosmetic microtransactions!
Improvements To Path Of Exile 3.10 Expansion
Conquerors of the Atlas revitalised Path of Exile's endgame experience. In Delirium, GGG have made Conqueror spawning deterministic, reintroduced Sextant vendor recipes, created extra incentives to reach higher Awakening levels, revamped Vaal side areas in maps, improved the Temple of Atzoatl, and more.
Path Of Exile 3.10 Delirium Release Date/Timeline
GGG has confirmed that the POE 3.10 release date will be on March 13 (PST) on PC and the following week on Xbox One and PlayStation 4.
The release times are:
20:00 GMT
21:00 CET
15:00 ET
12:00 PT