Since the release of Rocket League, there are plenty of battle-cars are released each year. Focus on these vehicles, what's the Rocket League best car body to buy and use? In this article, we present the top 10 Rocket League best car 2020, list the top picks in the whole history. These excellent bodies are available at our Rocket League items supplies.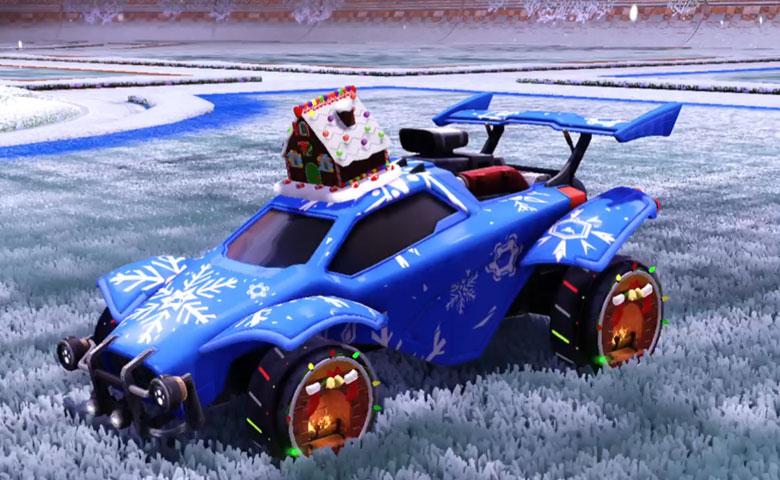 Rocket League Best Car 2020 - Top 10 Rocket League Car Body
Top 10 - Marauder
Rocket League Marauder is a battle-car released in 2016 as part of the Rocket League Collector's Edition, it is designed based on a humvee. Marauder is an underrated choice, it is often overlooked in favor of the fairly similar-built Merc, the large bulky shape of the car might be a bit off-putting to some giving them an idea of its slow speed, but its wide hotbox makes it a pretty solid option, if you like a more defensive game, Marauder is a great option for you. If you plan on spending a lot of time swatting shots away from your goal, the overall large mass of this car makes it a powerhouse.
Top 9 - Merc
Merc is a Rocket League best car body released in 2015, it can be unlocked by completing matches. The painted variants of Merc can be traded between players. The massive size of Merc makes it particularly optimal for hitting balls when airborne, the advantage of the massive size also allows it to block goals and blast through opponents. The Merc was quite a popular car before its hitbox was changed by the developers of the game, this change led to many of the users ditching the Merc, it's quite obvious that a car with such a size will certainly lag in speed, so if you like to speed your way across the area, the Merc may not be for you as it possesses slightly weaker stats when it comes to boosting and turning.
Top 8 - Nimbus
Nimbus is a Rocket League battle-car release in 2018 and is classed as "Import". Nimbus looks sleek, it is a relatively short car with a pretty narrow hitbox, it's also an all-around solid versatile vehicle with an exquisite look, Nimbus has a pretty decent air dribbling and it's great at sharp turns while dribbling, the short size allows it to drift past the opponents with speed, the narrow hitbox might present some problems, but the other features compensate for the hitbox, if you prioritize speed and the other feature which the Nimbus provides and these features are enough to put the Nimbus in the list of the top picks.
Top 7 - Mantis
Mantis is a Rocket League battle-car released in 2017, it's an Import car which is certifiable and paintable. Aside from coming with some of the best boosting and turning in the game, the Mantis has the greatest width and is also a particularly lengthy car allowing you to cover the ball with great ease at least at ground level, it's easier to get the ball onto the car for dribbling and especially flicks due to its dimensions, some gamers also experience a slight advantage on kickoff while using Mantis and the flips have received some good feedback as well. Mantis is a pretty solid choice in a number of areas.
Top 6 - Breakout
Breakout is a battle car release in 2015, it can be unlocked by completing matches. Breakout comes with an unappealing design but it can be an influential car with its mobility and speed. It's the longest car in the game and this allows Breakout to be a great defensive car. Breakout will allow you to control your aerials smoothly, in addition to providing great dribbling probably the best among the cars actually. Its relatively flat top makes it more accurate and reliable to hit the balls directly into the goal. It's a pretty safe and reliable pick for both casual or competitive play. But breakout does have its drawbacks, for example, it prevents you from hitting the ball with power since it can't get much power on the ball aside from this.
Top 5 - Takumi
Takumi is a Battle-Car released in 2015, which can only be obtained from the Supersonic Fury DLC pack. Takumi has the smallest hitbox in the game and an admirable turning radius, its maneuverability is nearly unmatched, however, due to the small hitbox, it can be considered a bit weak defensively, this can be solved by putting some extra effort into defense. Takumi provides a very simplistic experience of handling and is also pretty fun to play.
Top 4 - Aftershock
Aftershock is a battle-car released in 2016, as part of the Rocket League Collector's Edition. There are no painted variations of this body. What it lacks in the hitbox department it easily makes up for. In its moderately sharp turns, while dribbling and the overall smooth feel while driving, Aftershock is also capable of generating loads of power which can give you a slight advantage, it looks and sounds like a little airplane which has impressed many, as the engine noises, mimic flight experiences and its flick potential is said to be devastating as well. Its width and power make it an optimal choice for an offensive ground game, there are still some problems when using it.
Top 3 - Batmobile
The '16 Batmobile is a battle-car released in 2016, Batmobile is a wide and long car with great turning, it's quite different from a plank car, but it has its own unique hitbox which allows it to be a meta in the world of rocket league. The increased length of the car compensates for the lack of surface area and low profile allowing it to have neatly controlled air dribbling capabilities, the Batmobile hitbox allows players to flick the ball with great accuracy and power. It also helps to block more of the goal as a goalkeeper, however, in the hands of beginners the Batmobile often becomes a source of frustration, it gets kind of hard to bounce dribble and take sharp turns for dribbling.
Top 2 - Dominus
Dominus is a Rocket League vehicle released in 2015. With the second most used hitbox in all of Rocket League, the Dominus is a solid car, it's a flat long car with highlight reel areas and stylish air dribbles. The Dominus is basically a big powerhouse flying through the air smashing the ball wherever you see. It's dribbling both on and off the ground shouldn't be a problem due to its long nose, the Dominus's shape helps to hit clean and hard strikes with precision. Since every car has a disadvantage, the Dominus does not have any degradable feature, the only downside of the Dominus is the fact that its low height makes it inferior in 50/50 situations.
Top 1 - Octane
Octane is a Rocket League vehicle released in 2015, along with the game release, it's also one of the most popular cars in the game. Whether you're stuck in bronze or have achieved a high rank in Rocket League, the Octane is always a safe option. It's considered the best all-around car, whether it's aerials dribbles, power shots, or something else, Octane has stood the test of time and remains meta to this day. What makes Octane so good? It's the best car for bounce dribbling and sharp turns while dribbling, Octane has the tallest hitbox in the game, making it ideal for dribbles on the ground and 50/50. Octane provides a level of comfort and consistency that is required in the highest echelons of the competitive system.