Today we are going to show you how to get Rocket League Sideswipe on your mobile devices. Whether you're using iOS or Android, you'll be able to use this version of Rocket League Sideswipe. So this is for those of you who have trouble downloading RL Sideswipe from the google play store and app store. Read on and learn how to install & play Rocket League Sideswipe on IOS and Android anywhere.
Rocket League Sideswipe Download Tutorial – How To Get RL Sideswipe Early
Rocket sideswipe is not available worldwide yet, there are still a few days to wait. But if you are looking for a way to download Rocket League Sideswipe before it releases, this guide is for you. This version of Rocket League is quite new and is only just released, however, for now, it is only available for users from Australia and New Zealand. With this RL Sideswipe download tutorial, anyone can play it wherever they're from.
How To Download Rocket League Sideswipe On Android?
1. The first thing that you're going to need is an android phone. And you're going to want a VPN as well.
2. Open up your settings on your Android phone, and come to the search bar which is going to be somewhere at the top and type in the word "unknown", go ahead and select it and search it and you will find that says "install unknown apps. Just tap on it and it's going to pull up like a list of apps on your Android device.
3. Tap on the browser and go ahead and make sure that allow from this source is enabled. Then go ahead and install Rocket League sideswipe on phones and start playing it.
4. Open up your browser on your Android and go over to eulerstore.com, once you are there, you can use the search bar or you can just go ahead and scroll down and look for Rocket League Sideswipe. Tap the install button, wait for that to load. Then it's going to say "do you want to download the app apk?" Go ahead and tap download, we are going to tap open and then it will say "do you want to install this application, it does not require any special access." Go ahead and hit install.
5. When we go back to our home screen, Rocket League Sideswipe should be there.
So this is the greatest and easiest way for you to get Rocket League Sideswipe Android download on your mobile device.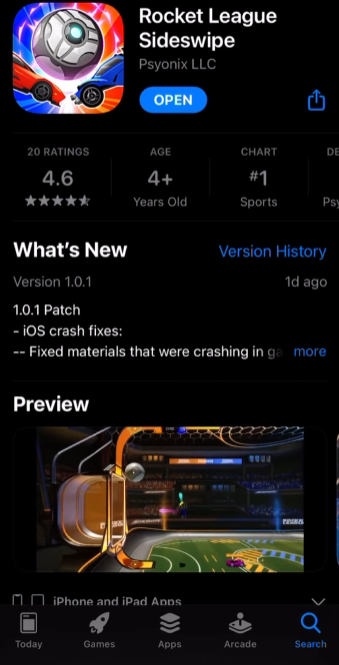 How To Download Rocket League Sideswipe On IOS?
1. Head to your app store, make sure you have an Apple ID account. Click on your account and it shows country. You need to change the store country or the region to "new Zealand".
2. As you confirm, it will take you to another page where it says to fill out the blanks, so follow the blanks for new Zealand. Choose a city, fill out the street, fill out the address, you can just google and get, just to put random addresses.
4. After you've done with that and confirmed everything, make sure to go again and check the country and region and make sure it shows on the right side, the checkmark on your region, then you're done.
5. After that, go to search and go Rocket League sideswipe and it should show you right there. Tap install and then you can play RL sideswipe IOS.
Conclusion: For the people who are struggling with installing after changing to new Zealand account, go to the settings app > apple ID > media and purchases > change the region. This Rocket League Sideswipe iPhone download will be available for anyone.
When Will Rocket League SideSwipe Release Worldwide?
On November 15th, Rocket League tweeted out that they are starting the pre-season of sideswipe in Oceania, following with South America, the Middle East and Africa, Japan/India/Asian countries. The only thing they haven't released yet is North American and Europe and people are wondering when is it going to happen, when Rocket League Sideswipe will officially launch to all regions worldwide?
The official rocket league news clearly said pre-season will be rolling out in additional regions throughout November, so the pre-season will have to go to every single region before season 1 can start. If you go to the challenges section inside swipe, it tells you that the preseason currently has 7 days left, which means December 4 will be the last day of the preseason and then season 1 should start on December 5, so that means all regions will definitely be out by December 4.
They are going to wait until the very last second of November to release this to na and eu, they want to fix as many bugs as they want to release the best possible version of the game, but they also want to give people an opportunity to play it a little bit before season starts.