The last month of 2021 is coming soon, what news can we get in Animal Crossing New Horizons? In this ACNH Toy Day 2021 guide, we'll get you to go through the Christmas event date, activities, items, Jingle's rewards, DIY recipes, and more. Any new items and changes will be updated.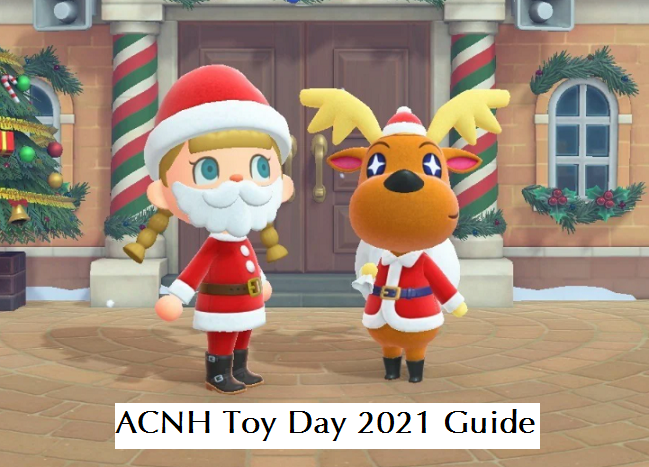 Related Read: ACNH December Winter Update 2021
ACNH Toy Day 2021 Dates - When is ACNH Christmas Toy Day 2021?
Toy Day is an Animal Crossing New Horizons event celebrating Christmas Eve, so it should be held on December 24, 2021, begins at 5 AM, and runs for 24 hours until 5 AM on December 25. The event date is the same for both Northern and Southern players.
What to Do on ACNH Toy Day?
Once we reached the Animal Crossing Toy Day, Isabelle will wear a Santa Hat and start her morning announcements, special holiday music will play around the island and Jingle will visit your island. Then what you can do during the Christmas event?
- Purchase the Santa outfit and accessories at Able Sisters and put them on, it's up to you.
- Find Jingle outside the Resident Services building and speak with him to unlock the Festive Wrapping Paper DIY recipe.
- Collect enough Christmas Ornaments to craft 3 pieces of the Festive Wrapping Paper for Jingle and get a Magic Bag of presents from him.
- Hand out 3 of the Festive Wrapping Paper to Jingle, he will give you a Magic Bag containing presents for villagers and exclusive Toy Day Stockings.
- Help Jingle to give these presents to both outside and inside villagers and get Jingle's rewards.
- Exchange your own gifts with villagers to get Christmas items.
ACNH Christmas 2021 Items - Animal Crossing Jingle Rewards, Toy Day Set Furniture & Holiday Items
Updated

ACNH New Christmas (Festive) Items 2021 & DIY Recipes
The Ornament Series is added in the Animal Crossing New Horizons 2.0 free update, can be obtained from crafting.
- Ornament table lamp
2× Red Ornament
2× Iron Nugget
- Giant ornament
10× Red Ornament
- Ornament garland
2× Red Ornament
2× Blue Ornament
2× Gold Ornament
5× Iron Nugget
- Ornament tree
3× Red Ornament
2× Blue Ornament
1× Gold Ornament
3× Iron Nugget
- Ornament crown
3× Red Ornament
3× Blue Ornament
3× Gold Ornament

ACNH New Frozen Items 2021
- Frozen Mini Snowperson
1× Large Snowflake
2× Snowflake
- Frozen Fence
5× Snowflake
- Frozen Floor Tiles
8× Snowflake
Original
1. ACNH Jingle's Rewards & How to Get
Festive Wrapping Paper (talk to Jingle)
Toy Day Stockings (give 3 of Festive Wrapping Paper to Jingle)
Gift Pile DIY recipe (deliver presents to over half of the villagers)
Toy Day Sleigh (delivery presents to every single villager)
Jingle's Photo (hang up the Toy Day Stockings in your house)
2. ACNH Toy Day Set Furniture & How to Get
You can buy this set of Toy Day items using Animal Crossing New Horizons bells from Nook's Cranny starting from December 1 to December 25. Each of them has multiple variations in different colors, but only one variation of each item will be sold at the shop of your island. You can also interact with these toys in the game.
Dinosaur Toy (Gray, Brown, Green, Blue, Red)
Dollhouse (Red, Green, Brown, Blue, Pink, Orange, Purple)
Kids' Tent (White, Pink, Floral, Blue, Brown, Black, Stripes, Colorful)
Mini Circuit (Red & White, Blue & Yellow, Black & Silver, Pink & Purple)
Pop-up Book (The Ocean Blue, The Mesozoic World, Savannah, Flowers)
Puppy Plushie (Beige, Red, Lemon & White, Spotted, Black, Tricolored, Gray & White, Pink)
RC Helicopter (Blue, Red, Yellow, Green, Pink, Light Blue, Purple)
Tin Robot (Silver, Blue, Red, Orange, Yellow, Green, Pink, Black)
Set of Stockings (Colorful, Cute, Cool, Chic, Elegant, Natural)
3. ACNH Christmas Santa Outfit & Clothing Items
Santa Hat
Santa Beard
Santa Coat
Santa Pants
4. ACNH Festive Christmas Items & Recipes
From December 15 to January 6, players are able to collect Ornaments and craft items from the Festive series in Animal Crossing New Horizons Winter.
Ornament Wreath
・Gold Ornament (×2)
・Blue Ornament (×6)
Tabletop Festive Tree
・Clay (×2)
・Tree Branch (×3)
・Gold Ornament (×5)
Ornament Mobile
・Tree Branch (×4)
・Gold Ornament (×1)
・Blue Ornament (×1)
・Red Ornament (×1)
Jingle Wall
・Clay (×5)
・Gold Ornament (×5)
・Blue Ornament (×5)
・Red Ornament (×5)
Illuminated Tree
・Iron Nugget (×6)
・Gold Ornament (×6)
・Blue Ornament (×8)
・Red Ornament (×8)
Illuminated Snowflakes
・Iron Nugget (×3)
・Blue Ornament (×9)
Illuminated Reindeer
・Iron Nugget (×5)
・Gold Ornament (×6)
Illuminated Present
・Iron Nugget (×3)
・Gold Ornament (×4)
・Red Ornament (×3)
Holiday Candle
・Clump of Weeds (×5)
・Red Ornament (×5)
Festive Tree
・Wood (×5)
・Gold Ornament (×2)
・Blue Ornament (×3)
・Red Ornament (×3)
Festive Top Set
・Hardwood (×1)
・Gold Ornament (×2)
Big Festive Tree
・Wood (×5)
・Clay (×5)
・Gold Ornament (×4)
・Blue Ornament (×6)
・Red Ornament (×6)
Festive Rug
・Gold Ornament (×5)
・Blue Ornament (×5)
・Red Ornament (×5)
Falling-Snow Wall
・Stone (×10)
・Snowflake (×3)
Festive Wrapping Paper
・Gold Ornament (×1)
・Blue Ornament (×1)
・Red Ornament (×1)
Gift Pile
・Wooden-Block Toy (×1)
・Cardboard Box (×1)
・Red Wrapping Paper (×1)