January might have been one of the duller months in Animal Crossing New Horizons. The snow finally disappeared from our frozen northern hemisphere islands. But there's a lot more than you can get excited about. Including major events and lots of items to collect in in ACNH February update. In this ACNH February update guide 2022, we are going to talk about the February events, items, critters, and more changes you can expect from this Spring update.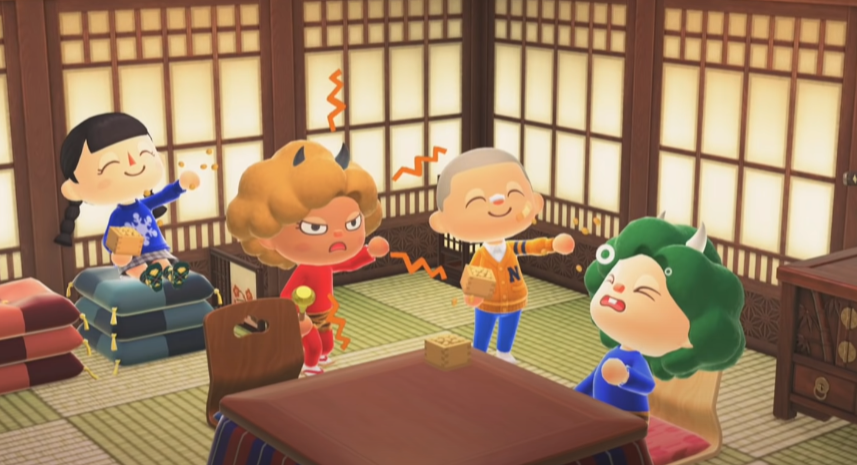 ACNH February Update 2022 - New Events & Items in Animal Crossing New Horizons February & Spring
On the 24th of February, the snow will start to melt in the northern hemisphere islands. For those of you who are just so sick of the snow, this is probably the most exciting change happening this February update ACNH. As spring will finally be returning to the game and the grass will be green once more. Actually, the grass won't actually be green right away. Instead, you'll have to enjoy the faded brown color for a while. With the snow disappearing this also means you will no longer be able to catch snowflakes nor will you be able to create any snowmen so make sure you do all of this and get all of those seasonal DIY recipes that you need to get before the snow melts away. and is Southern hemisphere players won't have too many DIY recipes during summertime. So they can look forward to a ton to collect when fall finally happens in their games pretty soon.
ACNH February Seasonal Events 2022
Festivale
Festivale is the main event happening in Animal Crossing February Spring update which introduces pave, the event's host and a whole bunch of new ACNH items to collect you'll be able to collect. Items related to this event from the 1st of February until the 15th when the event actually occurs. This includes new furniture items from Nook's cranny as we've seen from previous events. As well as a set of 4 reactions from Nook's Cranny as well. The Viva Festivale reaction set includes feeling it, let's go, viva, and confetti that cost 19,800 ACNH bells. At this time you'll also better purchase new clothing items related to the event from Festivale. So make sure you head out there and go after limited-time items whilst they're available
The new Festivale set looks really cool and you can get in a whole bunch of different colors too. Festivale event update falls on the 17th in 2022. It's an ACNH February event that is all about collecting feathers for pave using your net. He's bound to be thrilled to see you collect a bunch of different feathers for him and will give you some exclusive items in return for your hard work.
Lunar Year New
Lunar New Year isn't a major in-game holiday during Animal Crossing New Horizons February update 2022 but it's a nice little event that includes some unique dialogue from your villagers as well as Isabelle too. The day before the event, your mum will also send you a letter including something from her set. In the previous games, this event was only available in Korea, but now players around the world can enjoy it in New Horizons. This time it falls on February 1, so make sure to log on to your game that day so you can check this mini-event out.
ACNH February Seasonal Items 2022
Animal Crossing New Horizons Spring update 2022 brings a whole bunch of cool new items that you can get via the Nook Shopping Menu including the Setsubun Throwing beans which are a new type of holdable item which allows you to toss beans around your island. As well as the ogre costume for the event from the Able Sisters until February 5th. The Megaphone another new type of horrible item will also be available via Nook Shopping and as well as the American Football Rug until February 17th. An item to celebrate the Chinese New Year will be available from February 1 to the 7th, coinciding with the lunar new year event happening on the 12th you can also get an item to celebrate the Korean New Year at the same time. A cute little Resetti model will also be available until the 2nd of February to celebrate Groundhog Day. From February 1st to February 14th, you'll also be able to get the Chocolate Heart and Rose Bouquet Heart items from the nook shopping menu to celebrate Valentine's day. It seems like these items will be available in a wide variety of colors.
How To Unlock All New Items In ACNH February Update?
With all of these new items available you'll be wanting to check your Nook Shopping app out or the terminal in resident services frequently. So you can unlock all of these brand-new items with cheap Animal Crossing New Horizons bells. Be sure to check the nook shopping menu to get stocked up on all of ACNH February items,
ACNH February Bugs, Fishes And Sea Creatures 2022
A new Animal Crossing update in February means new bugs, fish, and sea creatures are available for you to catch. Be prepared though, cause a lot of bugs are leaving after February. Here we list all the new Critters you are able to capture during February:
New Bugs For February In Northern Hemisphere
Tiger Beetle - On Ground - All Day
New Bugs For February In Southern Hemisphere
Migratory Locust - On ground - 8 a.m. - 7 p.m.
Rice Grasshopper - On ground - 8 a.m. - 7 p.m.
Walker Cicada - On trees - 8 a.m. - 5 p.m.
New Fish For February In Southern Hemisphere
Soft-shelled Turtle - River - 4 p.m. - 9 a.m.
Moray Eel - Sea - All-day
Ray - Sea - 4 a.m. - 9 p.m.
New Critters For February In Southern Hemisphere
Flatworm- Ocean - 4 p.m. - 9 a.m.