You may know how to dribble, how to shoot, how to pass, but having a custom Jumpshot is by far the most important part of NBA 2K19 Ultimate Team. Here Goldkk.com will present the new best NBA 2K19 Jumpshot, which is the most overpowered green light jumpshot ever! No matter what 3 point rating your player has you can shoot consistent green from anywhere with this jumpshot. It is 100% the best jumpshot in NBA2K 19.
New Best NBA 2K19 Jumpshot For All Archetypes In MyCareer
In NBA 2K19 MyCareer mode, your player needs to reach overall level of 75, then you can create the custom jumpshot. To create your custom jumpshot, there are 3 most important components: lower/base, upper release 1, and upper release 2. The base of a jumpshot means the wind-up of a shot and Release means when the ball is release. When you're asked to select a jumpshot partway through the NBA 2K19 MyCareer mode, it can be hard to know which shot to select. Then here we bring a new best NBA 2K19 Jumpshot for you to use.
Best & Fastest NBA 2K19 Jumpshot
Lower/Base: Jump Shot 24
Upper Release 1: Manu Ginobili
Upper Release 2: Damian Lillard
Blending & Release Speed: 100%
Blending: Manu Ginobile 70% / Damian Lillard 30%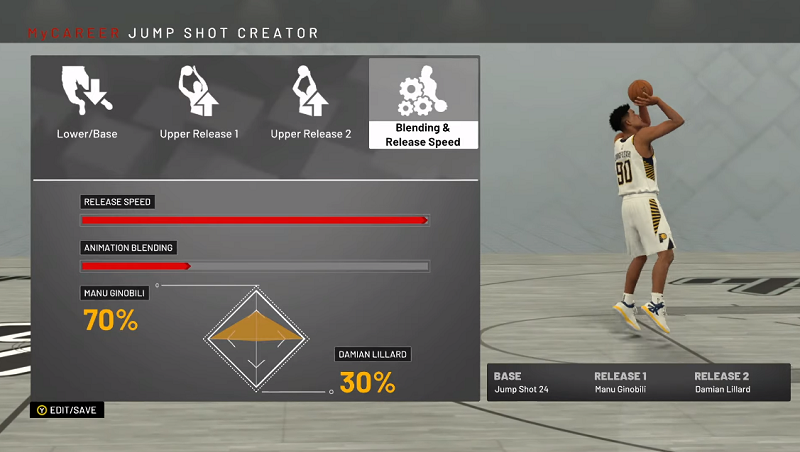 What you're looking at is the base of the jump shot 24. This has been going around for a little while, it's kind of overtaking set shot 13 as like the best base for like lockdown slashers and basically any on shooting builds you're gonna want a little bit of a faster base, but honestly even on a shooting build, this will work if you're okay using a little bit of a slower jump shot, so releases are 70% Manu Ginobile, 30% Damian Lillard and of course the release speed you're gonna want to max that out, because it's already a relatively slow, if you compare it to like base 11 or lemarcus or base 9 or other jump shot, you might be using the base is gonna feel a little slow but is ridiculous, what this base does man it's so easy to green from top of the key mid-range corner catch and shoe off you know taking a couple dribbles and then pulling up, it's a ridiculously like cheesy glitchy bass, they're probably gonna in a passionate I would think, but for the time being if you throw this on literally any archetype you're gonna be just fine, you're gonna be able to green.

More Best NBA 2K19 Jumpshot Recommendation
Both base and release you can choose from the custom ones that are preset or select from current NBA players. The shot will be affected by many reasons, like the height, weight and other features of your players. You'd better try more NBA 2K19 jumpshots to find the best one for yourself.
Jumpshot 1. Lower/Base: LaMarcus Aldridge, Release 1: Stephen Curry, Release 2: Chauncey Billups.
Jumpshot 2. Lower/Base: LaMarcus Aldridge, Release 1: Larry Bird, Release 2: Klay Thompson.
Jumpshot 3. Lower/Base: Jump Shot 11, Upper Release 1: Dwight Howard, Upper Release 2: Dwight Howard.
Jumpshot 4. Lower/Base: Jump Shot 24, Upper Release 1: Larry Bird, Upper Release 2: Rudy Gay.
Jumpshot 5. Lower Base: Rudy Gay, Upper Release 1: Paul George, Upper Release 2: Igoudala
How To Unlock The Custom Jumpshot In NBA 2K19

Only when your created player has reached an overall level of 75 can you unlock the ability to create custom jumpshot combinations in NBA 2K19. There are many ways to boost your player's level up, but one of the easiest ways is to simply buy NBA 2K19 VC/MT Coins and spend them on their attributes until they reach the overall level 75.
Once you do have a player with an overall level of 75, you can begin to create your own custom NBA 2K19 Jumpshot.