Are you having trouble in getting green lights with your current jump shot or making a wide open three pointer in nba 2k19? so today in this guide, our goal is to give you guys the best NBA 2K19 Jump Shot for you to use and get 100% green light every time, for all archetypes and positions!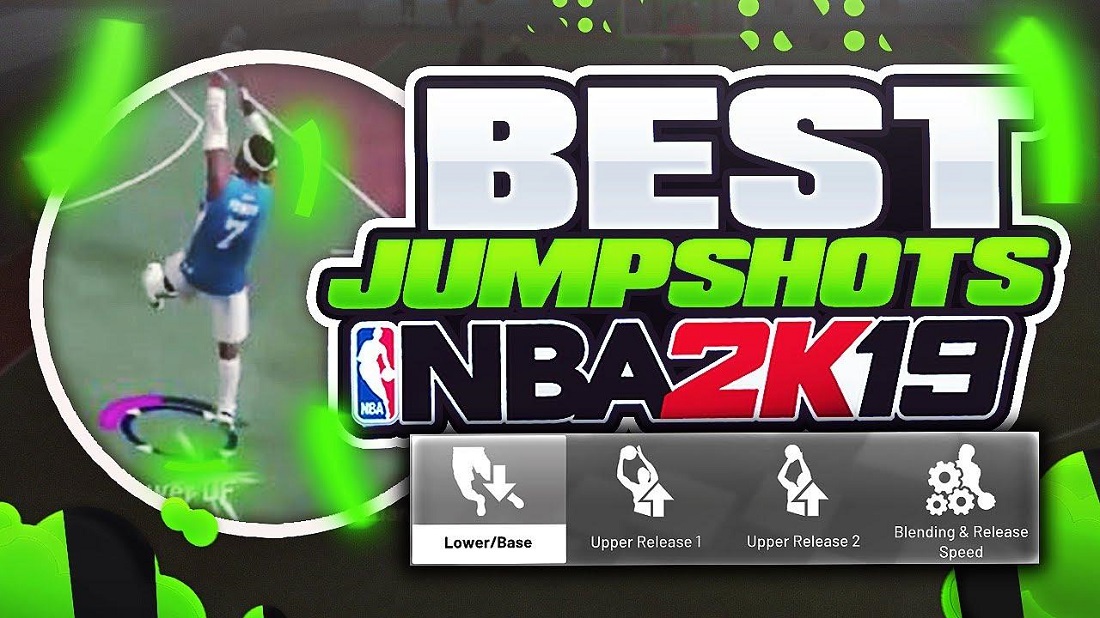 Related Read: NBA 2K20 Archetype System & MyPlayer Builder Changes, Rumors and Speculation
NBA 2K19 Custom Jumpshot
In NBA 2k19 MyPlayer and mypack game mode, you are allowed to customize your own jump shot once your myplayer reaches an overall rating of 75. the custom jumpshot always has one base, two different release styles, and a percentage of speed and blending. you can accordingly adjust the shot release speed timing to your liking. best of all, you can also blend two jump shot animations to truly create your own unique signature jumper. simply test the jump shots that appeal to you and try to tweak it with the jump shot customization.
The base of a jumpshot means the starting wind-up of the shot, which is how your player holds the ball, palms it, and sets up to go up into the air. in the game, you are allowed to pick a base jump shot from a list of custom bases, or pick some of the current nba players.
The release 1 and release 2 is considered as when the ball is released, which affects the timing of when you will need to hit that perfect release, and you'll need to learn how to match the bar to the release. also there are custom releases and current nba players' ones for your choosing.
Refer to the speed and blending, the former is about how fast the animation is overall, while the latter is how much your player will take from each of your picked releases. it allows you to choose the percentage of speed and blending (match 100%).
There are many ways to boost your player in the game, but one of the easiest and fastest ways is to simply purchase vc (virtual currency) or buy nba 2k19 mt coins on goldkk, and spend it on their attributes.
Not all jump shots are easy to use in nba 2k19. some don't have a smooth enough motion to help you accurately judge the proper shot release timing. others make your player jump longer in the air, making you vulnerable for a block. so you should learn how to change your jumpshot and get the possible best jumpshot for your playstyle.
Related read: NBA 2k19 best shooting guard builds guide & tips
How to costom your jumpshot?
1. Reach an overall level of 75 with your player to unlock custom jumpshots
2. Get your player into the neighborhood
3. Hit triangle (on PS 4) or y button (xbox one) to bring up the myplayer menu on the game.
4. Scroll to the my animations tab at the myplayer customization screen to find out "shots"
5. Modify which player's jumpshot you want to use in the game on shots menu
How to get the best jumpshot that best fits you?
To find the great jump shots by yourself is put on random jumpers that you think would possibly work out, and then go to the mic or 1v1 someone to test to see of it works in game, and then if it doesn't work, take it off and try another one.
googleadv
Best NBA 2K19 Jump Shots
If you don't want to spend time to test and find out the suitable custom jumpshots for your playstyle. here we present the some best nba 2k19 jump shots for you to use.
Best NBA 2k19 Jumpshot for Playsharp
Lower/base: lamarcus aldridge
Upper release 1: steph curry
Upper release 2: chauncey billups
Release speed: 100%
Blending: steph curry 65% / chauncey billups 35%
You will see how the arc on the shot goes up really high, but stehp curry with chauncey billups to release is decently slow most jump shots, it's like really fast. chauncey billups is the best shot in the game we can promise you. this jumpshot is decent this year but it's extremely fast and as you can see we have 65% blending for curry and 35% for billups, you can mess around with that if you're having trouble shooting. but we 100% sure it's by far the best jump shot in the game for playing sharps, shot makers, pure shot creators even slashing shot creators.

Lower/base: jump shot 11
Upper release 1: dwight howard
Upper release 2: dwight howard
Release speed: 100%
Blending: dwight howard 100% / dwight howard 0%
This jumpshot is absolutely insane, you can get green almost every shot, and if you end up getting a white it still goes in about 90% of the time, put hot spots all around the three-point line can help you shoot even better. try to get hot spots on your player wherever you shoot from, it will help you make even more shots.

Best NBA 2K19 Jumpshot for 3-Pointer
Lower/base: jump shot 24
Upper release 1: larry bird
Upper release 2: rudy gay
Release speed: 100%
Blending: larry bird 65% / rudy gay 35%
Although you have a 90 lower overall and your 3-pointer isn't that high, with this jumpshot, you can still shoot extremely well. you wouldn't think that you would ever be able to shoot straight green lights with a three-pointer that low but you can now. this jump shot right here is specifically for lockdowns rim protectors, even slashers players.

Best NBA 2K19 Jumpshot for Lockdowns
Lower/base: jump shot 24
Upper release 1: manu ginobili
Upper release 2: damian lillard
Release speed: 100%
Blending: manu ginobili 70% / rudy gay 30%
When your lockdowns of get silver cornice specialist, you can see you have hot spots in both of your corners which is basically the only two spots that you shoot from on your lockdown. if you'll shoot from the top of the key it still goes in most of the time, this jumper is just fantastic. it still says open because the release is just so far above your head and you can still green from the top of the key.

Best NBA 2k19 Jumpshot for Strength
Lower/base: jump shot 11
Upper release 1: larry bird
Upper release 2: rude gay
Release speed: 100%
Blending: larry bird 65% / rudy gay 35%
This jump shot is meant for any archetype, but strength primary - any archetype that has strength first or even if you have strength secondary it might still work.

Best & Fastest NBA 2K19 Jumpshot
Lower/base: rudy gay
Upper release 1: paul george
Upper release 2: igoudala
Release speed: 100%
Blending: larry bird 70% / igoudala 30%
This jumpshot has been considered as one of the fastest nba 2k19 jumpshots now. faster release means less chance of getting your shot blocked. rudy gay rarely ever got his shot blocked, it was out of his hands before the defender had a chance. albeit it's much harder to time very fast releases in a video game but the pay off is less shots blocked.
Related read: NBA 2K19 best shooting guard - pure sharp shooting build guide
That's all for the best NBA 2k19 jump shots we commend, keep trying to find out the best one which fit you best and help you win! read more nba 2k19 guides and news on our goldkk news page.