In order to bring more fun to the game, Psyonix introduced the Rocket League Trade-In system in the patch v1.19 update in 2016. This system brings up a new possibilities for players to gather some exotic, import, rare and very rare items by trading in around 5 Uncommon items. Also you can trade 5 rare items and get a very rare one in exchange. Here goldkk.com will introduce all the details of Rocket League trade-in system, also present the list of Exotic, Import, Rare And Very Rare Items!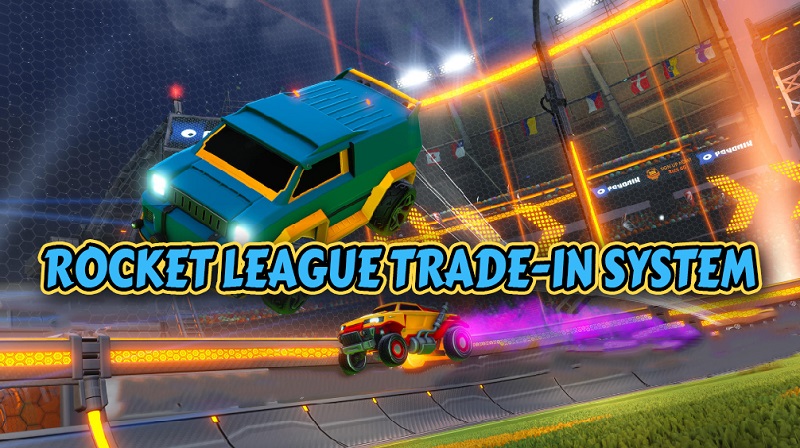 Rocket League Trade-In System Guide
Since the Rocket league trading is put into the Rocket league store market, there are many benefits for customers. You can sell or exchange extra Rocket League items for cash, keys, crates or other items you want in the Rocket league trading store. In addition to that, now another new expansion Trade-In system was dropped into Rocket League, which allows you to exchange five items of the same quality for one item of a higher quality. For example, if you trade in five uncommon items, you'll get a rare item out of it.
Before, you've only can be able to trade in your Uncommon and Rare online drops, leaving many of you stuck with a stockpile of Very Rare Rocket Boosts. Now the trade-in system allows you to go all the way up to Import and Exotic quality!
Players can possibly access that using the new Rocket League Trade-in system, and also clear up their inventory by removing a lot of duplicate items. Players can trade 5 Uncommon Rocket League items for 1 random Rare item or 5 Very Rare items from same crate series to get 1 random Very rare item of higher quality. The import items are a new part where players can trade for 5 very rare drops to get a Painted Body or boost. If you don't have much more extra items for trading in, welcome to buy Rocket League Trade Up items for different tiers on goldkk.com!
Rocket League New Trade-In System List Of Exotic, Import, Rare And Very Rare Items
Import Items
Bodies
Breakout
Merc
Octane
Road Hog
Venom
X-Devil
Rocket Boosts
Datastream
Flamethrower
Ion
Lightning
Plasma
Sacred
Sparkles
Standard
Thermal
Exotic Items
These are the exotic painted wheels you can get while trading new import items.
Rocket League Boosts
Alchemist
Almas
Dieci
Falco
Invader
Lowrider
Neptune
Octavian
OEM
Rat Rod
Spyder
Stern
Sunburst
Trahere
Tunica
Veloce
Vortex
Rare Items
Toppers
Bycocket
Surfboard
Foam Hat
Halo
Hawaiian Lei
Heart Glasses
Jack in the Box
Latte
MMS Headphones
Octopus
Stegosaur
Cromulon
Unicorn (Topper)
Beret
Royal Crown
Pork Pie
Pirate's Hat
Little Bow
Chef's Hat
Ivy Cap
Wizard Hat
Derby
Mariachi Hat
Devil Horns
Visor
Witch Hat
Traffic Cone
Chainsaw (Topper)
Fire Helmet
Trucker Hat
Birthday Cake
Bowler
Brodie Helmet
Fez
Fruit Hat
Hard Hat
Antennas
Alien
Balloon Dog
Candle
Chick Magnet
Cupcake
Disco Ball
Donut
Flower - Daisy
Flower - Orchid
Flower - Tulip
Foam Finger
Genie Lamp
Giant Panda
Harpoon
Hot Dog (Antenna)
Hula Girl
Parrot
Piñata
Pinwheel
Rainbow Flag
Rocket
Rose
Rubber Duckie
Satellite
Seastar
Sunflower
Trident
Venus Flytrap
Waffle
Very Rare Items
Boosts
Frostbite
Hearts
Treasure
Lightning|Default Color
Magmus
Lightning Yellow
Toon Smoke
Taco
Feather
Ink
Paints
Metallic Pearl(Smooth)
Moon Rock
Metallic(Smooth)
Knitted Yarn
Burlap
Cookie Dough
Banners
Salty
Unicorn(Banners)
Nice Slice
Starbase Arc
Pigeon
junk Food
Moai
Calculated
Beaten Egg
Starbase Arc
Toppers
Butterfly
Dragon Wings
Goldfish
GoogleAdv
Buy Rocket Legaue items Switch
Buy Rocket Legaue items XBOX ONE