The Path of Exile 3.8.0 expansion announcement finally comes out, GGG has revealed the new challenge league - POE 3.8 Blight League, with a series of new mechanics, items, changes, and features. Now, goldkk.com brings you the all the POE 3.8 expansion contents to familiar the new league faster.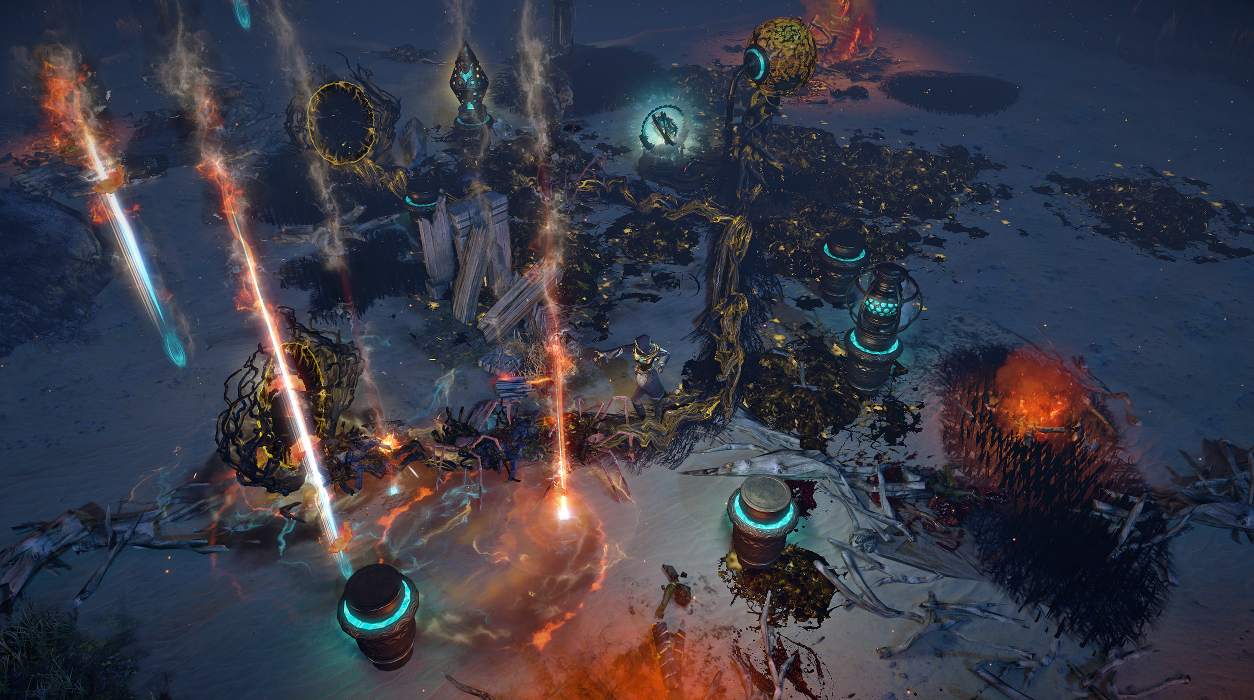 Path of Exile 3.8 Blight Expansion Guide - POE Blight Release Date
The upcoming timeline of Path of Exile is almost clear and get closer to us, check out the certain date and full details of following expansion announced so far, master the POE Blight League as soon as possible.
POE Blight Supporter Packs (Lich and Sentinel): August 22, 2019 (PDT)
POE Blight Launch Date for PC: September 6, 2019 (PDT)
POE Blight Launch Date for Xbox One and PS4: September 9, 2019 (PDT)
Path of Exile Blight Expansion Guide - New Blight Challenge League & Tower Defense
The tower defense mechanic is introduced in Path of Exile 3.8 Blight League to prevent the spreading Blight and against monsters, which also increases the POE 3.8 builds capabilities, allows players to use towers as part of the builds and create more things.
You can find new NPC Sister Cassia defend Fungal Growths that cause mind-controlling Blight spreading and infect nearby monsters to go berserk and attacking foes directly in their path throughout Wraeclast. The infected are unusually tough, so you need to build defensive towers to exploit each monster's specific weaknesses. For each tendril lane you defend, a chest will appear with your rewards. Sister Cassia's arsenal contains towers that Chill, Shock, Stun, Burn, Summon, Empower, Petrify and Debilitate. Choose, place and upgrade these towers carefully to take advantage of both the terrain and the weaknesses of the infected monsters.
Path of Exile Blight Expansion Guide - POE 3.8 New Items & Skills
- Blight yields Oils. There are twelve Blight yields Oils of different rarity can be used to anoint your jewelry by Sister Cassia. Each combination of them grants different result.
Confirmed/Revealed POE 3.8 Oils:
Violet Oil
Amber Oil
Silver Oil
Opalescent Oil
Black Oil
- Blighted Maps. There are gigantic Blight encounters with dozens of lanes and some of the league's most valuable rewards.
Confirmed/Revealed POE 3.8 Blighted Maps:
Blighted Ramparts Map
Ceremonial Blighted Toxic Sewer Map of Giants
Dire Point Blighted Canyon Map
- New Jewellery Enchantments. Enchant a Ring: combine two oils with a potent tower modifier. Enchant your Amulet: combine three Oils with any Notable Passive Skill from the Skill Tree.
Confirmed/Revealed POE 3.8 Blighted Rings & Amulets:
Moonstone Ring
Healthy Prismatic Ring of the Flatworm
Morbid Hold Ruby Ring
Blasting Citrine Amulet of Raiding
Woe Choker Jade Amulet
Zerphi's Heart Paua Amulet
- 18 new Divination Cards
Confirmed/Revealed POE 3.8 Divination Cards
- 16 new Skill and Support Gems
- 16 new Unique Items, such as The Stampede Assassin's Boots
Other new POE 3.8 items will be updated once it's released.
Path of Exile Blight Expansion Guide - Old League Integrated
GGG has made some improvements of old POE leagues like Betrayal's rewards, Delve easier to access deeper depths, integrated Legion and the boss fights from Synthesis into the core game.
You don't have to complete each Master Mission when you encounter it now and the arbitrary maps will be not required to be used in dailies. Map completion will reward you more missions and they can be run later through talking to the Master in the hideout.
Path of Exile Blight Expansion Guide - Revamped Archetypes Balance
- The Necromancer Archetype. The Summoner archetypes and Witch's Necromancer Ascendancy mechanics have been rebalanced significantly, such as buffed the per-gem-level progression of many minion types, added new support gems that allow you to fine-tune minion behavior, introduced the Carrion Golem, added a high-level wand base type that can roll powerful minion mods and an additional bar of skill bindings.
- The Poison Assassin Archetype. In POE 3.8 Blight League, five new poison-themed Skill Gems and one poison themed Support Gem added like Cobra Lash, which chains a poisoned projectile between your foes. The new Elusive mechanic, supported by a new Ascendancy notable, provides powerful defensive opportunities and a means of escape, while changes to the Perfect Agony Keystone Passive and multipliers for ailments from Critical Hits ensure the Poison Assassin gets his mark.
- The Mine Saboteur Archetype. How the Mine work has been revamped completely, thrown to a location, Mines are faster to deploy and detonate in sequence. Mine skills now also reward you for detonating long sequences. New and reworked Mine Support Gems, as well as the mobile Skitterbots, provide new avenues for explosive power. All these additions are further enhanced by changes to the Passive Skill Tree and the Saboteur Ascendancy Class.