Halloween is coming to Rocket League and the Hunted Hallows event released from yesterday which was the first special event introduced to Rocket League for celebrating the season of spooky and collect Candy Corn at the end of every online match. This event will works a little differently than before, here are all the details you should know about the Rocket League Halloween update 2020 & Haunted Hallows.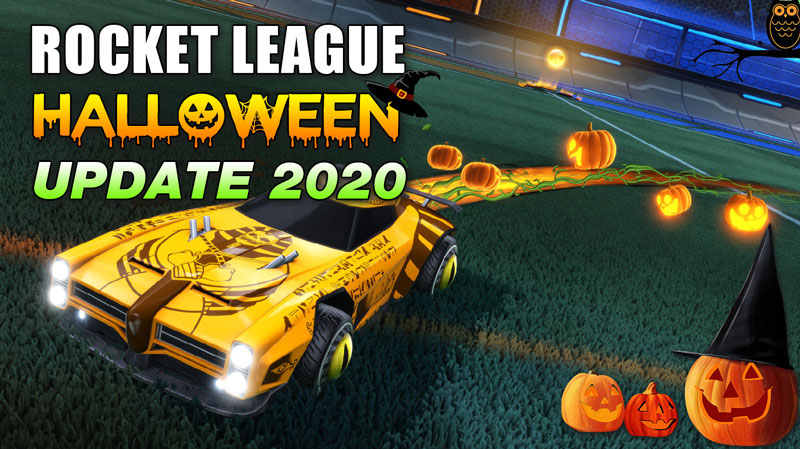 Rocket League Halloween Update 2020 & Haunted Hallows - New Items, New Game Modes, Golden Pumpkins
Now the Haunted Hallows goes live and will run for two weeks, your Event Challenges are available to complete. Completing each event Challenge will reward Haunted Hallows-themed item, like the Ghostbusters items, Wheels, Slimer Topper, Mood Slime Boost, and more (except spores, mold, or fungus are not included this year). Plus, the Haunted Hallows event also gives players the chance to earn the new RL Crate Golden Pumpkins from Event Challenges and they can be opened for free to get items from the Turbo, Nitro, and Vindicator Series. Rocket League 2020's Haunted Hallows also brings two Limited Time Modes Haunted Heatseeker and Spike Rush (not limited to the Haunted Urban Arena) and spooky items in the item shop throughout October.
Check out the complete list of all the Rocket League Ghostbusters items for Halloween event update 2020:
- Ghost Trap (topper)
- Stay Puft (topper)
- GhostBusters (player banner)
- ECTO-1 (player banner)
- GhostBusters (avatar border)
- Mood Slime (boost)
- Ectoplasm (boost)
- Slimer (topper)
- Stay Puft (wheels)
- Golden Pumpkin (crate)
- 20k (XP)
Buy Rocket League Ghostbusters-Themed Items Cheap From Goldkk
Earning Haunted Hallows event themed items by completing challenges might take you some time and you should put effort into it, some challenges could be hard to complete. So there will a lot of chances to buy Halloween items Ghostbusters items from item shop. And Goldkk is your best choice. We are the professional online game store that sells cheap Rocket League items & credits, keys, crates, decals and event items with affordable RL items prices, fast delivery and safety guarantee. All the Haunted Hallows event themed items 2020 Ghostbusters items will be available here soon. Just keep following our Rocket League items buying page!