Half of April has passed, and another ACNH update May would come in the near future. Today we are taking a look forward to May and discussing whether or not the May events from 2020 will return for 2021.
ACNH May Update Guide
Now we are coming to the end of all the content that was added in the most recent New Horizons update that dropped back in March in time for April. This update added the likes of the sangria villages and hundreds of samurai themed furniture and clothing items, a bunch of upgrades to the custom design app that allowed us to create standees fans and umbrellas and the latest batch of seasonal events including ACNH items for April fool's day, Tree planting day and prom season amongst others. Now this content has more or less been distributed fairly regularly over the last month or so, but given the event item for Nature Day is now available that brings us up to date, so what's next? As we near the end of the month with the last of the latest content now available and no longer time locked, it's around this time Nintendo previews the next wave of content which is typically through a new trailer. Given we're coming to the end of April, it's likely we'll see a new trailer or an article of some focused around a May update in ACNH.
Animal Crossing New Horizons May Events
Last year in May 2020, we saw two holiday events including May Day and International Museum Day, two new events that were introduced to the franchise for the first time in New Horizons.
May Day Event ACNH
May Day was a May event that ran from May 1st through to May 7th and saw players take part in a special limited-time mystery island tour, essentially Tom Nook would hand over a mayday ticket in celebration of international workers day, so you could travel to and take part in a super fun maze activity. During the event, not only could you earn very valuable bell vouchers but you could meet rover the classic traveling cat character and unlock his special briefcase.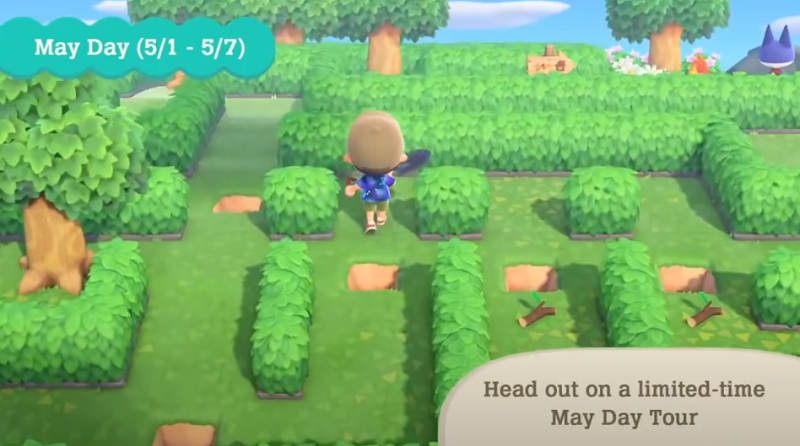 Museum Day Event ACNH
International Museum Day was another brand new event that ran from May 18th through to May 31st and celebrated within the museum itself in line with the real world celebration. Every day during the event, Blathers would set up stamp stations hidden in random locations around the museum, so players could take part in a stamp rally and run around collecting various stamps. The goal was to complete the stamp rally in every area of the museum to unlock prizes including the bug plaque, fish plaque and fossil plaque. Although this was over fairly quickly, it was a super fun event and beats just ordering an item from the Nook Stop.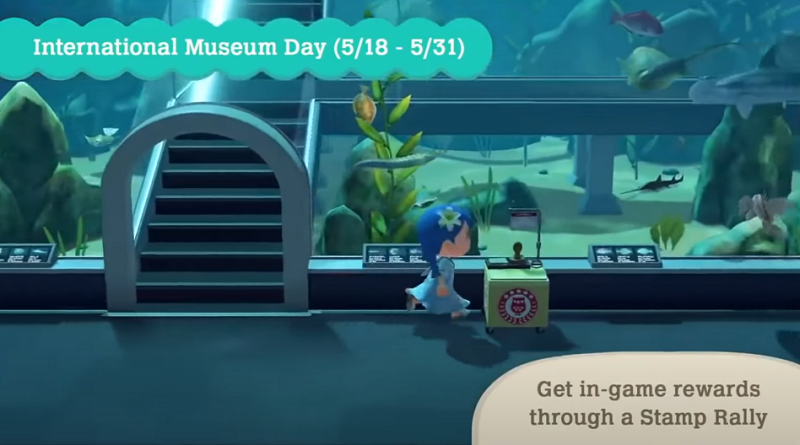 Will May Events Return To ACNH May Update 2021?
If you time travel forwards to May, neither of these events are currently scheduled to return to ACNH and can only be experienced in 2020 and if you time travel back which obviously isn't ideal for new players who have only just jumped into the game, or those who play in real time and miss last year's events. So that leaves us with the question as to whether or not these events will return in this year's May update.
Given the unique nature of these events is highly likely up until the last update, Bunny Day 2021 wasn't in the game either, however, version 1.9 added the event, marking it as the first repeated event since launch, this is a good sign that Nintendo planned to do the same with other significant events that generally run for a week or so like May Day and international Museum Day.
May Events Items - What Can You Earn During May Day & Museum Day 2021
If May Day and Museum Day returns, it's likely these will be slightly refreshed too, adding a few new items for players who've been playing since launch, so it's just as appealing for old and new players.
Rover could add a new May Day item and Blathers could add an art plaque, given the art room wasn't included in last year's stamp rally.
Other Event - Nature Day
Nintendo has also refreshed Nature Day this year and removed certain mechanics from the event, making it smaller and limited to nook stop items rather than having access to bonus Nook Mile goals during the event. But Nature Day last year was heavily linked to the introduction of leaf and his garden shop, so probably isn't the best comparison when looking at events returning as a whole.
What do you think? Will May Day and Museum Day return to Animal Crossing New Horizons for May update? Will Rover return to a mystery island tour and will Blathers add an art plaque to the museum day prizes?