Are you struggling with how to design your beach? Need some inspiration to build up a fabulous beach on your Animal Crossing New Horizons island for 2.0 update and upcoming summer season? Take a look at the following 8 ACNH beach decorating ideas, you can use the codes to visit and get ideas from other exterior designs.
Top 8 Ideas For Decorating Your Beach In Animal Crossing
The unique to Animal Crossing New Horizons is that players can customize their islands and create a perfect island experience. And every island needs a beautiful beach. If you find stuck for ideas of what to do with your beaches and look for some Animal Crossing New Horizons beach ideas, we've got you covered with a ton of inspiration. Now check out the 8 ACNH beach design codes for the new update 2.0 as below.
1. Beach Design With Jungle Vibes - DA-3932-9218-2794
There is a camper van on the beach, it looks amazing. The orange tones mixed with the pink and the green in this area very tropical. The flamingos are really great. This is such a restful beach area. The creator uses the little sea globes, which is is an ACNH furniture item you can collect in the game and it makes it look like the camper van like you are looking through some glass into a little mini aquarium full of fish. That's so cool and also there are bohemian vibes going on with all of the cushion designs, the hammock, all of it looks incredible. It's also super summery with the little infused water container and popsicles.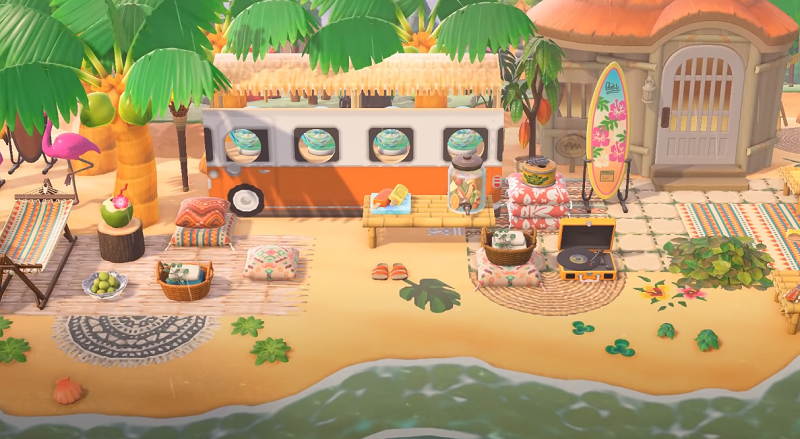 2. Cherry Blossom Beach Design Idea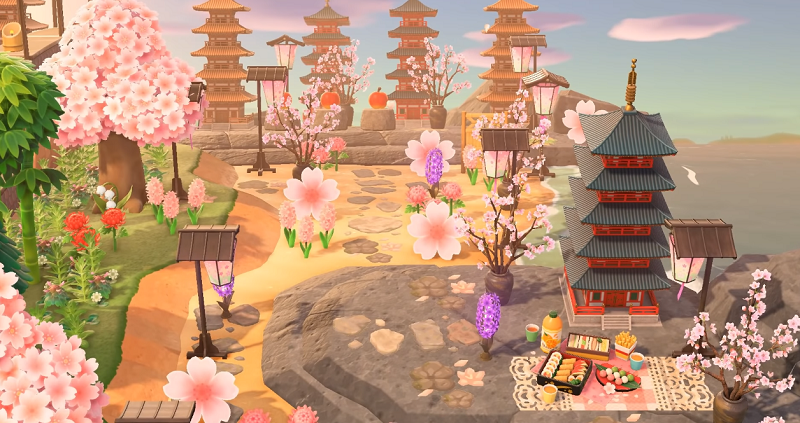 There are cherry blossom furniture on the beach and lots of pink items, pink hyacinths, pink mums. This is so gorgeous. The little picnic on the rock looks so good, the pagodas is really mysterious. This is really an amazing beach, with some soft furniture, soft colors.
3. ACNH Beach Design Code - DA-0251-4871-5628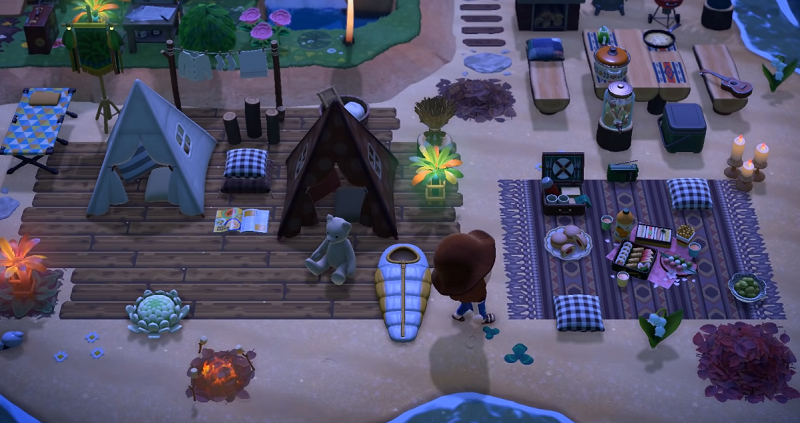 Add in some variants here with a beach at night. There is illuminated furniture to really bring it to life, from the festival lamps to the tiki torch and there are even some festival balloons that really make this area pop. The garlands also look amazing. There is also a campsite and there are too many tends on the beach. We've got an area to eat, a little picnic space, all of it looks so good and so natural on this beach.
4. Best Beach With Plant Shops - DA-6204-1892-7067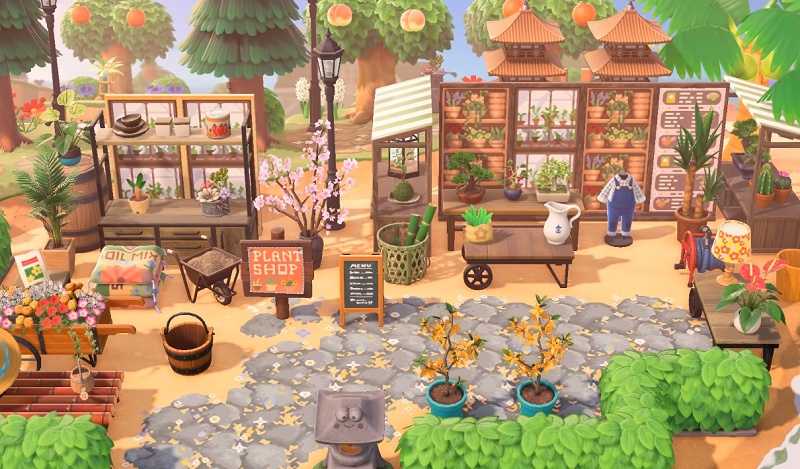 Another beach idea is that you could add plant shops on the beach, they can work great with anything. You could go for and they just look amazing. All the little details here are beautiful, the soil mix, the farmers overalls, all of that is just stunning. And there are so many plants, it really brings the area to life. There's so much greenery but also other colors, the cherry blossom branches, the new forsythia plant. You can also use the hedges as a border, it really defines this zone of the island.
5. Best ACNH Beach Design Idea - DA-5864-1100-8103
If you are looking for a way to use the face cut-out standees but you don't really want to do a camper van, this is a great beach idea. There is a coffee stand and with umbrella designs to the right. All of the details here look amazing, the stall designs, the simple panel designs, the telephone boxes, this area is just another example of really good composition. You've got nice neutral tones here, very calm coffee shop vibe.
6. Best ACNH Beach Design For Wedding - DA-0854-6171-9837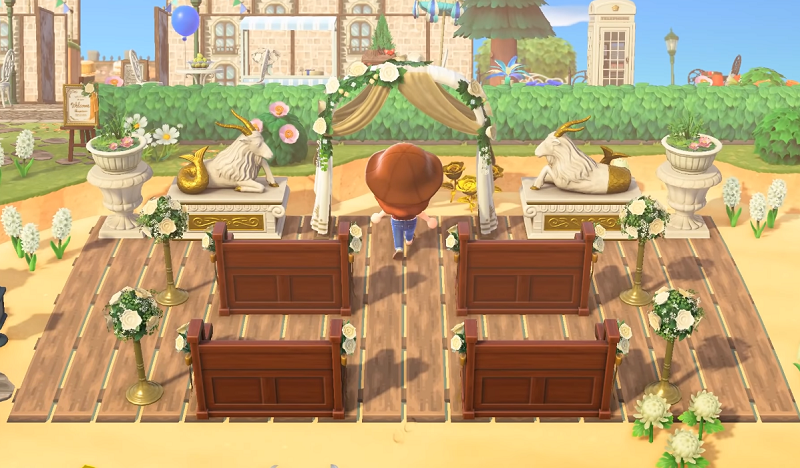 Another super unique way to fill your beach is to crate a wedding space. You must like the mix of the wedding items, the capricorn ornament and turkey day stands, the little banquet to the side, the pier is so cute, so simple, but so well done. There's so much furniture in the wedding set which is a good idea to use on the beach. It's a great way to fill a ton of beach space.
7. Decorate Your Beach With Mermaid Items - DA-6690-5930-4732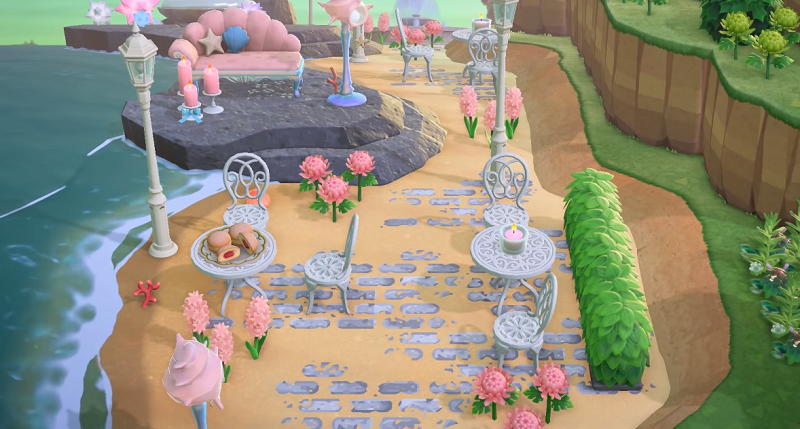 If you want really soft vibes on your beach, definitely recommend going with some pink flowers. The furniture here are really nice, using the shell bed and the Mermaid couch which is one of the most beautiful and elegant items in the game. The furniture items, garden tables, garden chairs really match well with the theme on this beach, the soft flowers, the cute white bricks, everything looks so lovely. There is a little seaside cafe and it's just so calm especially in the early morning.
8. ACNH Cute Beach Design Ideas - DA-5110-3656-0975