September is about to arrive, an ACNH September update will also be about to come, which means we'll be getting some limited-time seasonal items introduced in Animal Crossing New Horizons. Not only there are the ACNH items that we are familiar with, but also there are some brand new items to enjoy as well. This is the ACNH September fall item list 2021, we will in depth the corresponding events, when you can get the items, how you can get them during the Animal Crossing September update.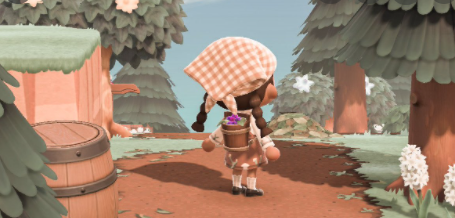 ACNH September Events & Items List 2021 - When & Where To Get Seasonal Items Of Animal Crossing September Update
Thanks to the ACNH 1.11 update, the celebration of Animal Crossing New Horizons events in September brings seasonal items as well. The best thing about every food or clothing item in the nook shopping menu is that they are from around the world, so that helps introduce a lot of different cultures to players. People can start to understand the tradition from different countries. Next, we list all ACNH September events and items in Fall.
Grape Harvest Basket
Event: Grape Harvest Festival
Available Time: September 1st - 30th
This ACNH item - grape harvest backpack now returns from last year for the Grape Harvest Festival. Sadly this item isn't actually a basket that you can get and display around your island. In addion, you don't see too many clothing items for the seasonal shopping menu during the Animal Crossing September updates 2021. It's worth picking up since you have quite a long period of time to get your hands on it from the 1st to the 30th. You can get the ACNH September items from the seasonal nook shopping tab, maybe you have the app as well or you can access it from resident services either way definitely be sure to get this item before it's too late.
Moon Rug
Event: Moon-Viewing Festival
Available Time: September 12th - 20th
The next seasonal items come from September update ACNH, we have a moon rug that lasts from September 12th to the 20th, as a part of the Chinese moon-viewing festivities. It is a September item returning from last year of Animal Crossing New Horizons. If you only started playing this year, it's definitely worth getting your hands on working with space-themed items that you can pay with cheap ACNH bells.
Dango & Moon Cakes
Event: Moon Viewing Festival
Available Time: September 12th - 20th
Dango and moon cakes are coming back to the game in ACNH 1.11 update 2021. These 2 items are coming from the Moon Viewing Festivities which appear for the period of time from the 12th to the 20th and this happens to be the same with songpyeon item which is a part of Chushyok. The truth is we'd like to see more food items introduced through the seasonal shopping menu in Animal Crossing New Horizons fall update 2021.
Songpyeon
Event: Chushyok
Available Time: September 12th - 20th
From the 12th to the 20th, a Korean harvest festival holiday Chushyok brings songpyeon items as a part of ACNH Fall September update. Songpyeon is a food item, you'll have roughly just under a week to get them.
That's all the Animal Crossing September events and items you need to know! There are definitely more items coming through ACNH November and October Update, keep an eye for those items!