In this Rocket League guide, we will demonstrate how to play workshop maps with friends, a subject that few people even now know. If you want to play multiplayer games with custom maps, keep read!
Rocket League Custom Workshop Maps
Custom workshop maps in Rocket League as the name suggested are the game maps which are created by Rocket League community, and can be uploaded into the game for training skills or making other interesting content such as Fall Guys. With this special feature, some amazing maps such as Water Polo, Table Tennis are shared to players, so we can say custom workshop map adds so much to the experience when playing Rocket League, unfortunately, though works great on PC, it doesn't work on Xbox, PlayStation and Switch.
How to Play Rocket League Custom Workshop Maps with Friends?
Custom workshop maps were used to created for personal playing, but now a multiplayer-way on custom map is discovered, follow us to learn how to on play custom workshop maps with friends step-by-step:
Step 1 - Initial setting
You only need to install and configure mods for the first time.
Step 2 - Workshop Textures
Texture file for custom map
Download page: https://rocketleaguemods.com/mods/workshop-textures/
Unzip Workshop-textures.zip and replace all files in it in the following folder.
Steam/steamapps/Common/rocket league/TAGame/CookedPCConsole
Step 3 - Bakkesmod
Mods that no longer need an explanation, required to run the Rocket plugin described below
Download page: https://bakkesmod.com/download.php
1- Unzip in a suitable place and run.
2- Open Rocket League after appearing what it says in the image.
(The necessary files will be placed in the Rocket League folder on the first run.)

Step 4 - Rocket Plugin
Plugin for Bakkesmod to host and participate in local games
Download page: https://bakkesplugins.com/plugins/view/26
1- Click on "Install with Bakkes Mod"
2- Click when asked "Open plugininstaller.exe"
3- Are you sure you want to install this plugin?
4- Click "Yes" when prompted
Step 5 - Custom Map
Sign up for the workshop map you want to play in Steam
https://steamcommunity.com/app/252950/workshop/
Step 6 - Hamachi
Download page: https://www.vpn.net/
When using Hamachi it must be used by the Host and all participants.
When not using Hamachi anything will do as long as port 7777 (default) can be opened.
Step 7 - Host Settings
1- Open Rocket League
2- Press the [F2] key to open Bakkesmod
3- Open Rocket Plugin (can be opened directly with the [Home] key)
Rocket plugin settings - Give participants the IP address and selected map.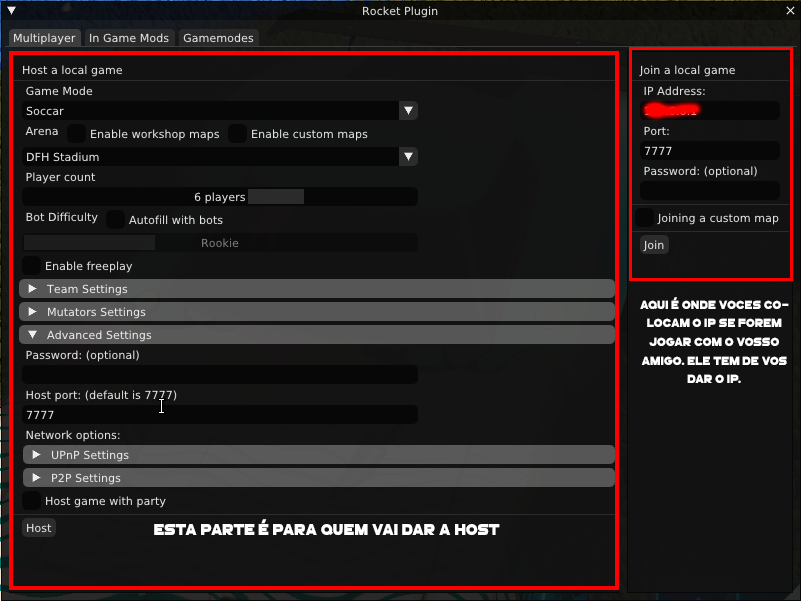 Hope this guide will help you to enjoy the multiplayer games on custom maps with your friends, if you want to get cheap Rocket League items to make up your battle car in a stylish way, check out the best offer on GOLDKK.COM.