The Ghostbusters Ecto-1 is back in Rocket League the item shop and this time it comes with a new trail, a new boost, some new black wheels, and a new Reel Afterlife decal which makes it look really broken and like busted and old which is awesome. But the most exciting thing is that the Stay Puft Marshmallow goal explosion will be coming painted to Rocket League, you'll see it in the item shop throughout the following weeks. In this guide, we cover everything about Ghostbusters DLC returns, as well as the painted Stay Puft Goal Explosion on Rocket League.
Ghostbusters Returns To Rocket League
Rocket League adds Ghostbusters Ecto-1 for players to enjoy in the game, and this isn't the first time that the game has included Ecto-1 for players. Rocket League previously featured Ghostbusters content for its seasonal Halloween event Haunted Hallows in 2020, which included a variety of Ghostbusters-themed items for players to use. This month, the game will receive both familiar and new Ghostbusters content, which will be released throughout the month.
Here's everything that's included in the Ecto-1 bundle for 1100 Credits:
Ecto-1 Vehicle
Ecto-1 Reel Life Decal
Ecto-1 Reel Afterlife Decal
Ecto-1 Engine Audio
Ecto-1 BK Wheel
Spirits Boost
RTV Trail
Note: The Ecto-1 cannot be customized with additional items.
Players who already own the Ecto-1 can buy the new items in the Ecto-1 Reel Life Upgrade Bundle for 600 credits. The items will also be available individually for the following Credit amounts in the Item Shop:
Ecto-1 Vehicle: 500 Credits
RTV Trail: 300 Credits
Spirits Boost: 400 Credits
Ecto-1 BK Wheels: 200 Credits
Reel Life Decal: 100 Credits
Reel Afterlife Decal: 100 Credits
Ghostbusters Ecto-1 Start & Expiry Time: All of the Ecto-1 bundles and items in the Ghostbusters Tab will be available for players to purchase in Rocket League from November 11 to Monday, November 22.
New Painted Stay Puft Goal Explosion On Rocket League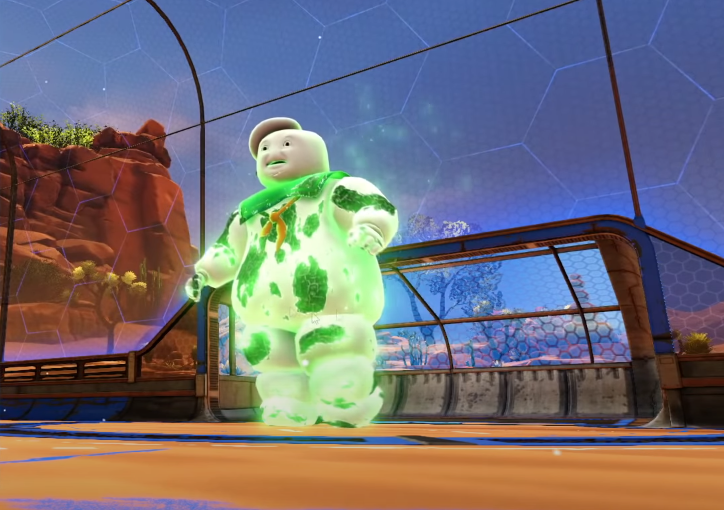 Additionally, the fan-favorite Stay Puft Goal Explosion is making a return and will be available for the first time in Painted versions in the Rocket League in-game Item Shop beginning November 11 for a limited time. Each painted variant will cost 800 credits and can be purchased in the rotating Featured Tab of the Item Shop.