after the release of the long-awaited poe 3.7.0 expansion update patch notes, a new mystery box set called frontier was officially introduced to the game, featuring 38 new microtransactions whose designs hail from a wild land full of danger, hunting and riches of all kinds. here goldkk.com will introduce you a guide to frontier mystery box in poe 3.7 legion, covering what's in frontier mystery box & how to open mystery box in poe 3.7 legion.
path of exile 3.7 legion frontier mystery box guide
the box can be bought directly from the shop with 30 points and of course in the future may be on sale individually. many of these mystery box cosmetics can be combined to create versions of the same designs with an alternate color, for even deeper character customization. the possible outcomes from your mystery box range in value from 30 points all the way up to 320 points. check this guide to find out the items and rewards available in the frontier mystery box.
what's in poe legion frontier mystery box
the frontier mystery box contains 38 microtransactions, what you can really get from a frontier mystery box is randomly provided and the consequence is deeply affected by items rarity. contains one of the following new microtransactions randomly:
- wild: wild wings, wild body armour, wild cloak, wild character effect, wild weapon skin, wild weapon effect, wild portal, wild panther pet, wile helmet, wild boots, wild gloves, wild aura, wild dash effect, wild cougar helmet, wild footprints, wild tree decoration, wild shrine decoration, wild wind effect decoration, wild scorpion pet.
- wrangler: wrangler wings,wrangler body armour, wrangler crossbow, wrangler character effect, wrangler blade skin, wrangler weapon effect, wrangler portal, wrangler hawk pet, wrangler helmet, wrangler boots, wrangler gloves, wrangler aura, wrangler frostblink effect, wrangler hat,wrangler footprints, wrangler building supplies, wrangler pylon decoration, wrangler gold rain decoration, wrangler scorpion pet.
every microtransaction in this frontier mystery box should appear in the store roughly four weeks after the 3.7 legion league ends. and here we've shown the rarity of each microtransaction and the price that it will be available for in the store.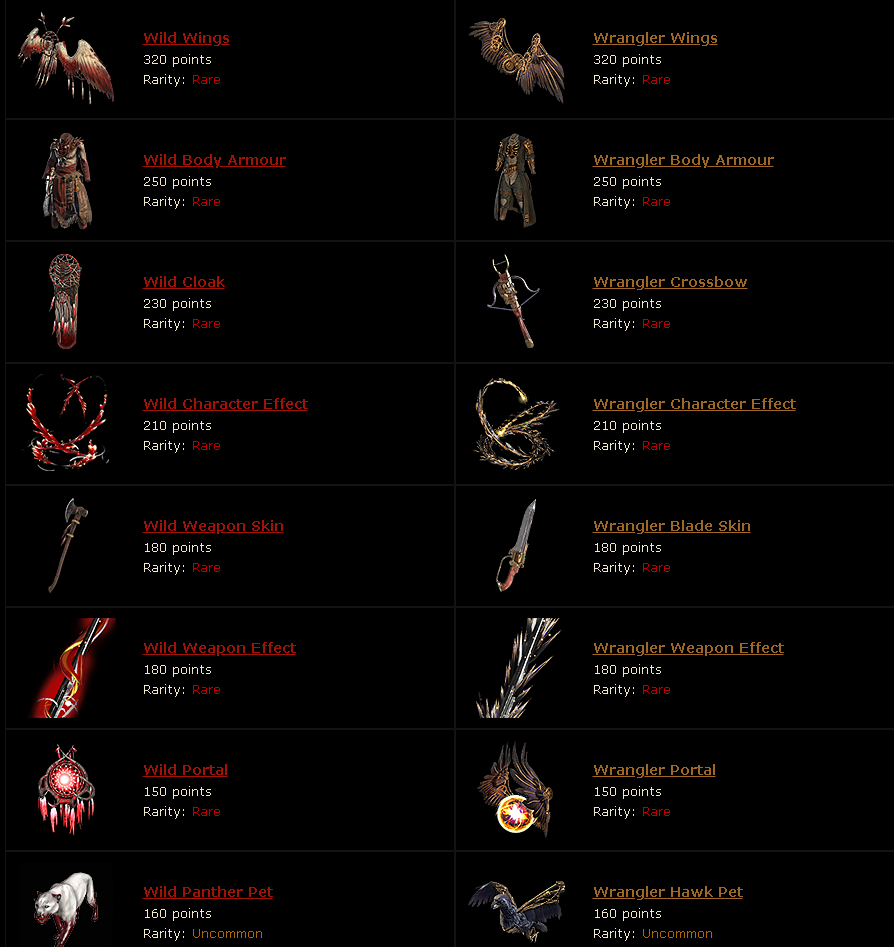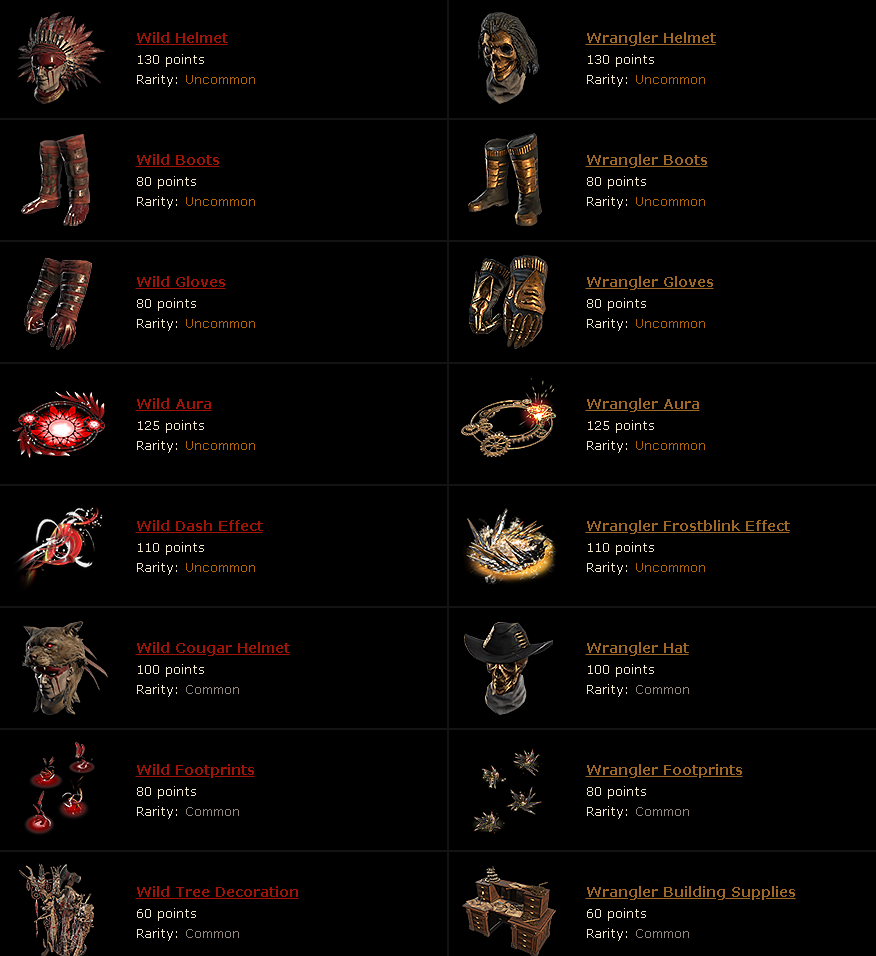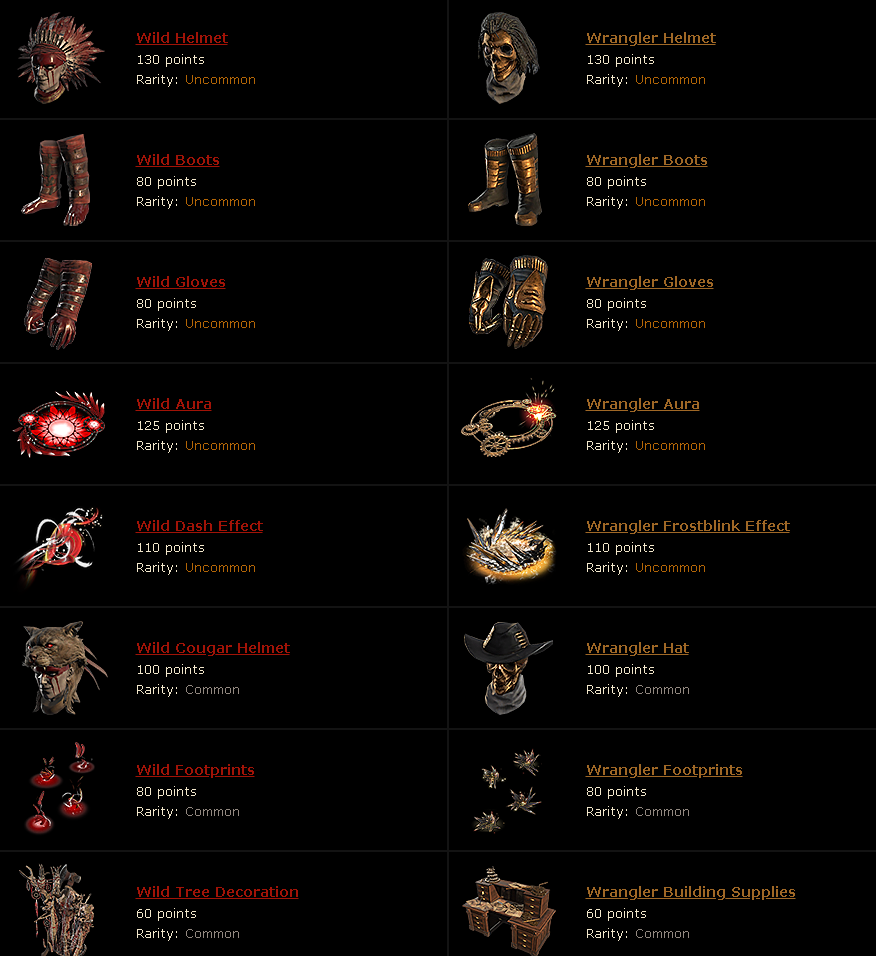 please note the microtransactions are grouped into three rarities: common, uncommon and rare. the microtransactions within each rarity are equally likely.

here are the odds of receiving a microtransaction from each rarity:
rare: 20%
uncommon: 35%
common: 45%
combining your rewards from frontier mystery box poe 3.7

the average reward of poe frontier mystery box is worth 110 points, which is more than three times the cost of the box. you could combine many of the microtransactions in this mystery box, such as the armour set pieces, cloaks/back attachments, wings, portals, alternative helmet skins and footprints. once the combination is completed, there is no way to be separated, cause this is a permanent process. so basically, the transformation from two different costumes to the brand new one is irretrievable and irreversible.
how to open poe 3.7 frontier mystery boxes
to redeem the mystery box, all you need to do is to open the in-game shop, then purchase it! after purchasing some frontier mystery boxes, you can find them in the consumable section of your microtransaction stash in-game waiting to be unwrapped. these mystery boxes have random outcomes. some items are rarer than others. you are guaranteed to get an item that is worth at least what you paid for it and it's statistically more likey that you'll receive something of higher value.
note: there are no guaranteed outcomes outside of microtransaction value. there may be duplicates.
googleadv
that's all about the introduction guide for path of exile legion frontier mystery box. if you need a reliable poe currency or poe items seller to help you level up in poe 3.7 legion, goldkk.com can be your best choice!