The 9-week event Radical Summer event is live in the game featuring lots of new unique Rocket League items as the rewards, including the new crate Totally Awesome Crate, Premium Battle-Cars, free new items, limited-time game modes and more. All the new Totally Awesome Crate items, Radical Summer items are now available on Goldkk.com!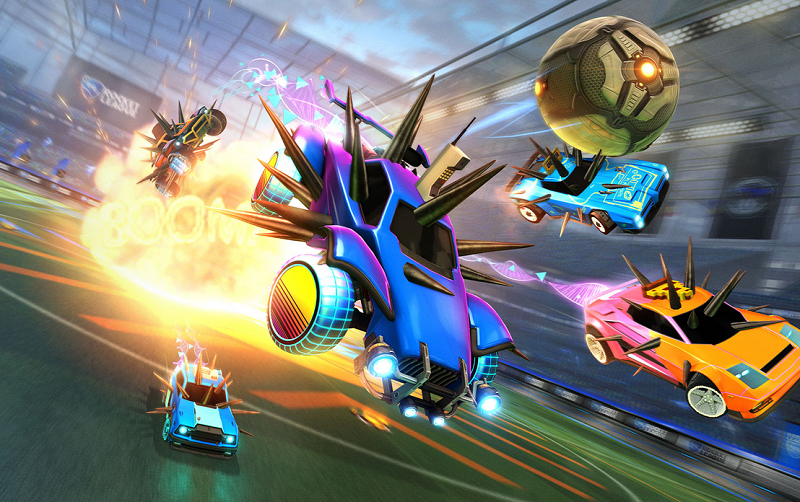 Rocket League Totally Awesome Crate Items/Contents
This special event crate RL Totally Awesome Crate itself fits perfectly with Radical Summer's '80s style. And it features more than a dozen customization options including the brand-new bodacious Battle-Car, Fennec. The design's appearance looks very special and dazzling. Plus, the three new Wheels being introduced will have Special Edition variants. In-game items in the Totally Awesome Crate are subject to the same drop rates as our previous Crates.
Check the list for new RL Totally Awesome Crates items/contents:
Twinzer: Smooth Jazz (Rare Decal)
Neoctane (Rare Player Banner)
Dominus: Mixtape (Rare Decal)
Diestro: Rico (Rare Decal)
Octane: Vaporwave (Rare Decal)
Blender (Very Rare Wheels)
Goop (Very Rare Animated Decal)
Anodized Pearl (Very Rare Paint Finish)
Krackle (Import Rocket Boost)
Fennec (Import Body)
P-Simm (Exotic Wheels)
Stella (Import Wheels)
Zefram (Exotic Wheels)
Shattered (Black Market Goal Explosion)
Rocket League Radical Summer Rewards - Free Items
Along with the new crate, the Radical Summer is motoring into its second phase: a celebration of '80s culture. Which means there are brand new items in the Event Store featuring the tightest trends from the 1980s. Thus, players can also buy more cosmetic items and golden eggs with their cassettes - the event currency, as the new As Radical Summer Rewards. The cassettes can be earned again in all online games and also in the new Limited Time Mode in Rocket League.
Check the full list of Rocket League Radical Summer rewards items:
Sunset 1986 (Banner) - FREE
Phat Hat (Topper) - 75 Cassettes
Mixtape (Topper) - 75 Cassettes
Brick Phone (Topper) - 75 Cassettes
Pixel Pizza (Topper) - 75 Cassettes
Cassette (Wheels) - 150 Cassettes
Sunset 1986 (Wheels) - 150 Cassettes
Vaporwave (Boost) - 120 Cassettes
Low-Poly (Wheels) - 150 Cassettes
GoogleAdv
Rocket League New Limited-Time Game Mode
- Spike Rush: You can always disengage your card's spikes to release the ball, Radical Summer's second phase introduces the all new limited-time game mode Spike Rush. In this 3v3 mode, every player has the Spike power-up from Rumble. All players have spikes, allowing them to stab and carry the ball. Players who have possession of the ball lose all boost, but can disengage their spikes to perform some wicked shots or passing plays. But be careful! The ball carrier is demolished on contact.
- Golden Egg: Golden Eggs are back as a part of Radical Summer, and this time will contain item from elevation, victory, turbo, and nitro crates. Up to five golden eggs can be acquired for each phase of the event. You can open the eggs without decryption or keys. Every egg you will be given Rocket League items at random just like a normal crate.
Rocket League Totally Awesome Crate & Radical Summer Items Are For Sale On Goldkk.com
All new items such as Fennec car, P-SIMM: Inverted wheels, Zefram: Holographic wheels, Magma decal and more are all for sale on Goldkk.com now for helping players who need the new items but tired of playing matches for collecting. Buy Rocket League Totally Awesome Crate and Radical Summer items cheap from our store can be the best choice as we are the most reliable store in the market, have been working on online game currency and items for years and received great reputations. The lowest price, instant delivery, worldwide safe payment, full refund policy, 24/7 customer services and more will be always provided.