Path of Exile: Blight has been officially launched!
What POE builds will you be playing in the new League? Choosing the best Blight League build is difficult if you want to explore the POE Blight content easily, especially if you're a beginner to Path of Exile. So here goldkk.com brings a bunch of strong starter builds for Path of Exile 3.8 Blight League.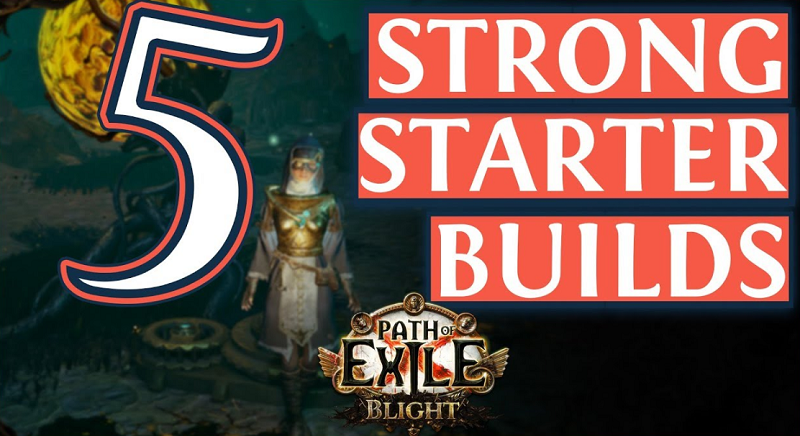 More Read: Path Of Exile 3.8 Blight Beginner Guide - Top 10 Tips & Tricks For POE Blight League Starters
Top Path Of Exile 3.8 Beginner Builds - 5 Best POE Blight League Starter Builds For All Classes
Path of Exile 3.8 Blight league is now live! Many new skills have been introduced with a fierce emphasis on how summoned minions interact and function. Necromancer, Saboteur, Raider and Assassin classes has received significant reworks. A lot of new Active and Support Gems are getting added, and major changes to those mechanics are being introduced. Making a build yourself is incredibly hard if you're just starting out, here we will present 5 strong League starter builds for Path of Exile Blight, all of these builds fits the requirements of being easy to level and will give you plenty of options to ensure the best start to the new league.
Check the list of top 5 Path Of Exile 3.8 Blight starter builds:
Dreamfeather Quad Melee Build For POE Blight Starters
> Hardcore viable
> Amazing survivability
> Great clear speed
> Can be played with no investment, great league-starter
< Has a bit less single target damage compared to other top tier builds
Click HERE to find the complete guide for this build
The first POE 3.8 beginner build on this list is a melee build that can be played in many different variations by low check. If you know you'd like to play in a tank based melee build but aren't entirely sure of which skill to go with, then low checks build might be worth looking into with this, you can use multiple skills with the same setup, this includes the hard-hitting and channel based black variant cyclone or the soda male. A lesser rate and reef skills or you could even give the relatively new and popular plate storm skill ago with the Sena. No matter what you choose the core design of this build can accommodate each skill with only a few of elf differences between them. All the build can be run as the gladiator or the champion ascendancy both a good picks with the gladiator, you will benefit from the powerful bleed explosions in pleat damage, thus Ascendency provides and ask the champion. You will comparatively be able to reach better overall defenses and boss killing potential to late-game although at the cost of being slightly slower. For a more thorough explanation of the pros and cons of each ascendancy you can read more in POE 3.8 Blight Ascendancy Changes - Path Of Exile 3.8 Saboteur, Assassin, Raider, Necromancer Ascendancy Rework & Up.
The build is designed around deviation as its core defensive mechanic but due to the interaction of the dream fella sorts that this build is to a wheelchair evasion also acts as a way of increasing your offensive capabilities by granting you. An increased tank damage bonus relative to the amount of evasion, you have furthermore the build incorporates the perfect form chest armor, and with this any extra cult resistances above the soft camp additionally scales the amount of evasion rating, your character has it also adds face acrobatics training 30% chance to dodge spell damage and produces the mana cost of oxy Gama by 100% basically allowing you to enable this defensive ability for free.
Cleave & Bladestorm Champ Build For POE Blight Starters
> Hardcore viable
> Decent clear speed while maintaining very respectable single target damage
> Decent damage mitigation
> Playing a pure physical build means you will not be slowed down by Monster Resistances in Maps
< Obtaining very good gear as exceptional Rare Physical Swords can be expensive
Click HERE to find the complete guide for this build
Comes up the next is a cleave and plate storm. Some of you may have seen it before when browsing the forums where it goes by Hank the tank as it has been a stable and reliable build that has been available to the community for a long while besides being absolutely mainly aimed at true awesome magnet. It is also one of those builds that can be played with multiple different skills as long as the support gems and some minor tree changes are accommodated that said the Hank the tank build is primarily focused around the cleave ain't weight storm skill as previously mentioned with this setup, you'll become a defensive powerhouse that is able to dish out more than enough damage for any constant the game currently offers the build displayed as the champion, because what woman doesn't like a champion but other benefits such as permanent fortifying and higher chains to impale the women love that too, and increased effect of banners with no extra cost. With this you'll be picking up the ion reflexes Keystone's who convert all your evasion rating into armor, the resolute technique keystone to ensure you never miss and crimson danes to allow you to stack up to eight bleed effects at the same target.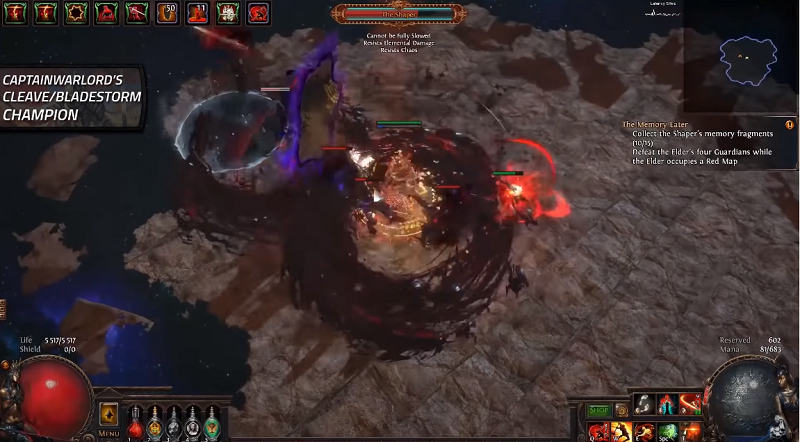 Path Of Exile 3.8 Blight Elementalist Build
> Fast clear speed
> Extra boss damage
> Beginner-friendly
< Some items are expensive
Click HERE to find the complete guide for this build
The fourth best POE Blight League starter build on the list is Elementalist Build, which has received some minor bugs many of the benefits in 3.8 are to be found, the other changes to the necromancer and new skill tree notes weakest build can be played as either the necromancer, but also the elementalist. With this build you will be able to get an effective level 28 flame golem scale for some serious damage alongside three vanguard spectres, that the build also features for extra boss damage and besides this is also a very tanky build that when factoring in the various defensive mechanics can reach up to around ten thousand effective health. The build is also very beginner friendly and features both a budget and expensive version and should be able to accommodate, almost any type of player as long as you enjoy minion build of not worth the gear to build feature items such as the clay shape, amis for an extra goal the victory shield to generate and spread friendship charges for your minions, the skin of the loyal chest armor, the presence of jailor emulate and the various golem specific jewels such as the Animus stone, primordial minds and primordial harmony. Some of these items can be expensive in the beginning of the league
Fire & Flamethrower Traps Saboteur Build
> Decent map clear speed+Can do every map modes but some are dangerous.
> Great damage
< Physical mitigation is low due to being a dodge character.
< You can't tank everything and need to learn your character's limits.
< Isn't fast as an arc trapper for mapping.
Click HERE to find the complete guide for this build
This build is designed around the trap archetype. The Saboteur which together with the necromancer radar and assassin also received some changes to its ascendency design the sleep. Some of these changes were better than others, but the Sepultura overall remains a solid ascendency dent with this type of setup condition a great amount of damage while maintained solid defensive capability is strong enough to deal with any type the game gets to throw at you and in Path of Exile 3.8 quietly, the fire trap skill has received another buff for some reason despite it already being as strong scale to begin with. That just means that people who enjoyed the skill before are probably going to enjoy it even more the base damage of the fire trap was increased rather substantially together with a notable area of effect of two souls felt when played. Optimally can deliver some solid single target that makes most boss encounters rather easy to deal with and with a bit of efficiency training and adderall. It also offers decent map clear speed of not where the items Souls build featured the combs heart chest armor, the slave-drivers handcuffs antennas to surprise to most people at bow and quiver.
Frost Blades Raider Build POE 3.8 Blight
> Hardcore viable
> Cheap to start
> Great clear speed
> Active playstyle, fun to play
< Dies to Elemental Reflect
< Needs good investment in order to achieve great single target damage
Click HERE to find the complete guide for this build
It's currently amongst the top 3 melee skills you can play. in path of Exile Blight. It offers great clear speed and due to the massive amounts of power creep that this game has benefited from depending on your viewpoint, what used to be a poor single target skill simply isn't true anymore as long as it is built correct. It isn't only the ascendancy class that has been improved, but the build also benefits from the new multi strontium that deals slightly more damage and has a low on mana requirement making it easier to sustain the skill that it supports of noteworthy gear fibers built feature items such as the dr. a vector boots for that extra frenzy charge, repent ammonius amulets to further reduce the enemy's cult resist with the potential of being able to blind. When you hit the mark of the elder ring for solid damage boost and out of these, the Konya set or a business helmet depending on your own personal preference.