In Animal Crossing New Horizons, no matter what themed island you want to create, beautiful natural landscapes are essential, especially for the natural or cottagecore islands. Then get the magnificent natural scenery, the following excellent ACNH Tips and design ideas can bring you unlimited inspiration.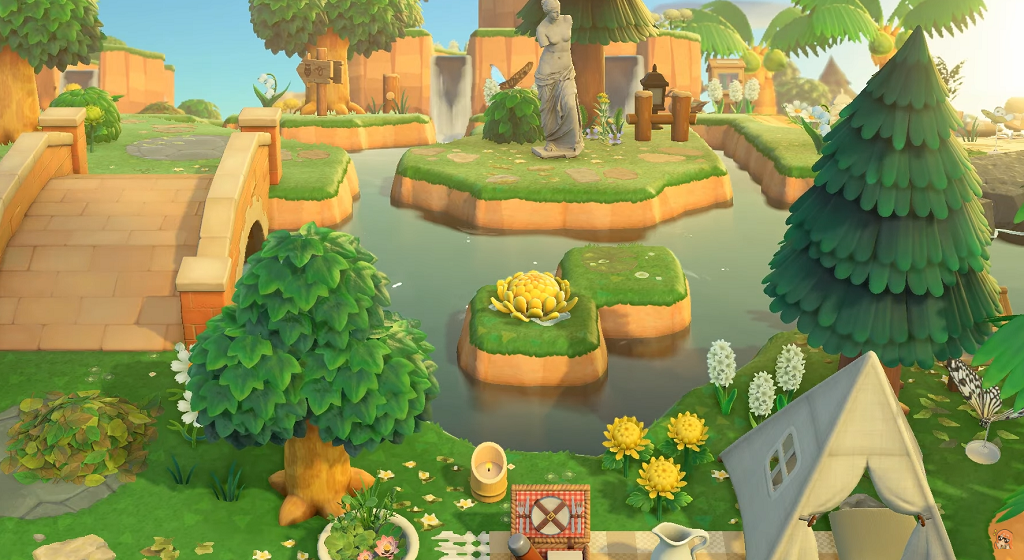 Best Tips For Creating Natural Landscapes In Animal Crossing New Horizons
1. Terraform The Landform
Terraforming in Animal Crossing New Horizons gives players unlimited creativity in building up their own wonderland, with which you can duplicate giant waterfalls, meandering rivers, even boundless seas. Natural terraforming gives you a good base to work from. Use waterfalls, rivers, pools, and cliffs to add visually interesting scenery to your island. For a more natural look, avoid using sharp edges or straight lines for any terraform constructs.
2. Planning Layout for Natural Areas
To create a natural landscape area, you need to plan the layout first, that is, how to perfectly match the roads, waterfalls, rivers, and other decorative objects together. We suggest you play paths down first, then dig holes or put down custom designs in spots where you want to put trees so you can est your layouts out before you do all the work of planting. Remember to leave space for items and little areas.
3. Mix Tree In Different Types
Mix different kinds of trees to create texture and special effects, and don't forget to place some flowers under the tree and around the paths to create lifelike natural landscapes. Freeze a tree at any stage of growth for more interest, just plant a piece of fruit directly adjacent to the tree at whatever size you want to freeze it at. Eat turnips to get enough power for digging up a lot of trees, which will help you to save time when doing a huge work for planting trees.
4. Add Flowers and other Plants
Natural scenery must not lack flowers and other plants, so adding flowers and shrubs after trees is a necessary step to create a perfect natural landscape. Use weeds to create a wild, overgrown look; pick a cohesive color palette and mix of different flower types; You can even create some special themed farms or gardens.
5. Fill Space With ACNH Furniture and Decorative Items
Only flowers and trees seem monotonous and boring, so put some interesting objects to add a more vibrant natural beauty. From garden rocks and tree stumps, to log set furniture, statues and mushroom themed items, group items together creatively for nice vignettes.