We're taking a look at new content, events, seasonal items, features we're going to see around our Animal Crossing New Horizons island throughout the month of April. There we have it that was eight fairly significant changes that we can expect to see during the month of April with pretty much all of them affecting both hemispheres in one way or another.
Animal Crossing New Horizons April Events & Changes
We are now coming to the end of March on the Animal Crossing New Horizons island, and just as you'd expect we're about to see a whole bunch of changes as we transition into April. As always some of these changes are adjustments to seasonal materials and Animal Crossing DIY recipes, some are changes to the island's aesthetics and other environmental changes, and some are of course new features events and seasonal holidays. Plus even more new content has been added in the latest 1.9 update that introduced, the Sanrio villages which change things too. Anyway, we'll cover the differences between hemispheres as we go but most of the changes apply to both. Here are eight changes and new additions we can expect to see during the month of April:
1. April Seasonal Crafting
Although not a brand new season in Animal Crossing New Horizons, April does see some new seasonal crafting materials. From April 1st through to April 10th, the sakura season blossoms on the New Horizons island and the Cherry Blossom petals will begin spawning and falling from cherry blossom trees. These crafting materials can be caught using nets and used to craft cherry blossom themed items including the cherry blossom pond stone, cherry blossom lantern, and cherry blossom clock amongst others. Just like last year and all seasonal materials since the cherry blossom DIY recipes can be found inside the balloon presents that float across our skies. Unfortunately, the Southern hemisphere doesn't see any new seasonal materials yet, but can still collect acorns and pinecones. If you've been playing since launch, you've probably already seen these materials in the previous rotation, but if you've joined the community since you'll probably be seeing these for the first time.
2. April Seasonal Holidays
Thanks to the latest 1.9 update that introduced to Sanrio villages last week, both hemispheres have some new seasonal holidays to look forward to, along with some exclusive limited-time ACNH items to celebrate them.
April Fool's Day - The first is, of course, April Fool's Day which although is celebrated on the 1st of April actually begins on March 26th when the whoopee cushion prank item can be purchased. The whoopee cushion comes in multiple colors and can be purchased from the Nook Stop during the event.

Tree Planting Day - Moving on from April 1st and through to April 10th, we'll be celebrating Tree Planting Day which is better known as Singh mogill and traditionally a Korean holiday in celebration of tree planting day, we can purchase the forsythia tree from the Nook Stop.

Bunny Day - Next we have nature day which is scheduled to run from April 15th through to April 22nd, much like Bunny Day which we'll cover shortly. This is one of the first events to be refreshed for 2021 and will play out slightly different from last year.

Nature Day - In celebration of nature day 2021, we'll be able to get our hands on the classic cool globe item which is a pretty awesome

Prom Season - Finally April marks the start of the prom season and adds a whole bunch of seasonal exclusives as well as new ACNH clothing items. In celebration of prom season, we'll be able to purchase items such as the prom wall, floor, and sash from the nook stop as well as a variety of clothing items from the Able Sisters. These items will be available for the entire month.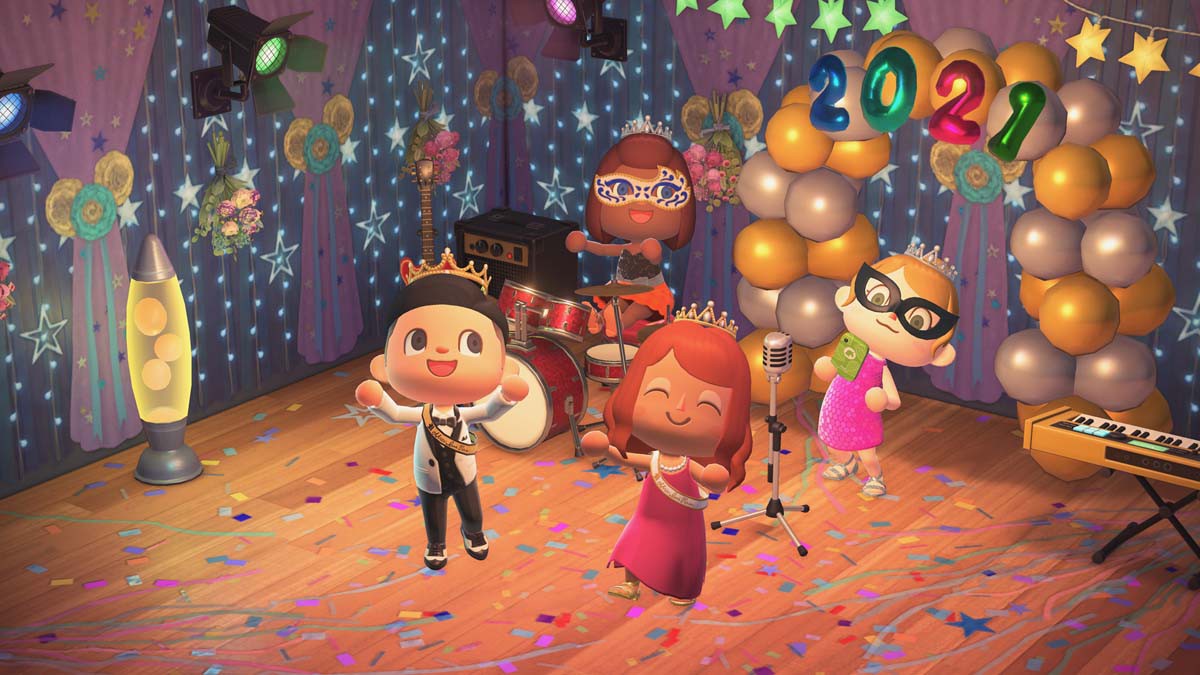 3. April Weather
Now every now and then, we'll see a shift in the weather patterns or weather phenomena that occurs around the Animal Crossing New Horizons island. From the start of the label and through to the end of summer, in the northern hemisphere, the fog that's typically seen near rivers or the sea comes to an end. For the past few months, it has been possible to encounter fog near the water between the hours of 5 am and 9 am, however, this will no longer happen from April as the weather gets warmer. Naturally, this is the other way around for players in the southern hemisphere who from March 21st will be able to encounter not only light fog near water but also heavy fog all across the island.
4. April Island Aesthetics
Just like every new month in Animal Crossing New Horizons, we can expect some changes to the island or the environment itself. We've already mentioned the cherry blossom trees will spawn, but April also sees a shift in the types of bushes that bloom. In the northern hemisphere the red and pink camellia bushes stop flowering, but from April the 11th the pink and white azalea bushes start. So you have around two weeks to swap out any bushes if you prefer to see them in bloom. Now there are technically no changes to the bushes that flower in April for the southern hemisphere, however orange and yellow tea olives have only just started flowering from March 21st so April will be the first full month of these bushes in bloom.
5. April Holiday Events
April wouldn't be complete without celebrating Bunny Day, which thanks to the recent 1.9 update is returning to ACNH. From March 28th and running through to April 4th, we'll be able to find and collect a variety of Easter Egg crafting materials and use them to craft Bunny Day themed items including the Bunny Day Table, Bunny Day Wardrobe, and the Bunny Day Arch amongst others. This event is very similar to last year's however Bunny Day 2021 will not only be shorter, but we'll see all new Bunny Day items made available to purchase from Nook's Cranny including the Bunny Day garden sign and the Bunny Day planter box amongst others.
6. April Fish Tourney's
No matter which region you're playing in, players in both the northern and southern hemispheres will see CJ stop by to host the next fishing tourney. Naturally, different hemispheres will feature slightly different fish during the event, as players in the northern hemisphere will be taking part in the spring fishing tourney, and players in the southern hemisphere will be taking part in the fall fishing tourney. However, April's fishing 20 will be held on April the 11th for both hemispheres. We are sure you know how they work by now but essentially you have to catch as many fish as you can before the timer runs out, and the more points you earn the more prizes CJ will award you. Even if you've already taken part in the event in the past, it's still a great opportunity to get a hold of some of the items you missed or some variations of items you already have such as the fish print poster which comes in a variety of.
7. Nook Link
Once again, thanks to the latest version 1.9, April will see a brand new feature added to the New Horizons ecosystem. Sometime between now and the beginning of April, the Nook Link App that's available in the Nintendo Switch Online app for smartphones, we'll see an update that adds a new currency to the game. In short, you'll be able to log in every day and earn new Nook Points that aren't too dissimilar to nook miles, these can then be redeemed against some brand new exclusive items including Tom Nook and Isabelle's photos. Although these prizes as well as a few others have yet to be officially confirmed, basically from April we can buy these items in the Nook Link app and then transfer them over to New Horizons, however you will need a Nintendo Switch Online membership to be able to do this. Check out how to use Nook Points to redeem free ACNH items
8. Critters
Probably the most obvious change we see from month to month, especially for those who've been playing for a while, is of course to the bugs fish and deep-sea creatures that we can encounter around the new horizons island. Players in the northern hemisphere will be able to encounter 22 new critters in total during April, there are far too many to cover right now. But some of these new critters include the Madagascar sunset moth, the snapping turtle which looks really fierce, and the sea pineapple. Players in the southern hemisphere are in the same situation, however will only encounter six new critters during April mostly due to the weather getting colder. Again too much to go through right now but some of these new critters include the ladybug, the dab, and the spiny lobster amongst others. Those who have been playing for some time may have already encountered these but new players will only be seeing some of these for the first time.