In all of the action from the weekend there were some fantastic individual performances, which could earn a spot for for improved statistics in the FIFA 19 Team of the Week 27? Welcome to check out our FIFA 19 TOTW 27 Predictions, which features some big names from Europe main leagues!
FIFA 19 Team of The Week (TOTW) 27 Predictions
Have you enjoyed the weekend with the marvelous performances in some crucial matches? Below we make a simple review of weekend fixtures, and a go at predicting which red-hot stars could make up the latest squad.
The official FUT 19 Team of the Week 27 will be released at 6pm on Wednesday, 20 March, you can make some pre-investing for Fifa 19 coins profit, and attempt to get the players who receive an in form boost in packs on FUT Store or buy them individually from transfer market with Fifa coins.
FIFA 19 TOTW 26 Predictions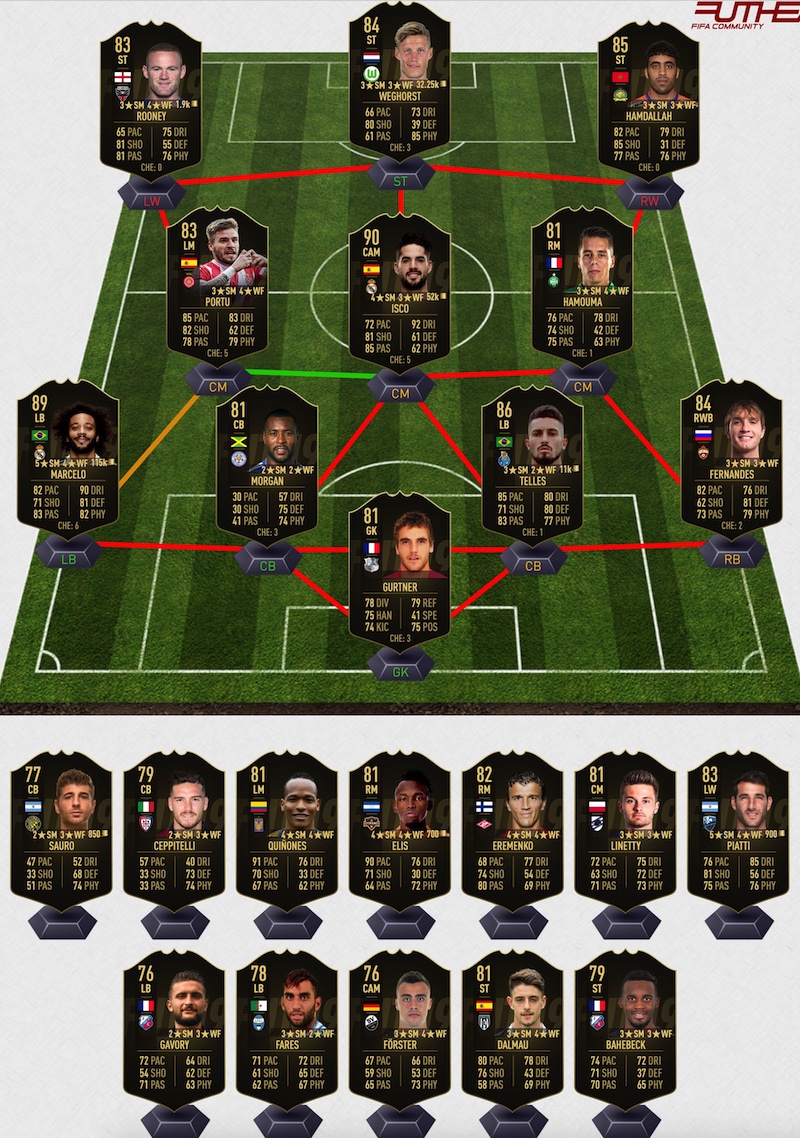 Starting XI:

GK: Régis Gurtner (Amiens SC) - 3 saves in 0-0 draw - 77 > 81
RWB: Mário Fernandes (CSKA Moskva) - 1 goal and MOTM in 1-0 win - 81 > 84
LB: Alex Telles (FC Porto) - 1 goal, 1 assist in 3-0 win - 84 > 86
CB: Wes Morgan (Leicester City) - 1 goal and MOTM in 2-1 win - 75 > 81
LB: Marcelo (Real Madrid) - 1 assist and MOTM in 2-0 win - 88 > 89
RM: Romain Hamouma (AS Saint-Étienne) - 1 goal, 2 assists and MOTM in 5-0 win - 77 > 81
CM: Isco (Real Madrid) - 1 goal in 2-0 win - 89 > 90
LM: Portu (Girona FC) - 2 goals and MOTM in 2-0 win - 80 > 83 > 85
ST: Abderrazak Hamdallah (Al Nassr) - 4 goals and MOTM in 4-0 win - 74 > 80 > 83 > 85
ST: Wout Weghorst (VfL Wolfsburg) - 3 goals, 2 assists and MOTM in 5-2 win - 77 > 81 > 84
ST: Wayne Rooney (D.C. United) - 3 goals, 1 assist and MOTM in 5-0 win - 80 > 83
Substitutes:
CB: Gastón Sauro (Columbus Crew SC) - 1 goal and MOTM in 1-0 win - 69 > 77
CB: Luca Ceppitelli (Cagliari) - 1 goal in 2-1 win - 72 > 79
LM: Luis Quiñones (Tigres U.A.N.L.) - 3 assists in 4-1 win - 75 > 81
RM: Alberth Elis (Houston Dynamo) - 1 goal, 2 assists and MOTM in 3-2 win - 75 > 81
RM: Roman Eremenko (FC Rostov) - 2 goals and MOTM in 2-0 win - 78 > 82
CM: Karol Linetty (Sampdoria) - 1 goal, 1 assist and MOTM in 5-3 win - 76 > 81
LW: Ignacio Piatti (Montreal Impact) - 2 goals and MOTM in 3-1 win - 80 > 83
Reserves:
LB: Nicolas Gavory (FC Utrecht) - 2 assists in 4-0 win - 68 >76
LM: Mohamed Fares (Spal) - 1 goal and MOTM in 2-1 win - 69 > 77
CM: Philipp Förster (SV Sandhausen) - 2 goals and MOTM in 4-0 win - 67 > 76
ST: Dalmau (Heracles Almelo) - 2 goals in 3-2 win - 68 > 76 > 81
ST: Jean-Christophe Bahebeck (FC Utrecht) - 2 goal and MOTM in 4-0 win - 72 > 79
FIFA 19 TOTW 26 Other Suggestions:
GK: Sam Johnstone (West Brom) - 7 saves in 3-0 win - 75 > 81
CB: Semi Ajayi (Rotherham United) - 1 goal in 2-1 win - 66 > 75
CB: Yeray (Athletic Club de Bilbao) - MOTM in 2-0 win - 77 > 81
CB: Willi Orban (RB Leipzig) - MOTM in 1-0 win - 79 > 82 > 84 > 86
CB: Éder Militão (FC Porto) - 1 goal in 3-0 win - 79 > 81 > 84
CB: Marquinhos (Paris Saint-Germain) - 1 goal in 4-0 win - 85 > 86 > 87 > 88
LM: Davidson (Vitória Guimarães) - 1 goal and MOTM in 3-1 win - 74 > 80
RM: Jadon Sancho (Borussia Dortmund) - 2 assists in 3-2 win - 78 > 79 > 82 > 84
RM: Jesús Corona (FC Porto) - 1 assist and MOTM in 3-0 win - 81 > 83
CM: John McGinn (Aston Villa) - 1 goal, 1 assist and MOTM in 3-0 win - 71 > 78
CAM: László Bénes (Holstein Kiel) - 1 goal, 1 assist and MOTM in 5-3 win - 69 > 77
CAM: Gregoire Defrel (Sampdoria) - 1 goal 1 assist in 5-3 win - 78 > 82
ST: Kosta Barbarouses (Melbourne Victory) - 2 goals in 2-1 win - 70 > 78 > 82
ST: Javier Hernández (West Ham United) - 2 goals in 4-3 win - 79 > 82 > 84
ST: Jonathan Calleri (Deportivo Alavés) - 2 goals and MOTM in 3-1 win - 77 > 81 > 84
ST: Joshua King (Bournemouth) - 2 goals, MOTM in 2-2 draw - 78 > 82 > 84 > 86