The Easter event - Bunny Day is the first event start in April on Animal Crossing New Horizons. In this guide, you'll find all the different types of eggs you can get as well as the special Easter furniture to craft to enjoy Zipper T. Bunny's party!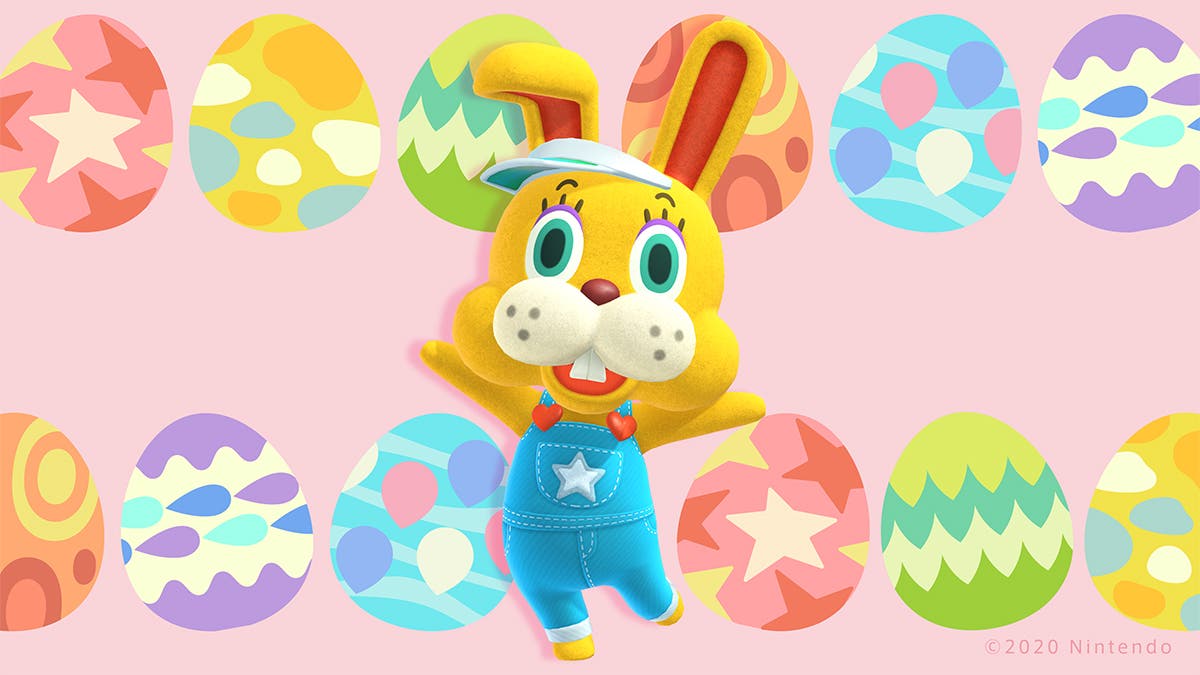 Animal Crossing New Horizons Bunny Day Event & Release Date
From April 1 (5 a.m.) to April 12, the Egg Festival - Bunny Day Event takes place on Animal Crossing New Horizons. All the details in this article will help you understand how to make the most of Easter: recover the different types of eggs and unlock special ACNH DIY recipes.
Find Zipper T. Bunny To Start The Event
To start the Easter event, you need to find Zipper T. Bunny on your island. It's an NPC like Gulliver, Celestial, or Djason who wanders somewhere randomly on your island, so look good.
After talking to him, you'll have to start looking for hidden eggs all around your island.
Different Types of Easter Eggs and Where To Find In Animal Crossing New Horizons
They are absolutely everywhere on your island and even on the mystery islands! Here are the different types of eggs and places where you can find eggs:
Earth Egg
Where: in fossil crevices, on the ground

How: The eggs should be dug up with a shovel.
Stone Egg
Leaf Egg
Wood Egg
Sky Egg
Where: in flying balloons

How: you have to pop the ball with the slingshot
Water Egg
Where: in the ocean, rivers, and ponds

How: you have to fish them like fish
How To Get Bunny Day DIY Crafting Recipes & Easter Items?
Throughout the event, you can learn new DIY recipes to make special ACNH items related to the Egg theme. Here are some ways to get Bunny Day Easter DIY Recipes:
Talk to Zipper simply: by talking to him once at the beginning of the event, he will offer you a DIY Craft Recipes. He will then return on April 12.

Brighten the balloons in the sky: if the balloons give eggs, they also sometimes give DIY Recipes for the event

Recover bottles from the sea: as usual, they contain DIY Recipes and especially special plans between April 1 and 12

Talk to your neighbors: sometimes they will exclaim and run towards you!". That's when they'll give you a new plan.

Recover enough eggs: By collecting enough eggs of each kind, you'll unlock DIY Recipes on your own to make special clothes.
List of ACNH Easter Bunny Day Furniture and Costumes
There are a total of 41 special Bunny Day items including related DIY recipes available for the Easter Event, 4 of which will be given to you on April 12 by Zipper T. Bunny:
Bunny Day Basket
Bunny Day Arch
2 Earth Eggs

2 Stone Eggs

2 Leaf Eggs

2 Wood Eggs

2 Sky Eggs

2 Water Eggs
Bunny Day Bed
1 Earth Egg

1 Stone Egg

1 Leaf Egg

1 Wood Egg

1 Sky Egg

1 Water Egg
Bunny Day Fence
1 Earth Egg

1 Stone Egg

1 Leaf Egg

1 Wood Egg

1 Sky Egg

1 Water Egg
Bunny Day Festive Balloons
1 Stone Egg

1 Wood Egg

1 Water Egg
Bunny Day Flooring
2 Earth Eggs

2 Stone Eggs

2 Leaf Eggs

2 Wood Eggs

2 Sky Eggs

2 Water Eggs
Bunny Day Glowy Garland
1 Earth Egg

1 Stone Egg

1 Leaf Egg

1 Wood Egg

1 Sky Egg

1 Water Egg
Bunny Day Lamp
Bunny Day Merry Balloons
1 Earth Egg

1 Leaf Egg

1 Sky Egg
Bunny Day Rug
1 Earth Egg

1 Stone Egg

1 Leaf Egg

1 Wood Egg

1 Sky Egg

1 Water Egg
Bunny Day Stool
Bunny Day Table
Bunny Day Vanity
Bunny Day Wall (Wallpaper)
2 Earth Eggs

2 Stone Eggs

2 Leaf Eggs

2 Wood Eggs

2 Sky Eggs

2 Water Eggs
Bunny Day Wall Clock
Bunny Day Wardrobe
Bunny Day Wreath
1 Earth Egg

1 Stone Egg

1 Leaf Egg

1 Wood Egg

1 Sky Egg

1 Water Egg
Wobbling Zipper Toy
4 Earth Eggs

4 Stone Eggs

4 Leaf Eggs

4 Wood Eggs

4 Sky Eggs

4 Water Eggs
All Bunny Day Clothes, Hats, Accessories Items
Bunny Day Bag (Backpack)
1 Earth Egg

1 Stone Egg

1 Leaf Egg

1 Wood Egg

1 Sky Egg

1 Water Egg
Bunny Day Wand
1 Wobbling Zipper Toy

3 Star Fragments
Bunny Day Crown
1 Earth Egg

1 Stone Egg

1 Leaf Egg

1 Wood Egg

1 Sky Egg

1 Water Egg
Egg Party Dress
3 Earth Eggs

3 Stone Eggs

3 Leaf Eggs

3 Wood Eggs

3 Sky Eggs

3 Water Eggs
Egg Party Hat
2 Earth Eggs

2 Stone Eggs

2 Leaf Eggs

2 Wood Eggs

2 Sky Eggs

2 Water Eggs
Egg Outfits
For each type of egg, you can craft an entire outfit consisting of shoes, hat, outfit. You will get the plans of these outfits after collecting about fifteen eggs of each type:
Earth-Egg Outfit: 3 Earth Eggs

Earth-Egg Shell (Hat): 2 Earth Eggs

Earth-Egg Shoes: 2 Earth Eggs

Leaf-Egg Outfit: 3 Leaf Eggs

Leaf-Egg Shell (Hat): 2 Leaf Eggs

Leaf-Egg Shoes: 2 Leaf Eggs

Sky-Egg Outfit: 3 Sky Eggs

Sky-Egg Shell (Hat): 2 Sky Eggs

Sky-Egg Shoes: 2 Sky Eggs

Stone-Egg Outfit: 3 Stone Eggs

Stone-Egg Shell (Hat): 2 Stone Eggs

Stone-Egg Shoes: 2 Stone Eggs

Water-Egg Outfit: 3 Water Eggs

Water-Egg Shell (Hat): 2 Water Eggs

Water-Egg Shoes: 2 Water Eggs

Wood-Egg Outfit: 3 Wood Eggs

Wood-Egg Shell (Hat): 2 Wood Eggs

Wood-Egg Shoes: 2 Wood Eggs