In this Animal Crossing New Horizons Villager House Exterior Layout Guide, we are going to be getting some inspiration for your villager's homes which will bring you excellent neighborhood ideas.
Animal Crossing New Horizons Villager House Exterior Layout & Residential Area Design Ideas
We know some players sometimes struggle with decorating the exterior of your villager houses on your island, so here we have gathered 10 different inspirational residential areas to show you with which you should learn some excellent neighborhood layout and villager house exterior design ideas. Note: All this information is collected from Tiger's Video.
Villager House Exterior Design Idea 1
By Kohaku_crossing (Island Dream Code: DA-4906-8831-4769)
Let's get started with the very first inspirational villager neighborhood by kohaku_crossing. It is cute urban styled neighborhood community type area for her villagers, they have lots of hedges and just very simple geometric designs going on here, perfect for you if you're trying to recreate like a neighborhood type space. You will get impressed by how simple the yards are decorated, there's not a lot of cluttered furniture, it's just a bunch of flowers and the brick pathway that looks a little bit worn down. And the hedges give them a lot of like framing and structure. You will also find this cute little telescope area with a picnic rug and a coffee cup next to this house, very cute design ideas.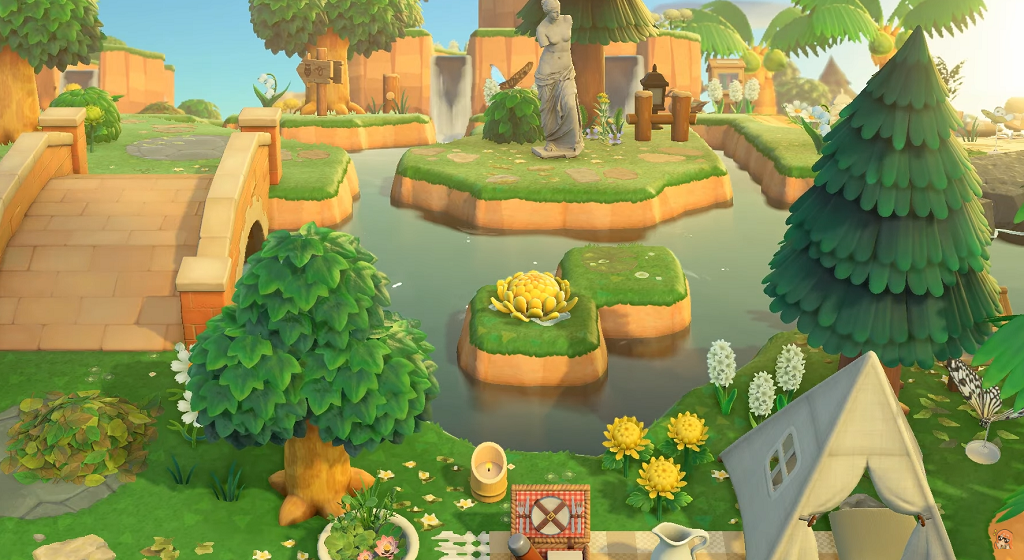 Villager House Exterior Design Idea 2
By iYAN (Island Dream Code: DA-2668-0613-2549)
This is Wolf's house and they gave Wolf the job of being the orchard keeper on their island, so they kind of merged two builds together Wolf's house and their orchard on their island, and it looks so amazing. The pathway and all of the ACNH items they use are just perfect for this build, they have a lot of references to the orchard with a bunch of fruit, woodsy items they have an axe, and a bunch of gnomes around. There is a lovely little table right here where the gnomes are just kind of chilling. And there is a ladder back there and lots of fruit trees but it isn't overdone. They also had a little seating area, there is the chopped tree which just fit in perfectly. You can see that they use the axe as a decoration, if you didn't know you can place any of your tools down to make for great realistic type decor, so it kind of gives a little bit of livelihood to the area. They also have dropped tree saplings and fruit all around the area which looked really nice.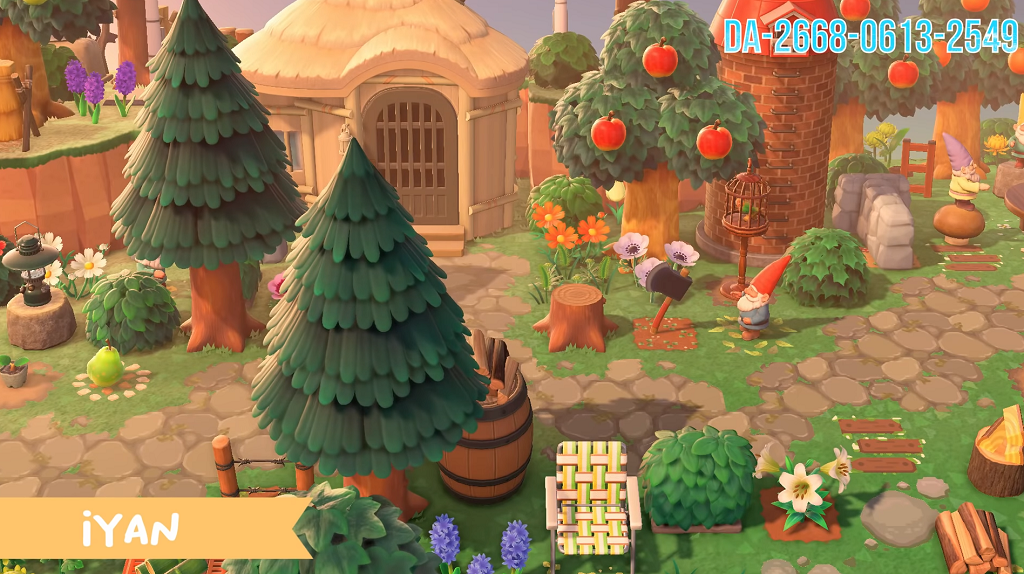 Villager House Exterior Design Idea 3
By JAYDYN (Island Dream Code: DA-6941-9408-7218)
This is Stitch's house with little playground area, so there's lots of kitty and toy-like furniture around, they even have Stitch's photo right outside of his house which is a really cool idea because then you just automatically know who lives there. They also continued the playground onto the beach area right next to the house which was really cool. The kiddie pool, the beach ball, and the sandcastle are placed on the beach, and even though the items are very bright and like just colorful kind of kid core vibes, they still managed to mix this in with the cottage queer theme very well. They also had the candy placed on the table and the little gift bag placed on the cushion which is really interesting and a really cool kind of design idea for you.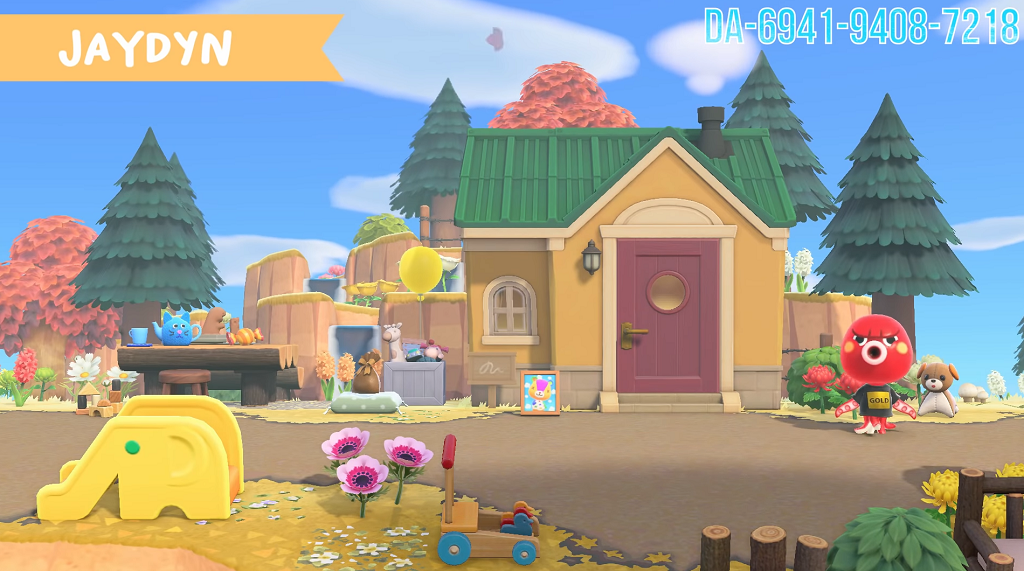 Villager House Exterior Design Idea 4
By LiDNSi (Island Dream Code: DA-4265-8186-6097)
Next, we have a beach home created by LiDNSi and this is for her villager Joey. When people put villager homes on the beach it's so cool and always looks so nice. We really like the items that they use, there are lots of blues and yellows and of course, they placed it right next to their pier which is a great idea because it looks like it goes with his house and like his own private pier. They had balloons, a little cosmo shower, and lots of playful items on the beach which really fit the theme of a beach house because when you go to the beach you're going to have fun. On the left side, they had a beach market which was kind of attached to the area.
Villager House Exterior Design Idea 5
By EMY (Island Dream Code: DA-9713-2156-0702)
Next, we have this double house designed by EMY and this is a fairy core island so, there are lots of pink, dreamy colors, and baby blue. You will be inspired by how they had this diagonal bridge kind of leading up to the homes. Also, they had a seating area between the two houses, so it is kind of like a community area for the two villagers. And there is lots of really cool water terraforming around the entire build which is really impressive. Honestly just the terraforming in general on this island is really beautiful, the rivers, all the waterfalls, the cliffs, and the pathway looks so pretty with all the pink flowers and the white log set. They just have so many cute little details around the entire build, such as the laundry area right next to one house and on the other house, there is like a seating area with a little tea set.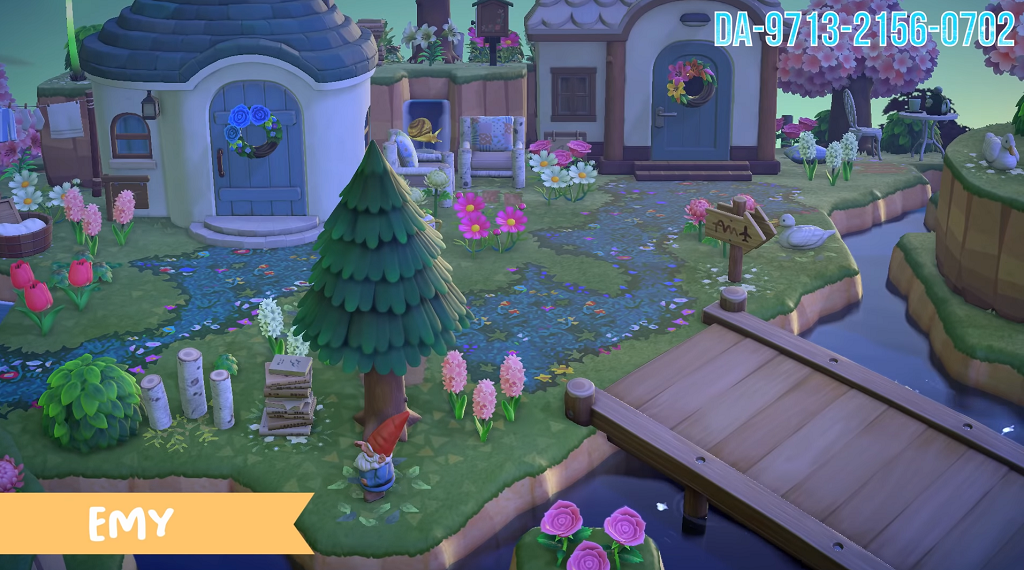 Villager House Exterior Design Idea 6
By iAN (Island Dream Code: DA-2615-1351-2505)
Next, we have another obsessed beach house design, this villager home looks perfect on the beach and all of these furniture items that they use are so unique. You would never really seen the white ratton furniture used on islands and it matches so well, like the rattan stool matches Daisy's door so perfectly and the color coordination in this build is amazing. They also have this wooden plank pathway underneath the house which looked really nice because they give it more structure and make it look like an actual living space instead of them just living on the sand. Our favorite part about this one is the color coordination and the use of items, they all just work so well together.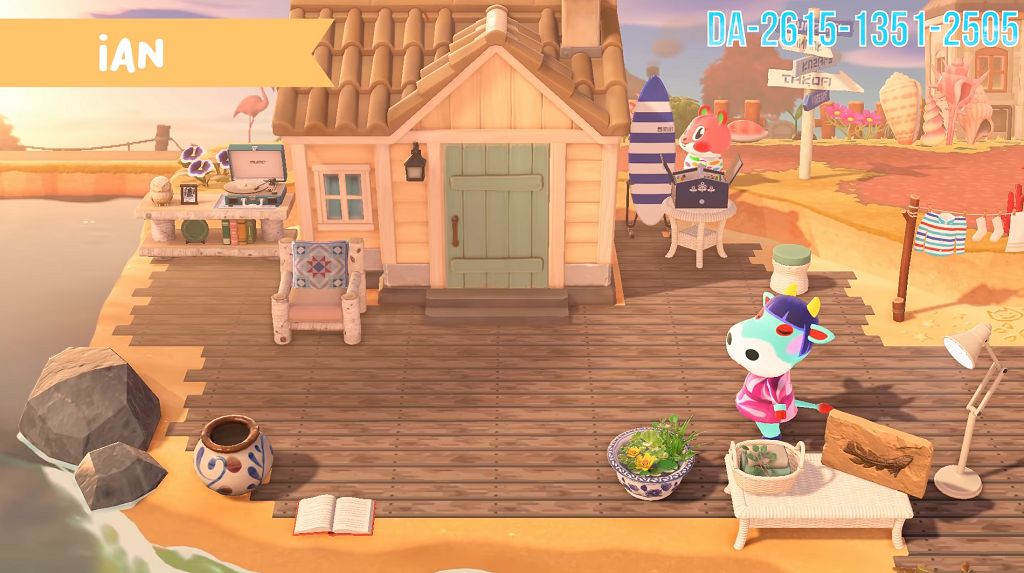 Villager House Exterior Design Idea 7
By HAYATiE (Island Dream Code: DA-4479-3791-6119)
This is Judy's house and right next to it they had this cute little area fenced in with this beautiful blue fencing, there's some teddy bears, a little board game area, and lots of colorful ACNH flowers. This is kind of a street-styled neighborhood area which would be liked by the players who love the organized neighborhood so it looks like a cozy little community. If you don't have access to custom designs for pathways, this is the perfect inspo for you. Everything of these villager house design is very simple but also just very fun and playful, it has an urban vibe but also a cottage core feel, as there are lots of flowers around but there is also really bright furniture and that fencing just really make it more towny.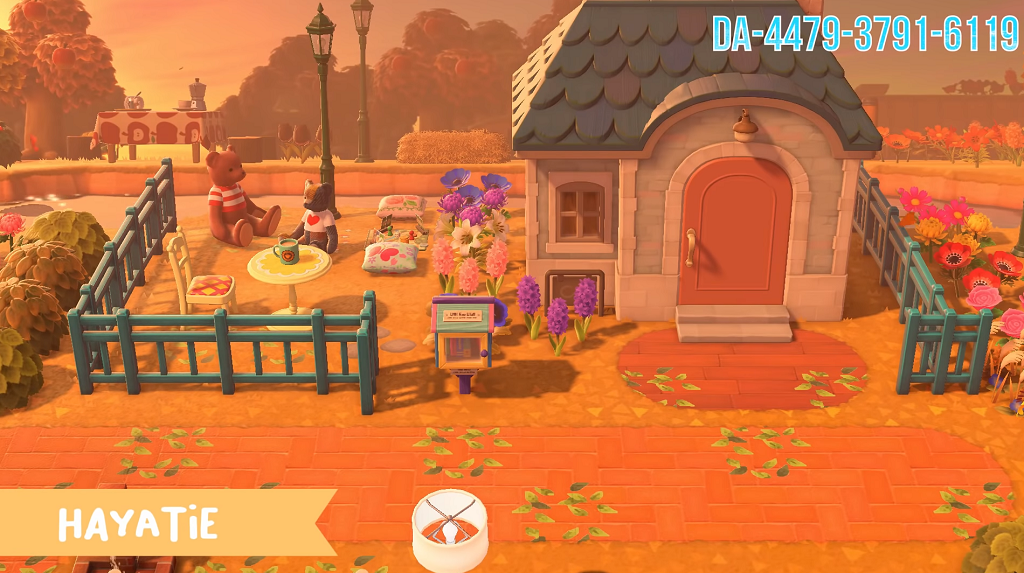 Villager House Exterior Design Idea 8
By MiiNiMA (Island Dream Code: DA-4566-2989-4655)
This one is so beautiful with a very towny vibe, you will surely be impressed by the hedges, pathways, cute little garden bench with the lanterns right next to it. Each villager has its own little yard space which is very tiny but very cozy and cute. They also have their villager portraits sitting on the stools outside of their homes, so you could easily tell. And then it goes on to the second level which is sophisticated with the custom design pathway, the street lamps, the bicycles, and the garden benches placed creatively. They give each of their villagers their own little wreath to put on their door, that's such a good idea. If you want to add an extra touch of customization and detail to your villager homes give them wreaths for their doors because they will put them up and they look so good. We also want to point out the water fountain thingy going on behind the neighborhood which is a great idea and you could create something similar to this kind of as an entrance into your neighborhood or an exit from your neighborhood.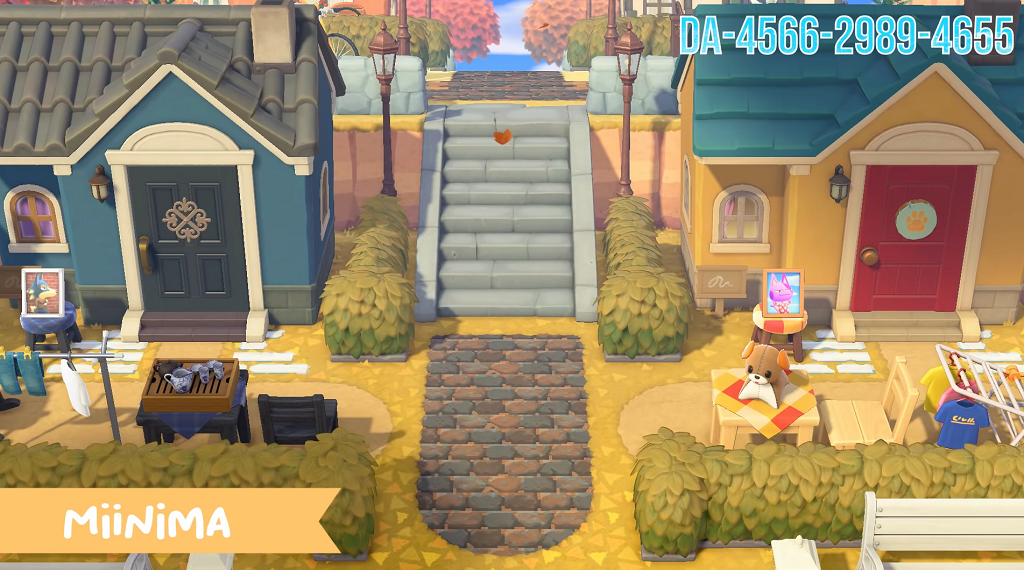 Villager House Exterior Design Idea 9
By DiLLON (Island Dream Code: DA-6126-2496-7838)
This is Daisy's house created by DiLLON with her very own library space. This design comes with a cottage and cluttered vibe, but it isn't too overwhelming, and it all makes sense and fits together really nicely. On the left side, there is like the study space with a desk and this cute little rug on the ground. We really like the item choice here, the alarm clock and the street organ works really well in the tiny library. And then we have the actual library space with the fireplace and, this really nice wooden design on the ground there. And Daisy's house is very bright and colorful but DiLLON managed to kind of convert it to the cottage core theme. If you are struggling with like designing your villager homes too, so looking at all of these definitely gives you some good ideas.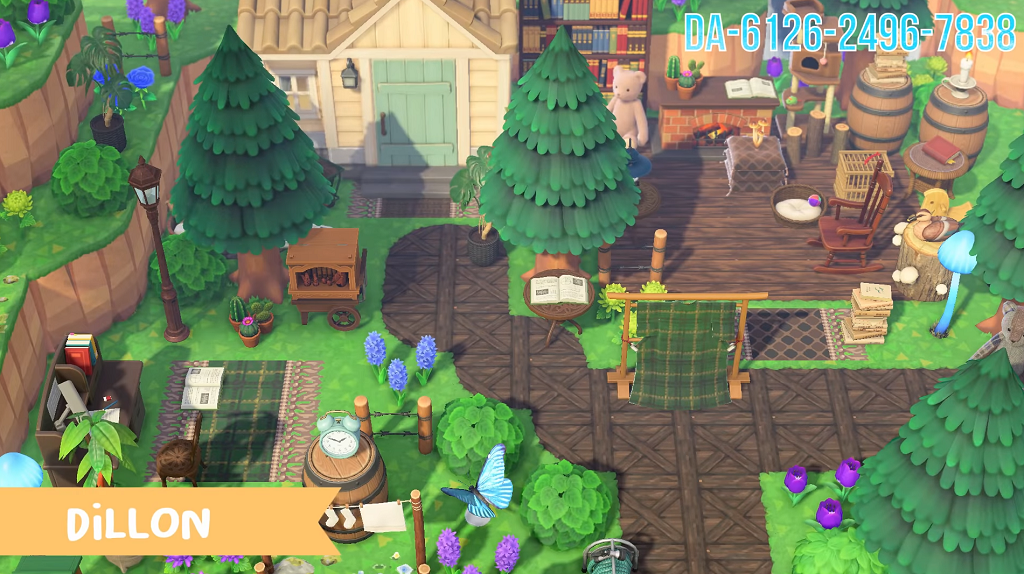 Villager House Exterior Design Idea 10
By Tiger (Island Dream Code: DA-3017-4714-7749)
This is Boone's house was created with a little jungle oasis area, with his own pond and waterfalls. There are a lot of nature items used and he even has his own little picnic area on the beach with the campfire and little custom designs, and plants all around. The creator put the trees, the mushroom parasol, and stuff on top of the cliff that looks really cool.