Another update trailer breakdown and this time it's all to do with the Sanrio Amibo cards (Hello Kitty Crossover) the update is out on the March 18th, but you will need the Sanrio Cards. Here we show you all how to use Sanrio Amibo cards in Animal Crossing: New Horizons and a full list of brand new ACNH Sanrio villagers, their associated furniture, and clothing items!
Animal Crossing New Horizons Sanrio Amiibo Cards
Sanrio Collaboration Pack will be available allows players to scan Amiibo Cards in-game and get new and exclusive crossover items/villagers. Also if you don't have these amibo cards already they are getting reprinted on March 26th.
Where to get Sanrio Collaboration Amiibo Cards: Buy a single Sanrio Collaboration Pack for around $6 releasing on March 26th, 2021.
Which County Will Have Sanrio Collaboration Pack: In most regions, including North America and Europe
What To Get From Sanrio Amiibo Cards: Unlock ordering both Sanrio themed furniture and clothing items, plus invite the inspired Sanrio villagers to your island and take photos with them.
How To Scan Amiibo Cards and Invite Villagers: Go to use Nook Stop at Resident Services to invite campers to your campsite.
Animal Crossing New Horizons Sanrio Villagers
These are the six new Sanrio themed villagers you can invite to your island in Animal Crossing: New Horizons beginning on March 18th using the amiibo cards:
Rilla (Gorilla, Peppy Personality) - inspired by Hello Kitty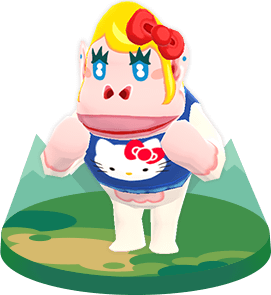 Marty (Cub, Lazy personality) - inspired by Pompompuri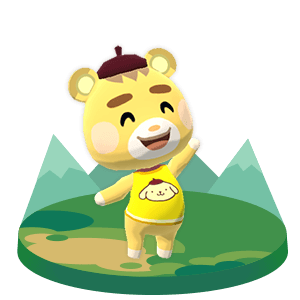 Étoile (Sheep, Normal personality) - inspired by Little Twin Stars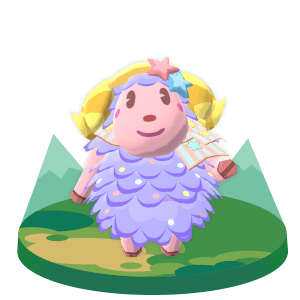 Chai (Elephant, Peppy personality) - inspired by Cinnamoroll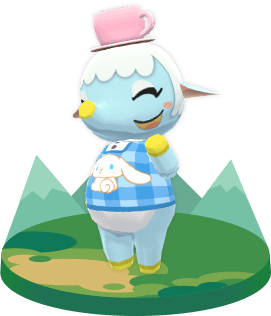 Chelsea (Deer, Normal personality) - inspired by My Melody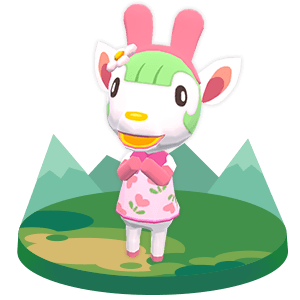 Toby (Rabbit, Smug personality) - inspired by Kerokerokeroppi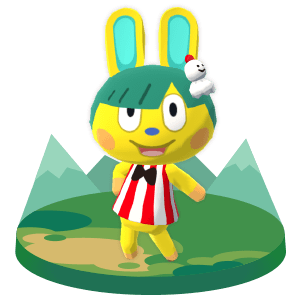 ACNH Sanrio Clothes
Hello Kitty Hat
Hello Kitty Outfit
Hello Kitty Planter
Hello Kitty Shoes
Pompompuri Hat
Pompompuri Outfit
Pompompuri Shoes
Pompompuri Dress
Kiki and Lala Dress
Kiki and Lala Pin
Kiki and Lala Outfit
Kiki and Lala Socks
Kiki and Lala Shoes
Cinnamoroll Jacket
Cinnamoroll Hat
Cinnamoroll Outfit
Cinnamoroll Shoes
My Melody Dress
My Melody Hat
My Melody Outfit
My Melody Shoes
Kerokerokeroppi Top
Kerokerokeroppi Shorts
Kerokerokeroppi Shirt
Kerokerokeroppi Pins
Kerokerokeroppi Green Shoes
ACNH Sanrio Furniture
Hello Kitty Bed
Hello Kitty Clock
Hello Kitty Chair
Hello Kitty Drawers
Hello Kitty Dress
Hello Kitty Floor
Hello Kitty Rug
Hello Kitty Table
Hello Kitty Wall
Pompompuri Bed
Pompompuri TV
Pompompuri Chair
Pompompuri Pudding
Pompompuri Floor
Pompompuri Rug
Pompompuri Rack
Pompompuri Table
Pompompuri Wall
Kiki and Lala Bed
Kiki and Lala Clock
Cloud-making Machine
Kiki and Lala Sofa
Kiki and Lala Floor
Kiki and Lala Rug
Kiki and Lala Wand
Kiki and Lala Table
Kiki and Lala Wall
Cinnamoroll Sofa
Cinnamoroll Parasol
Cinnamoroll Stool
Cinnamoroll Sign
Cinnamoroll Floor
Cinnamoroll Rug
Cinnamoroll Tray
Cinnamoroll Table
Cinnamoroll Wall
My Melody Bed
My Melody Chair
My Melody Clock
My Melody Dresser
My Melody Floor
My Melody Rug
My Melody Table
My Melody Wall
Kerokerokeroppi Cake
Kerokerokeroppi Doll
Kerokerokeroppi Tray
Kerokerokeroppi Screen
Kerokerokeroppi Wall
Kerokerokeroppi Rug
Shoji Beach
Stone Lantern
Tranquil Bridge