Cottagecore has been one of the most popular island themes in Animal Crossing New Horizons, especially in the Spring/Fall season. So here we give you some great ideas and tips on how to create ACNH Cottagecore island.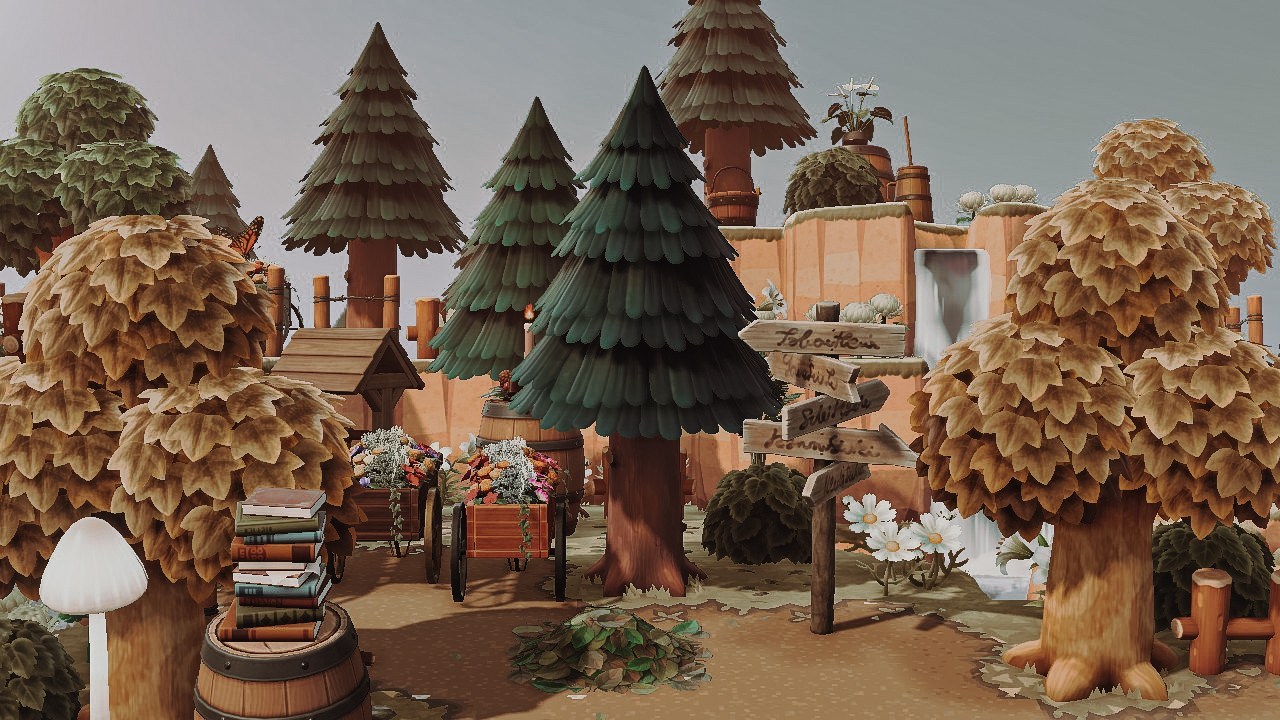 ACNH Cottagecore Island Design Tips
Cottagecore is a nostalgic and romantic aesthetic related to grandmacore, faeriecore, farmcore and goblincore, all about the outdoors, slow living and often includes country houses. So if you want to enjoy Cottagecore countryside lifestyle in your Animal Crossing New Horizons island, follow the below natural theme design ideas:
1. Paths
Use the dark dirt path or another countryside path then lay down different designs such as leaves, mushrooms, or flowers to make it more Cottagecore. Also, you can drop flowers & place piles of leaves on the path too.
2. DIY Items
There are lots of Animal Crossing furniture and items (such as hay bed, jail bars, tiny library, barrel, log stacks, etc.) that work perfectly for this style but there are some mut have DIYs that most Cottagecore island will have. The mushroom and fall season DIYs are perfect.
3. Farm
Build up a farm in your Cottagecore island is necessary, which can help you enjoy a perfect countryside life. Use a design code for farm dirt or just use a dirt path then place your items such as anthurium plants, cacao trees, mushroom stools and a watermelon beach ball to be your plants.
4. Greenhouse
Greenhouse surely will make your Cottagecore life cozier. Use two stalls and a simple panel and place plants and shovels around the greenhouse to make it more realistic. Customize a Zen Cushion or a pile of Zen Cushions to make soil bags.
5. White Flowers
White flowers are cottagecore essentials. But make sure to use a variety of flower types like cosmos, mums, and hyacinths. Also make sure to use both cedar and hardwood trees. Remember to place these flowers and trees around cliffs, rivers, paths, and waterfalls.
6. Waterfalls
Make multi-level narrow river waterfalls (usually 1 or 2 grid spaces). At each level have them connect until they reach the bottom where you can make a beautiful lake. Don't forget to make round cliff edges to add a natural feeling.
7. Village
To make a small village use simple panels for the house fronts and a fireplace or clay furnace for the roof. To finish off the look place a clothesline in front to make it more village-like.
8. Laundry Spot
Craft lots of clotheslines and customize them to have different clothes and place them in one spot. Use old-fashioned washtub, barrels, rattan towel baskets, wooden buckets & a brick wall.
Hope the above tips can help you create your ideal Cottagecore Island.