You've probably seen balloons scooting across the sky, but without the slingshot you won't be able to shoot them down. So we are going to walk through how to actually get the slingshot and where to buy ACNH Switch slingshots, we also present DIY recipe for slingshot and materials needed for manufacturing slingshots in Animal Crossing New Horizons.
ACNH Slingshots Obtaining Methods - How To Get Slingshots & Shoot Down Balloons
Essentially, what you're looking to do is to wait for island services to open. Then head on over and talk to Timmy. When you head in here for the first time you'll see that there's only a couple of items. However, what you might not have noticed is there's a little tab on the right-hand side whereby you press the R button and that will take you on across to the other items that are for sale. One of those things is the schematic for the slingshot, so just buy it and then learn it and then you can head on over to the crafting table and you should have a slingshot in there. Another fast way to get slingshot is directly buying from Goldkk (best ACNH items store) with cheap price and fast delivery.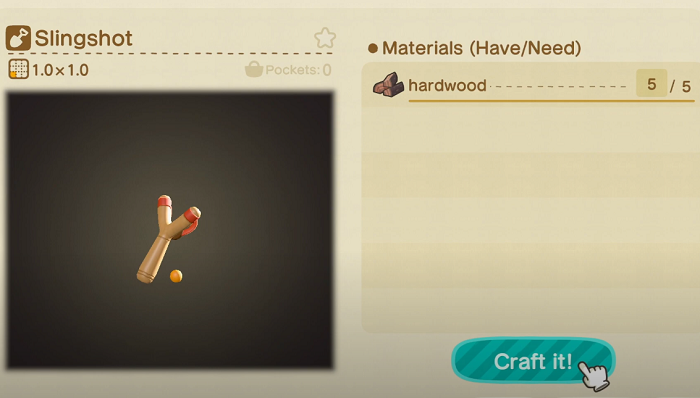 You'll just need 5 hardwood to be able to craft it. So if you haven't got that you'll need to go and chop down a few trees. As soon as you got all the materials, you can come into the crafting table, choose slingshot and craft it and then you'll have it in your items list which you'll be able to select using the menu system. Hold it and then press A whenever you want to fire it.
You need to be shooting directly upwards to be able to get the balloon and so you need to be in line with it, so track it across the screen and then press A when you're in line with it and that will bring down the present and bring down the balloon.
That's how to get the slingshot and how to bring down balloons in Animal Crossing New Horizons.