Is there anything excited that will happen in Animal Crossing New Horizons recently? A big 2.0 update, as well as a nature day update, is coming to Animal Crossing. Let's take a look at everything you need to know about ACNH nature day 2021, events, items, and all the changes in the nature day event, whilst going over history by comparing the event from the past.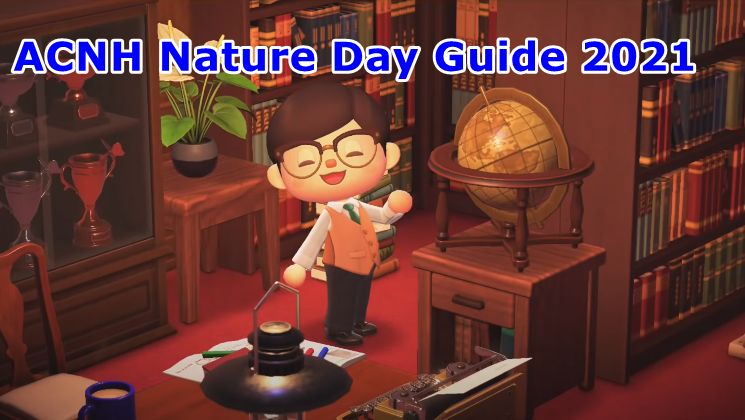 ACNH Nature Day Guide 2021 - Nature Day Event In Animal Crossing New Horizons
In last month, thanks to the release of the latest 1.9 updates in Animal Crossing that we can celebrate on New Horizons island after launched nature day event. ACNH nature day in 2021 plays out slightly differently, starting April 15 and running through to April 22. This is the second time nature day event has appeared in Animal Crossing after New Leaf and his pop-up shop were added to the game. Nature day is in line with the real-world earth day event that's celebrated every year across many regions. Now there's a growing awareness of the necessity to protect the environment, including cleaning beaches, planting trees and even giving up meat as a way to reduce our impact on the environment.
ACNH Nature Day Items
Cool globe is a classic item throughout Animal Crossing series during nature day. Items will be available to purchase to commemorate the event just like other seasonal items if you head to the resident services center and use the nook stop or access the nook shopping app on the nook phone, you can easily find this ACNH nature day item along with any other limited-time items as well.
ACNH Nature Day Changes
The same as bunny day event, nature day being refreshed and changed compared to last year. Back in 2020, Tom Nook held a nature day event with limited time nook miles plus tasks or activities as a way to encourage you to think about nature. You were about to planting coconuts on the beach, watering flowers, planting bushes and crafting flower crowns in order to give you bonus nook miles. Tom Nook also awarded the player with the ACNH nature day DIY recipe for the hedge fence after you're taking part and completing goals. Sadly though, this aspect of Animal Crossing nature day update 2021 has been removed and won't return. For those new players who are still want to obtain the hedge DIY recipe from Leif, buy ACNH items from him on three separate days.
ACNH Nature Day Histories
If you didn't take part in the Nature Day in Animal Crossing last year, you may still recognize this holiday as it has featured in most mainline games. As the games evolved through the years, nature day stayed much the same with minor adjustments to the event.
On the original nature day, would see Tortimer stop by the town plaza, and share his wealth of knowledge about the environment and provide players with some advice about nature. He would reward players with an item tree model for listening to his advice.

In Animal Crossing Let's Go To The City, Tortimer would visit once again, handing out the cool globe item at the town hall in honor of the celebration instead.

By the time New Leaf has released the mini seasonal nature day event, which was celebrated with Isabelle at the plaza. Isabelle would talk about nature and encourage you to use the unique holiday-themed standee. Players would still receive the cool globe item from Isabelle for stopping by and taking part in the event.

Unlike Animal Crossing New Horizons, many of these seasonal events were also locked to specific regions. Fortunately, thanks to the nook stop feature, all regional holidays and items can be celebrated and purchased in New Horizons no matter where you are in the world.
Although nature day is only a small seasonal event in New Horizons and even with all the changes to nature day compared to last year. It's still exciting to receive new items and a classic globe in the game.