Lots of people are wondering when the next update for Animal Crossing New Horizons will drop. Last year we got some pretty exciting updates in the summer time with new content like swimming, sea creatures and the fireworks festival being introduced to Animal Crossing New Horizons, so could we see another exciting update this summer time in animal crossing new horizons or will it be something more low-key like some of the events that we've come to know in the past months? Let's take a preview the new and old events could be covered in summer update for Animal Crossing New Horizons this year.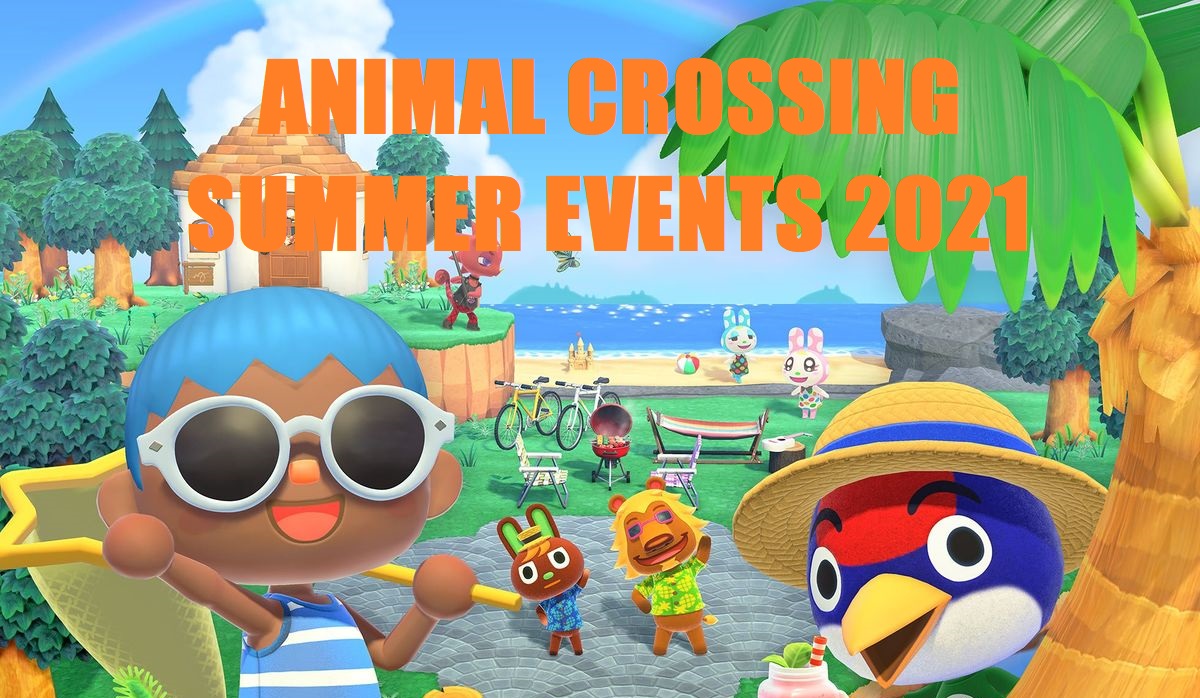 Animal Crossing New Horizons Summer Updates 2021 - ACNH Summer Events & Items
Starting from June, Summer season is backing to Animal Crossing New Horizons island and staying till to August, and then the weather will be turning hotter and the grass turns vibrant green, as well as new events and seasonal ACNH items is coming to the game during summer time.
Here we have sort out the summer events and items that will take place on your Animal Crossing New Horizons island in June, July and August (2021), including old festivals and new content that may be added.
Wedding Season (June 1-30)
The Wedding Season is the first major event that is determined to return to ACNH at the beginning of summer and will last for one month. In the announcement of the 1.10.0 update, Nintendo has revealed to us that this year's Wedding Season will not only continue to allow players to obtain a series of wedding theme furniture, but also new items and clothing will be sold at Nook Stop and Able Sisters. Whether Nintendo will add other surprises is still unknown.
International Children's Day (June 1-15)
Children's Day is celebrated all over the world on June 1st: it is a commemorative holiday celebrated every year in honor of all children. This event will only be available for two weeks from June 1 to June 15. Players can purchase some event-exclusive items like the Homemade Crown and the Homemade Cape.
Father's day (June 1-30)
Also in June on the occasion of Father's Day, in Animal Crossing: New Horizons there will be some unique items like Thank-You Dad Mug and a new item Thank-You Dad Apron available on Nook Stop to celebrate, for an entire month of June, from June 1 to June 30!
Summer/Winter Solstice (June 15-21)
Players will be able to experience both summer and winter solstice depending on their regions In June. For northern hemisphere players, they can celebrate the summer solstice with both the Sunflower Crown and the Sunflower Rug will be available from June 15 to June 21.
Dragon Boat Festival (June 5-14)
From June 5 to June 14, the Dragon boat festival will celebrated, which traditional holiday occurs on the 5th day of the 5th month of the traditional Chinese calendar. Some exclusive items like the Zongzi item and the Tsuritsui teok item will be on sale at Nook Stop during this time.
Tanabata Festival (July 1-7)
In July, the old Tanabata festival will return to Animal Crossing New Horizons, running from July 1 to July 7 instead of for an entire month in last year. Again, the unique Bamboo Grass item will be available for purchase with Animal Crossing bells in the first week of July.
Marine Day (July 8-22)
From July 8 to July 22, Japan celebrates the day of the sea, also known by its English name Marine day. We will soon be able to celebrate this event in Animal Crossing: New Horizons with the addition of a new seasonal item: the Ship Wheel door plate will be offered during the event time.
Bastille Day (July 10-20)
The Bastille Day also known as French National Holiday will first be celebrated in Animal Crossing New Horizons, with the hats from the French Revolution added from July 10 to July 20.
Cowboy Festival (July 15 - August 15)
This year, Cowboy Festival will return to Animal Crossing New Horizons with limited-time items including Rodeo Style Springy Ride On which you will can buy from Nook Stop with 2000 bells. Sadly there is no more changes and new item from the event, expect its date - it will be celebrated for several weeks from July.
Firework Festival (August 1-30)
The second thing that we definitely think will happen this summer time is the fireworks festival from last year get an update. The theme of these recent updates has been to update the events that happened in 2020 to make them more exciting for people who played them last year and also add more content for newer players as well, now this hasn't been to the liking of many people that the last update was mostly just updates for existing events. We do think it would be great to have these events updated alongside more significant updates for the summer time.
Flick's Bug-Off and C.J.'s Fishing Tourney
This summer, bug off and fishing tourney will also back again. Flick will also be returning to the island for his Bug Off match. Get ready to catch bugs on June 26, July 24, August 28, and September 25 to earn maximum points to redeem for special items. C.J. will also be back to organize a new fishing tournament! Watch the plaza on July 10 and pull up some pretty holds to earn rewards!
Tortimer & Kapp'n
Something that is on a lot of people's minds when you think of summer time and past animal crossing games and content that could be added to significantly change the game. A lot of us are kind of wondering about Kapp'n and Tortimer too of course.
Kapp'n was the one who would ferry us to Tortimer's island, a really great summertime paradise where you could play a bunch of mini-games in animal crossing new leaf. Both of these characters are incredibly iconic and have been in the series since the very start yet, they haven't made an appearance in animal crossing new horizons yet. There was a lot of speculation last year around the summertime that these characters might return and what they could do. We are actually on the pier here because that's what a lot of people thought the pier might be used for it might be used for captain, and to dock his boat and take us to visit Tortimer's island. Sadly that never transpired and according to the data mines of animal crossing new horizons, there are no plans for Kapp'n and Tortimer to return anytime soon. Now as a little disclaimer the datamines are tricky things and you can't reveal everything it's hard to get a good idea of what content we can really expect to see or when, so that doesn't mean that Kapp'n and Tortimer won't return to animal crossing new horizons. If we do see them return, we perhaps see Kapp'n and Tortimer being used as host for some kind of events or maybe they could even be island visitors or vendors who do some kind of news service in the game. But we don't think we're going to see either of these retired characters return this summer.
Brewster & Cafe
Thanks to the hard work of dataminers, new hints towards the long-awaited return of pigeon barista Brewster is revealed, a line of code titled "cCafe" and traces of a café entrance in the camera settings is discovered in the latest Animal Crossing: New Horizons update. What's more, players get Brewster pop up in conversation with their villagers, including hamster Clay who has been caught saying "I'm still wide awake! I guess Brewster was right! 17 cups of coffee is 3 too many!" . So with these hints, it seems Brewster and his cafe appearing in New Horizons is promising, maybe it is happening in the summer updates.
Summertime is where most people will be playing animal crossing new horizons, of course you've got the summer holidays and people tend to like to relax a lot more and chill with video games over the summer time, so it would be the perfect time for Nintendo to introduce maybe some new events. Let us look forward to summer together!