GGG just released the POE 3.12 patch notes with the whole content and details of the upcoming Path of Exile Heist Challenge League. Follow us to go through the complete Path of Exile Heist 3.12.0 patch notes , covering release date/schedule, new league mechanic, new skills, reworks, changes and more contents of POE Heist.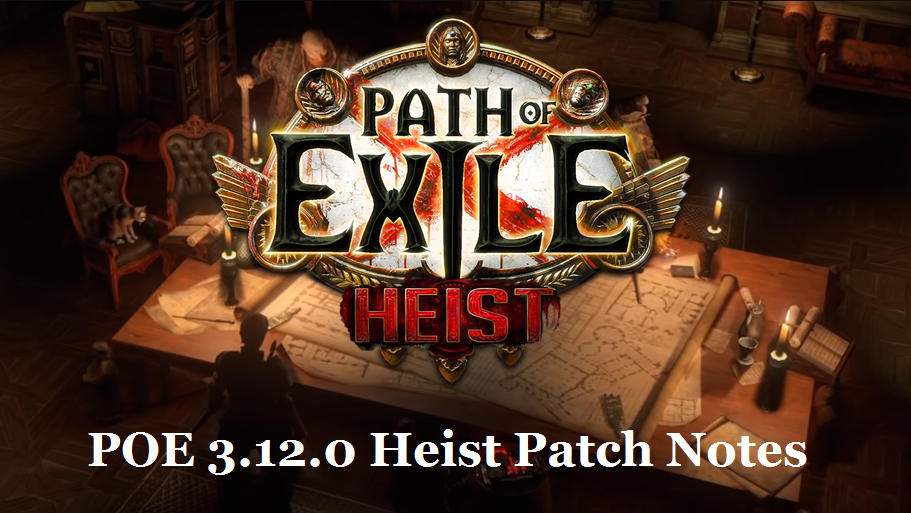 Path of Exile 3.12 Heist League - POE 3.12.0 Patch Notes
Along with the schedule of Path of Exile Heist, POE 3.12 patch notes were revealed in advance, which brings the detailed introduction of new contents, including a batch of new POE items, skills, character and skill balance, monster changes, map changes, bug fixes and more. It also brings the new mechanic Rogue Harbour, as well as rewards for a set of 40 new challenges.
Check out the full Path of Exile 3.12 Patch Notes from official post
Path of Exile 3.12 Heist Update Release Schedule
- September 9, 2020: POE 3.12 Powerful Spells skills reveal
- September 10, 2020: POE 3.12 Curses skills reveal
- September 14, 2020: POE Heist Challenge rewards
- September 15, 2020: Path of Exile Heist Balance Manifesto
- September 18, 2020: POE 3.12 Heist launch on PC
- September 23, 2020: POE 3.12 Heist launch on console (PS4 and Xbox One)
POE 3.12 Heist League Content & Mechanic
- Heist contains Rogue Harbour to hire skilled thieves and steal valuable Artifacts with their help through the elaborate and risky Heists.
- The ultimate goal of a thief is a Grand Heist, which is based on the accomplishment of Heists, you need to accumulate Heist markets, gather intel and train and equip your crew.
- Grand Heists provides exclusive rewards including Trinkets, Alternate Quality Gems, Replica Unique Items, Experimented Base Types, Weapon and Body Armour enchantments and more.
- Each rogue or thief has the main specialty and some secondary abilities, complete Heist successfully to improve their skills.
- The new challenge league updated with a set of 40 new challenges and new rewards
- Added a variety of new skill gem and support gem, as well as 28 new unique items, 11 new Divination cards, 90 new Replica unique items, more than 800 Alternate-quality variants of existing and new support and skills gems, and a vendor recipe for special skill.
- Lightning Strike, Fire Storm, Ice Storm (from The Whispering Ice), Caustic Arrow, Smoke Mine, Discharge and all Curses updated visually
- Permanent minions such as Golems, Zombies and Animated Guardians are now saved when you log out, and are automatically resummoned when you log in.
- Divination Cards that award an item with an Elderslayer's Influence now have special background effects.
- A few torches will now light your way to Lioneye's Watch.
- Improved the Atlas Influence visuals.
- Significantly improved performance when viewing and using crafting benches.
- Made a multitude of visual adjustments to the brightness (and bloom effect) of skills and effects throughout the game.
- Improved effects culling across many skills and effects for performance.
- Continued to incrementally improve the sound, art, effects and environments.
POE 3.12 New Skills and Skills Rework
- Powerful Spells: Blazing Salvo, Void Sphere, Flame Wall, Frost Shield, Sigil of Power, Crackling Lance, Intensify Support (Rework), Pinpoint Support, Firestorm (Rework), Icestorm (Rework), Discharge (Rework), Glacial Cascade (Rework)
- Sharpened Steel Skills: Call of Steel, Splitting Steel, Shattering Steel (Rework), Lancing Steel (Rework)
- Curses: Impending Doom Support and Doom Blast, Hexblast, Punishment (Rework)
- Special skill balance, support gem balance, vaal skill balance
POE 3.12 Passive Tree Balance
- Added a new Keystone - Doomsday.
- The Glancing Blows Keystone, Divine Flesh Keystone changes
- The Skittering Runes cluster, Whispers of Doom cluster, Hex Master cluster, Corruption cluster have moved.
- The new Dark Intent cluster has been added where Skittering Runes used to be.
- The new Mark the Weak cluster has been added to the southeast of the Ranger.
- The new Marked for Death cluster has been added to the southeast of the Duelist.
POE 3.12 Unique Items
- Items that previously inflicted a random Curse will now inflict a random Hex.
- Thunderfist, Agnerod East, and Stormcharger each now grant increased Lightning Ailment Duration on Enemies.
- Stormcharger and Doryani's Fist each now grant increased Lightning Ailment Effect.
- Crystal Vault
- The Blood Reaper
- Bloodgrip
- Cameria's Avarice
- Gluttony
- Mark of Submission
- Profane Proxy
- The Putrid Cloister
- The Tempest's Liberation
- Watcher's Eye
- The Whispering Ice
POE 3.12 Item Balance
- Item modifier tags reworked
- Several fossil descriptions have changed
- Bound Fossils increase the likelihood of rolling Curse modifiers
- Faceted Fossils increase the likelihood of rolling all gem-related modifiers
- Items that apply a Curse and items that Trigger a Mark changes
- Life regeneration modifiers changes
- Crusader-influenced items changes
- The Labyrinth Enchantments changes
- The "Lancing Steel's primary Projectile and "Lancing Steel's additional Projectiles
- Shattering Steel fires an additional Projectile changes
- The "30/40% of Glacial Cascade Physical Damage converted
- The "increased Discharge Radius" Labyrinth Enchantment has been replaced
- Cat's Stealth changes
POE 3.12 Atlas and Map Changes
- Map tiers and locations have been shuffled
- Improved signalling
- Penitentiary Incarcerator will no longer spawn infinite Skeletons if he's allowed to live indefinitely.
- Ancient Architect will no longer summon spiked ground on top of other spiked ground.
POE 3.12 Ascendancy Balance
- Assassin: Deadly Infusion Notable, small passives
- Necromancer: Mistress of Sacrifice
- Ascendant: The Necromancer path