It will be June soon, summer is just around the corner in New Horizons. New critters and new recipes will be available in the game. There is only one summer-limited crafting material in ACNH. In this article, we'll be going over the ACNH Summer DIY recipes 2021, mainly talk about how to get the summer shells and crafting DIY recipes fast, as well as the possible changes this year.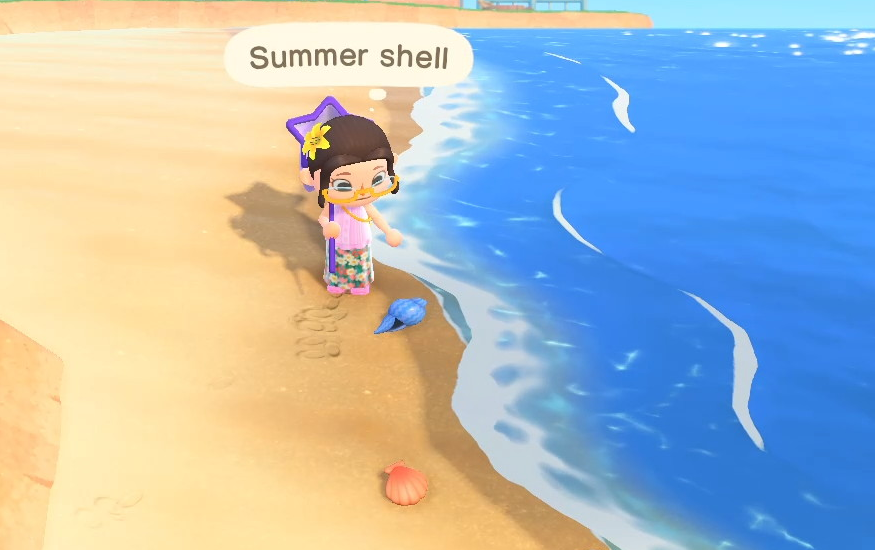 ACNH Summer DIY Recipes 2021 - Animal Crossing New Horizons Summer Seasonal DIYs
We still not get any information about the update of Summer DIYs ACNH, according to the Cherry Blossom season 2021, there are probably no new recipes specifically for 2021. But new players have an opportunity to obtain some items of this series, and old players can also collect materials again to craft items they didn't get last year. If you already have all the wanted items, you can also gather Summer Shells and sell them to Timmy & Tommy at Nook's Cranny, each of the shells can be sold for 600 Animal Crossing bells.
When and How to Get Summer Shells in ACNH?
Summer shells are an ingredient to eight recipes that are available to us during a limited period of time, for the Northern Hemisphere, you can find the Summer Shell crafting material in Animal Crossing New Horizons from June 1 to August 31, for the Southern Hemisphere, you'll need to find them from December 1 to February 28. This means you'll have three whole months to collect the materials to craft these summer-themed ACNH items.
To find Summer Shells, you can keep checking your beach periodically throughout the day, because they are randomly spawned on your beaches along the shore, with a distinct blue appearance, Summer Shells are relatively easy to discover among regular shells.
How to maximize your Summer Shells?
The first thing is not very tricky but also effective, you'd better check your island beaches about once an hour throughout the day, because it needs about an hour to respawn new shells. Remember to pick up some ordinary shells to make room for the emergence of new potential Summer Shells. You also need other shells for the crafting of summer items.
How to Get Summer Shell DIY Recipes in ACNH?
In New Horizons, there are mainly two ways for players to find and learn the Summer Shell DIYs.
1. Get Shell Wreath DIY recipe from Isabelle. Usually, if there are no happenings, at the beginning of the summer season in ACNH, Isabelle will make a morning announcement about new seasonal DIY recipes and crafting materials. If you have not learned the Shell Wreath recipe, she will send it to your Nook Phone.
2. Shoot the flying present balloons. Look out for the present balloons flying in the sky over your island during the season, that's how you get the summer DIY recipes. But not all the balloons will contain a recipe, just keep shooting them down until you get what you need.
How to maximize the change of getting Summer Shell DIYs?
- A quick tip for knowing which way the balloons are flying is to check the smoke puffs coming from the chimneys of the houses.
- The flight direction of the balloon is roughly like this: they will fly across your island in the same direction in the morning and afternoon, then turn to the reverse in the day around 6 PM.
- The present balloon has a chance to spawn every five minutes, starting at four minutes an hour, such as 1:04. Follow the schedule can increase the possibility to catch them faster.
List of All ACNH Summer Shell Furniture Items and DIY Recipes
Below is the complete list of all the Animal Crossing New Horizons Summer Shell items and their crafting recipes.
- Shell Wand: 3 Summer Shell, 3 Star Fragment
- Shell Wreath: 1 Summer Shell, 1 Sea Snail, 1 Sand Dollar, 1 Coral, 1 Giant Clam, 1 Cowrie
- Shellfish Pochette: 2 Giant Clam, 6 Summer Shell
- Starry-sands Flooring: 3 Summer Shell, 1 Sandy-beach flooring
- Tropical Vista: 5 Summer Shell
- Underwater Flooring: 3 Summer Shell, 3 Coral
- Underwater Wall: 3 Summer Shell, 5 Coral
- Water Flooring: 6 Summer Shell