how to farm the huge number of path of exile 3.6 synthesis flashback prizes fast? want to earn as many as possible cosmetic items during the poe 3.6 end of league event in 2019? check out our poe 3.6 flashback event guide, we will cover the best starter builds for each class and overpowered mechanics to go further fast and get all rewards easily!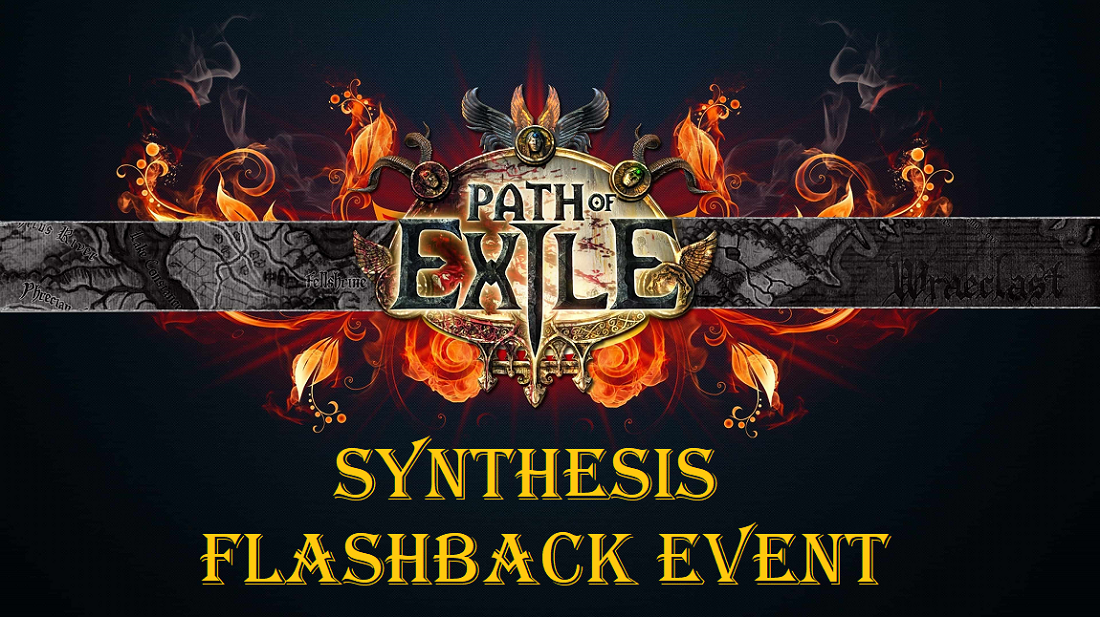 path of exile 3.6 synthesis flashback mechanics
path of exile 3.6 synthesis flashback is around here as the end of league event! with the huge number of prizes including free glimmerwood mystery box and small cosmetic items to full armour sets will be rewarded to players among the poe 3.6 flashback event, most of the players, especially the ones who've gotten tired of the synthesis are full of expectation of it. when you continue your synthesis challenge progression, you also can run into the rotating mods from 11 popular past path of exile leagues for earning a lot of rewards! what's more, reaching certain level thresholds also enrolls players in a number of cosmetic prize draws.
so if you want to enjoy the event, surely you need to do some preparations, like getting know the mechanics well, creating a friendly hardcore-viable build. if you still have no good strategy in your mind, no worries, keep read our guide, we will help you find out the possibly best and most useful poe 3.6 flashback builds for all classes.
poe 3.6 flashback build - winter orb
winter orb is probably the most overpowered skill in the game, it can be played as pretty much any ascendency, can be built for all types of content, and is viable on any budget. the main reason why winter orb is so strong is because it can pretty much do everything for you. it lets you move and deal damage at the same time, can off-screen packs of enemies has shotgunning aoe for single and require zero aiming from the player. put simply there is no content in the game, the skill can't be built to excel at and the player doesn't even need to know what they're doing, just hold down right clock for half a second and start running in circles until everything is dead. if you want to create a winter orb build, check out our best poe winter orb builds.
there are two major arguments for playing winter orb during flashback:
- first all, making a winter orb character is probably the safest choice you can make in terms of being ready to tackle all content.
- secondly, we do hope winter orb is going to be nerfed into the ground in 3.7, so if you haven't played it yet, now might be your last chance for a while.
ascendancy recommend:
trickster - trickster is probably the most versatile and all content viable, also is the highest potential single target damage when built correctly.
elementalist - elementalist is also an excellent choice but it leans more towards speed mapping and load to your magic find.
cultist - cultist is a fantastically tanky option with access to more than enough damage to do all content in the game.
poe 3.6 flashback build - trickster
another mechanic that shouldn't surprise you is the entire ascendancy known as trickster. most people don't usually talk about the power level of builds with such a specific focus on ascendency choice. when compared to the defensive mods available to other sentence ease such as a cultist jug or gladiator, trickster may have slightly less raw survivability but it more than makes up for this by providing easier access to a large number of defensive layers. overall trickster is the best ascendency option for some of the best skills in the game, so when you're choosing your starter for flashback make sure you consider some builds that utilize it.
ascendancy recommend:
swift killer - it assume you're playing a channeling skill this is basically 40% increased damage, 60% increased attack, cast speed 16% more damage, a hundred and 60% increased critical strike chance. it's also important to note that literally all of these stats are exactly what you need to make pretty much any crit based channeling skill feel good supply.
ghost dance & escape artist - these two nodes work together not only to provide powerful and
flexible defensive benefits for evasion cia and hybrid builds, but they can also provide 10% increased movement speed, stun immunity 20% spell dodge and up to 36% increased attacking cast speed.
poe 3.6 flashback build - herald of agony
when creating a path of exile build, your general goals are going to be to invest in damage, survivability and utility. this is done via your gear choices, your skill gems, and of course your skill tree. for most builds this means making some hard decisions usually sacrificing one or two of these benefits for another, however for whatever reason this doesn't really apply to harold of agony. herald of agony requires so little investment to do endgame content. although you can push its damage far higher with some actual investment in gem levels, the real strength of the skill is the amazing flexibility, it offers to build that want to use it as their primary source of damage. herald of agony stupidly cheap, this of course goes back to just how little investment is required to reach acceptable levels of dps, but regardless this quality still makes herald of agony one of the best league starters you should be considering for poe 3.6 flashback.
ascendancy recommend:
juggernaut - herald of agony juggernaut, this build can get crazy high regen armor and of course endurance charges. its sustain and immunities to slows make it an excellent boss, especially if you're interested in killing uber elder as early in the league as possible.
gladiator - rather than focusing on high sustain, this build zooms through maps with cyclone relying on life gain on hit and max block to stay alive. however this build is on average tankier than the juggernaut, it's relatively small life pool and lack of defensive layers makes it more prone to unlucky one shots.
cultist - this also happens to be the most popular choice, it has slightly less raw defenses when compared to juggernaut or gladiator, but has higher potential boss damage and profane bloom explosions to help with cleaning. this is probably the most balanced and highest scaling herald of agony build.
check out the below nathan walker's video to learn more mechanics of the poe 3.6 flashback event:
best poe 3.6 synthesis flashback builds
actually there are too many builds you can take a try, including the fast mappers and great boss killers. here we list the best builds for the path of exile 3.6 flashback event from the famous poe youtuber liftingnerdbro and ghazzy tv: